British Virgin Islands yacht charter guide is your resource for the best of the islands. If you've always wanted to take a BVI yacht charter but aren't sure what to see and do, we're here to help. Select Yachts charter brokers are intimately familiar with the islands; what's new, what not to miss, and what's off the beaten track.
In a recent NY Times article, of 52 places to in the world to visit in 2020 the BVI came it at #2. That's because this archipelago offers more than sparkling blue waters, jaw-dropping beaches, steady trade winds and ideal sun and surf conditions. Did you know that ports of call feature quality art galleries, fine restaurants, quirky museums, soaring mountain trails, legendary beach bars, shallow shipwrecks and campy sing-alongs?
Restaurants, beach bars, resorts and attractions on Tortola, Virgin Gorda and the smaller islands were hit hard by hurricane Irma. While many have re-opened and some are opening soon, sadly others have been lost. Those that are up and running again deeply appreciate your patronage.
Our British Virgin Islands yacht charter guide highlights places we love that may not be published in a standard itinerary. Up-to-date information in this guide comes from our brokers, captains and crew.
British Virgin Islands Yacht Charter Guide: Tortola
Road Town, Tortola, is the capital of the British Virgin Islands and the charter boat capital of the Caribbean. It is situated in the center of the island's south coast.
For history buffs, Her Majesty's Prison Museum has tour guides that detail the saga of crime and punishment at this wretched facility from 1774 until 1990. For upscale dining with superb views, Brandywine Estate Restaurant on the shores of nearby Hannah gets rave reviews. Their lobster dinner is one of the best, as is the gourmet Sunday Brunch.
Cane Garden Bay
This quaint village has become one of Tortola's popular destinations, unfortunately sometimes crowded with cruise ship passengers. Late afternoon is the best time to enjoy the sweeping white sand beach and great beach bars with food, drinks and live music. Cane Garden Bay is also a good surfing spot.
If you need to get out of the sun for an hour or so, take a short walk from the beach to Callwood's Rum Distillery. It's the oldest, continually operating distillery in the Eastern Caribbean. The historic buildings and the distilling process are said to date to the 1700s. Callwood's makes 80-proof rum in a single pot still from pure sugar cane without preservatives. They are happy to give you a sample or two and claim you will never get a hangover.
British Virgin Islands yacht charter guide contributors, along with visitors and locals, spend at least one evening at Myett's. This popular gathering place on the beach has a lovely restaurant, bar and evening entertainment. Don't miss the perfect sunset, framed by Jost Van Dyke to the north and St. Thomas to the south. You might even experience the green flash.
Apple Bay
Just over the hill from Long Bay lays the surfer's paradise of Apple Bay Beach. Let our British Virgin Islands yacht charter guide navigate you to some of the best waves in the Caribbean. In addition to surfing fame, the area has intriguing beaches and seaside villages.
Soper's Hole
Before or after perusing the colorful boutiques and crafts shops, stop at Pusser's Landing. The Pusser's Painkiller famously lives up to its name. Offered in three different strengths of rum and combined with pineapple juice, cream of coconut, orange juice and fresh nutmeg.
Sunny Caribbee Spice Shop & Art Gallery just opened a second store in Soper's Hole. The eclectic shop packages their own flavors, fragrances and exotic concoctions like Arawak Love Potion and Island Hangover Cure. It's a fun place to poke around in for local souvenirs.
Smuggler's Cove, Anderson
Smuggler's Cove is a lovely beach with an area of fine white sand and another area with a colorful coral reef that's full of marine life. Snorkeling is fun and often the surfing is good too. The views are gorgeous and it's a great place for kids.
Nigel's Boom Boom Beach Bar and Grill has reopened! This five-star shack on a beautiful, sandy bottom beach is a perfect place to chill. Nigel serves it up with love; serious cocktails, hot dogs with grilled onions, real dogs to pet, everything you need.
Beef Island
Trellis Bay, Beef Island, lies off the eastern tip of Tortola. Aragorn's Studio is a must for artists and collectors. The open studio is a workspace for practicing artisans to work, give lessons and workshops, demonstrations and exhibitions. You'll find quality pottery, painting, basketry, papier mâché, wood carving and metal work. Trellis Bay Market Bar and Grill has reopened after devastation by hurricanes Irma and Maria. This is a top spot for full moon parties and a family-friendly, fun-filled New Year bash.
Virgin Gorda
Hog Heaven Bar & Grill has the best view you'll experience at any restaurant on your BVI yacht charter. Perched at 1,000 feet above the North Sound, enjoy a cocktail or solid BBQ while overlooking super yachts, 5-star resorts and a panorama of private islands.
Hog Heaven Bar & Grill has the best view you'll experience at any restaurant on your BVI yacht charter. Perched at 1,000 feet above the North Sound, enjoy a cocktail or solid BBQ while overlooking super yachts, 5-star resorts and a panorama of private islands.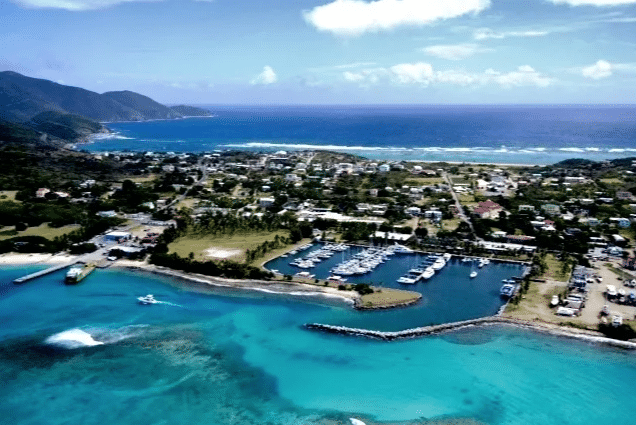 Virgin Gorda Yacht Harbour and Marina is back and better than ever!! The marina has 93 slips, all with 50 Amp and/or 100 Amp power, as well as a full-service fuel dock providing diesel, gasoline, water, and ice. In addition to the recently reopened Town Centre with a bank and other businesses, VGYH will soon reopen the shopping center including a new restaurant!
British Virgin Islands Yacht Charter Guide to the Smaller Islands
Peter Island/Salt Island
The Wreck of the Rhone was voted the best Caribbean wreck dive by Sport Diver & Rodales Magazines. The Royal Mail Steamer sunk during the hurricane of 1867 with 125 people on board. Much of it is still intact and visible, including decking, parts of the rigging, the steam engine, and propeller. Dozens of scuba-diving sites nearby make Peter Island a must-experience for anyone interested in water sports.
For all the fans of the Peter Island Resort & Spa, an agreement has been signed to redevelop and reopen the hotel's main sections by December 2021.
Cooper Island
Rum connoisseurs and everyone else who enjoys a tipple, the rum bar at Cooper Island Beach Club is a must. Consistently rated five-stars, indulge in rare aged rums, unique house-infusions and classic cocktails made with rums from all over the Caribbean. They also have an excellent microbrewery, perfect beach and beach bar with stunning sunset views.
Scrub Island
Indulge in a spa treatment at Ixora Spa. Perched high above the Caribbean Sea. Enjoy curated, thoughtful treatments to repair and restore. Honored as a Top 10 Spa by Caribbean Travel and Life magazine.
Leverick Bay
If you're chartering with kids, or just a kid at heart, plan a stop at Leverick Bay Resort and Marina. Michael Beans leads a pirate sing-a-long from Mondays to Wednesdays and everyone has a great time. Fridays is the beach BBQ, Moko Jumbies and entertainment. Reservations suggested. Yacht charter guests who patronize the restaurant, bar or spa are welcome to use the swimming pool.
British Virgin Islands Yacht Charter Guide: Anegada
Anegada is a sailing destination completely surrounded by shallow reefs, Scuba diving is spectacular due to the many historic shipwrecks that litter the island's underwater depths. Snorkeling at Lob Lolly Bay is great. British Virgin Islands yacht charter guide contributors recommend booking a horseback tour with Animal Adventure Anegada at Francis Family Farm.
The island is also famous for lobster dining year around. But for lobster lovers, nothing compares to the Anegada Lobster Festival, scheduled at the end of November. Talented, local chefs prepare, cook, and serve sample lobster dishes at participating restaurants.
Contact Select Yachts today. Whether you're a family with kids, a group of friends, or a couple of romantic love birds, we'll find you the right yacht and crew that fits your budget. Experience the extraordinary.