Charter

Specials from Select Yachts
 Charter specials are our way of thanking you.
Charter specials are updated continually. Here you'll find reduced charter yacht rates, special charter packages and incentives. Furthermore, we can often arrange unpublished incentives for you directly from the source.
Call us today. We love to chat about our favorite charter yachts, properties, and destinations. We passionately share our travel resources and expertise with our clients.
Charter specials can include a fabulous land segment.
If you plan to extend your stay, we can recommend resorts, restaurants, spas and shore excursions according to your preferences. In addition, many offer special discounts exclusively for Select Yachts' charter clients.
We especially want to express our gratitude to our repeat charter clients. Thank you for trusting Select Yachts to arrange your extraordinary vacations, again and again.
Charter Specials Caribbean
ONE MORE TOY, 155′ Christensen, special Aug-Sept rate of $120,000/week
ONE MORE TOY offer a reduced rate of $120,000/week on full week charters booked by August 1st and taking place in New England now through August into early September. Versatile sleeping accommodations for 12 guests in six staterooms, plus an elevator to all decks, make this yacht suitable for groups, couples and multi-generational families of all ages. ONE MORE TOY is based out of Newport, RI. ONE MORE TOY Brochure
VISION: Honeymoon/Anniversary/Romance Pkg 
Special rate of $11,900/wk all inclusive, 2 pax only.
*Romantin picnic on a deserted beach
*Open bar with french bubbles or rosé wine
*Charly's classic songs serenade with guitar
*Salsa and Merengue fun dancing on deck. Instruction included!
*Video/photo shoot of the entire trip as a souvenir
*Caps embroidered with VISION logo as gift
Plus: chocolates, flowers, secluded coves and beaches and discreet service. 
Special rate of $11,900/wk all inclusive, 2 pax only.
Ongoing Specials:
BVI pick ups and drop offs: $700 discount
Family Special: $250 off 7-night charter for ONE child 15 years or under at the time of the charter. Offers cannot be combined. VISION Brochure
BIG EAGLE 172′: French Canada or Great Lakes 
This is really special! It is such an interesting venue and hard to find a nice boat there! BIG EAGLE will be cruising the beautiful Great Lakes this summer.
Visit historic Americana sites, or cruise down the St. Lawrence River from Canada to New York via Quebec City and Montreal. BIG EAGLE accommodates 12 guests in six cabins with 10 crew.
SAGITTARIUS OWNER OFFERS A GREAT DEAL!!
DISCOUNT 10% off listed rates for all charters in August, 2019

PLUS One free dive for six guests, (2 x dive masters on board)
This newly rennovated Privilege 65 comfortably sleeps 10, so great for family charters! Awesome deal for charters in the Grenadines and French West Indies. Click to view: SAGITTARIUS Brochure
BLUSH, Perini Navi 148′ is offering a special rate for all Caribbean bookings at 125,000 USD instead of 150,000 USD.
Don't miss this opportunity to book such a fantastic yacht at such an attractive rate. Sweeping decks offer alfresco dining tables and bar which can be shaded, sunbathing areas aft, forward and on the fly bridge and a large swim platform ideal for water sports. Accommodations for 13 guests in five cabins have several berth configurations. Enjoy spectacular, performance sailing and endless fun on board BLUSH.
NENNE, 67 Fountaine Pajot, Great Discounts!
A Victoria 67, newly built and launched in 2017, NENNE is Fountaine Pajot's Flagship, top-of-the-line, luxury cruising cat. She's sleek, elegant, and extremely spacious! Plus, the crew is amazing, just check their rave testimonials.
Treasured Memories:
Go-Pro cameras, a Canon camera and a Mavic Pro drone are awesome equipment used by Captain Donald to document your fantastic charter experience on board Nenne.
Lasar Star Show:

by Captain Donald 
Rate reductions on charters of one week or longer:
$250
per child
(1-12 years old, up to 2 children)
5% Repeat clients
5%
Bookings made more than 1 year in advance
Charter Specials Mediterranean
SAILING YACHTS
MALTESE FALCON, 289′ Perini Navi. Fill the Gaps! Aug. 24 – Sept. 13, Italy or Croatia
Don't miss this opportunity to charter aboard this world-famous build at the low season rate of €440,000 p/week + expenses. This spectacular sailing machine accommodates 12 guests in six staterooms with 19 crew. Click to view MALTESE FALCON Website
BELLACHA, 70′ Custom Stefini, 10% discount for all 2020 charter bookings made in 2019!!
BELLACHA is a performance sailing yacht that has just been remodeled specifically for charter. This beautiful yacht can accommodate up to 10 guests in three cabins with flexible configurations. Intimate enough for honeymooners and expansive for extended families, BELLACHA is an ideal option for everyone. Now, enjoy a rare 10% decrease in rates for any charter booked in 2019 and taking place in 2020. BELLACHA Brochure
LIANA H, Sail 7-Days, Pay Only for 6 Days, Sept. 15 Onwards
This elegant yacht is the perfect for families and romantic charters in the beautiful Greek islands. She accommodates 10-12 guests in five lovely cabins. Lots of gear and a fantastic crew insuresa  superb and memorable holiday! LIANA H Website
ELVIRA, Sailing Catamaran, SPECIAL FALL RATES:
September charters  at  euro 12000 per week + 12% vat + apa
October charters at euro 9857 per week + 12% vat + apa
ELVIRA is based in Athens, Greece. She sleeps up to 10 guests in five cabins. The Skipper, the cook, and a deckhand are charter professionals with longtime experience. ELVIRA has a large variety of water toys and offers unforgettable moments to families and group of friends vacationing in the Greek islands!
MERMAID, 110′ Offers 10% discount for all remaining summer availabilities! Croatia, Greece, Turkey
7 different outdoor lounge areas 
4-person jacuzzi on fly-bridge, surrounded by sun beds and sofas 
Outdoor cinema screen with Bose surround sound or wireless headphones and 3D glasses
Maximum space and dedicated crew for entertaining large parties
ELISE WHISPER 78′ Southern Wind 10% OFF Corsica/Corsica, Sept 10-17
This elegant cruiser-racer is suitable for coastal or blue-water cruises and ideal for a luxury charter for families and couples. Built in carbon composite, she stands out for her light displacement, which means exciting performance in light Med breezes. Elise Whisper Brochure 2019
WHITEFIN

90′ Classic, Reduced Charter Rate Aug 27-Sept 3, Sicily to Sardinia.
For these dates only, rate is 20 000 EUR + 6.6% VAT  + 20% APA. Take advantage of this rare discount for WHITEFIN on an itinerary from Sicily to Sardinia for the week of the 27th August to the 3rd of September. Main deck features the galley, partially recessed, the nav station, the bar and the saloon with the fireplace and piano. The boat layout consists of four cabins: the owner suite, all aft, a VIP and two twin guest cabins. Whitefin Brochure 2019

ALTHEA 123′ LINK LINE LTD 10% REDUCED SEASON RATE, Greece
The owner of motor/sailor Althea is now offering her for this season at a 10% reduced rate! Based in Pireus, Greece, this elegant, traditional yacht accommodates up to 11 guests in five cabins with six crew. Charter the Greek Islands in a gorgeous sailing yacht!

IRAKLIS L SUPER SPECIAL! Pay for 6 Stay for 7!!
Pay only for six days and sail for a full week. Regular weekly rate euro 52.500. Now just euro 45.000 + 12% vat + APA. Availability: September 15 onwards. Six cabins for 12 pax + two children. IRAKLIS Brochure
 
WIND OF CHANGE, 8 Days for 7-Day Price !!
WIND OF CHANGE, 95′ Brooke Marine sloop, offers an extra day free of charge for all 2019 weekly charters!  Sail in elegance and style and enjoy one extra day in the gorgeous Greek islands! She accommodates six guests in three cabins, including one master, one VIP and one twin cabin, all with ensuite facilities. Wind of Change Brochure

TAONA, 65′ Oceanis, 10 Days for the Price of One Week!
Built in 2018, beautiful sailing yacht TAONA is available for charters from the South of France. The professional Captain and Chef can host from 2 to 8 guests aboard. Take advantage of this excellent rate to cruise the French Riviera, Corsica and Sardinia. TAONA Brochure
CLAN VIII
, 148′ Perini Navi: 
SPECIAL OFFERS for August charters:
7 days for the price of 6 (14.3% discount) US$ 120,000
10 days for the price of 8 (20% discount) US$ 160,000
14 days for the price of 10 (28.6% discount) US$ 200,000
CLAN VIII will be based in Tahiti this summer and available for charters throughout French Polynesia and other South Pacific Islands. Three guest staterooms for six guests, with possibility of a seventh guest in a staff cabin.  CLAN VIII Brochure
FARFALLA Sept 
13-20 
Special
: EUR 65,000 P/W, Croatia
High performance sailing with first class comfort. At 2019 St. Barths Bucket Regatta she took second place in Class B: Les Madamoiselles des Mers! 
FARFALLA accommodates eight guests in two double and two twin cabin suites. Guests enjoy unique adventure activities with instruction and gear fully provided, including kiteboarding and wakeboarding. Locations from Croatia to the West Med: 13th – 20th Sept. FARFALLA Charter Brochure 
MOTOR YACHTS/SUPERYACHTS
PARVATI, CRN 130′ FILL THE GAP Sept. 1-8 30% discount (€49,000) Greece
PARVATI has a classic and elegant profile and offers an ideal environment for relaxation. She has five luxurious staterooms, including a master stateroom on the main deck. An outstanding water toy collection includes Sea-Doo jet skis, waterskis, a wakeboard and paddle boards. Great crew, great rate!! PARVATI Brochure
SOLAL, 77'5″ Sanlorenzo, Available in September at €25,000 per week! Riviera
Luxury charters South of France don't get better than aboard SOLAL. The yacht is able to sleep eight guests in four luxurious cabins, all located on the lower deck, with three experienced crew on board. Plenty of outdoor living space and great toys and gear aboard equal superb fun under the sun.
Rêve d'Or, San Lorenzo 151′ Special Weekly Rate €160,000 – Croatia
August 19th to September 1st enjoy last minute deep discount for one of the largest and most luxurious charter yachts permanently located in the Adriatic. Six luxurious staterooms accommodate 12 guests and eight crew.
DUKE TOWN

 121′ HEESEN




Special 10%+ August/September discounts- Riviera
Enjoy last minute discounts to fill a space during the last week in August. Private charters reduced to 108,000€ per week, a 10% rate discount. September charters are available at 105,000€ per week.
Duke Town is a spacious tri-deck superyacht accommodating up to 10 guests in five staterooms. Fabulous exterior space and sumptuous interiors make her the ultimate choice for your luxury yacht experience in the Western Mediterranean. Duke Town Brochure
LAUREN L, 90m: Sept-Oct save 96 000€ p/w
LAUREN L offers an exceptional price of 599 000€ per week for charters for a limited time during September and October, representing an incredible saving of 96 000€ per week.
Accommodating up to 36 guests in 20 staterooms LAUREN L is pure elegance and luxury throughout. Guests can spread out in the salon, use the onboard gym and health suite, or enjoy the extensive selection of toys including a FunAir Climbing Wall and Zapata Racing jet pack. LAUREN L Charter Brochure
FIORENTE, Ferronavale 121′ – Sept 3-15: 12 days for the price of 7! South of France
The owner of FIORENTE is offering one of the best deals of the season. Sail the Western Mediterranean with five extra days at the low season rate of €60,000! Accommodates up to 10 guests in 5 cabins; 3 doubles and 2 twins. Carries an impressive collection of adventure gear and water toys! FIORENTE Brochure
LIONSHARE, Heesen 130′, save EUR 20,000 in September!
LIONSHARE is running a September Special Offer at EUR 85,000 per week based on a full 7 day booking. A savings of EUR 20,000 off the low rate EUR 105,000. Available south of France, September 3rd onward. Accommodates 12 guests in five staterooms. Crew of seven includes a Dive Instructor, Jet Ski Instructor, massage therapist and creative Chef. LIONSHARE Brochure
IL CIGNO, 138′ €60,000+VAT Sicily, Sardinia, Corsica, Riviera. Great August rate! 
Elegant and spacious, IL CIGNO has lots of options for relaxing and entertaining over three decks. IL CIGNO accommodates up to 12 guests in 5 cabins. Based in Genova with no delivery fees to the South of France. IL CIGNO Charter Brochure

KIJO, 10% discount for August charter bookings! 
KIJO, 144′ Heesen, is available for charters in the West Mediterranean including South of France, Corsica, the Italian Riviera, the Amalfi Coast and Sardinia. This luxury superyacht sleeps up to 12 guests in five staterooms, serviced by eight crew. KIJO Brochure

ALEKSANDRA, 96′ Ferretti, Rate Reduced for September in Croatia
The Ferretti 960 model has won multiple awards and ALEKSANDRA delivers the perfect charter experience. Elegant main deck master cabin and four spacious lower deck cabins provide excellent comfort and liveability. Lots of toys onboard. August charters: €62,000 p/w + expenses. September charters: €60,000 p/w + exp. ALEKSANDRA Brochure

LADY MURA, 95′ Dominator 15% discount on weekly charters in September
This modern and sleek yacht accommodates up to ten guests in five cabins, along with a warm and welcoming crew of six that will ensure an unforgettable stay while cruising in the Mediterranean. LADY MURA Brochure

VOGUE, 83′ Horizon 20% off 1 week Balearics charters- Fill the Gaps
This PET FRIENDLY charter yacht offers the following discounts to cruise the stunningly beautiful Balearics:
– 15% discount on 3 days or more
– 20% discount on 1 week or more
Captain Dylan Germishuys and the same core crew members are looking forward to a busy end to their 6th season. VOGUE Brochure

IMOLYAS, 69′ Sunseeker, Sept/Oct SPECIAL, 10%+ OFF Charter Rates! Croatia 
 Sept. & Oct.: €21,000 p/w + exp. IMOLYAS' generous proportions mean plenty of enjoyable onboard space. Four guest cabins include a large, ensuite master and VIP, two doubles and two twins. Based in Losinj, Croatia.
DANA, 86′ Ferretti, Special Price 35.000€ All Charters from August 16 onwards, Greece.
DANA, is a stylish Custom Line Ferretti Navetta, a unique yacht at her range, displacement with zero speed stabilizers and spacious living areas. She accommodates up to 12 guests in 5 cabins. Charters in the beautiful Greek islands. Dana Brochure

KATINA, Brodosplit BSO d.o.o, 197′ September 

Discounts to 40%
7 days – 20% discount (€196,000 instead of €245,000)
10 days – 30% discount (€245,000 instead of €350,000)
14 days – 40% discount (€294,000 instead of €490,000)
The yacht is based in Split and available for Croatia and the Ionian Islands. KATINA offers six convertible staterooms (king, double or twin), gymnasium, sauna, massage room, whiskey & cigar room, inflatable slide and playground and a huge selection of toys. 

SUBUKOS, Lagoon 560, 25% Discount on Weekly Charter Rate in September! From  19.000€  to 14.250€
SUBUKOS is available for crewed charters throughout the magnificent crystal blue waters of the Turkish Coastline and the Greek Islands. Her layout of 1 master cabin and 3 VIP guest cabins allow 8 guests to sleep on board. Take advantage of this deep discount from  19.000€  to 14.250€ for weekly charters.
BLU 470, 163′ Feadship, September Special: 10 days for the price of 8, Western Mediterranean
BLU 470  is perfect for active groups and families. The yacht carries an impressive toys selection including: 11.3m/37ft Axopar tow tender, 2 x Seabobs, 1 x Jetsurf, 5m inflatable slide, 2 x waverunners, 1 x standup Jetski, sailing boat, DJI Drone, exercise equipment and numerous towables toys. Outstanding crew led by Captain Ian Garaty. Accommodates 10 guests in 5 staterooms. Western Mediterranean charters.
COSMOS I, 108′ Mangusta – Special: Aug 25-Sept 1, Mykonos to Mykonos Only €45,000 plus expenses
Sleek and powerful, Cosmos I is a fast and modern yacht that has been designed with indoor-outdoor living in kind. Generous deck spaces link seamlessly with an equally spacious interior. Able to welcome 11 guests in four cabins, Cosmos I has a flexible accommodation layout.
AWOL, 122′ Sanlorenzo: Discount to Fill the Gap! Bonifacio to Nice 
September 2 – 9, 2019 (1 week) available at €97,000 + expenses! 
One of AWOL's best assets is her amazing crew of eight with their wonderful team spirit and reputation for creating the perfect charter experience with world class service for every individual who steps on board. Sleeps 8 guests in 5 cabins. AWOL Brochure
PANFELISS, 123′ Mengi-Yay, August special rate of EUR 87,500 (was EUR 95,000)
PANFELISS is perfect for charter with family or friends. Accommodation for 12 guests in five cabins, with a full beam master stateroom, spacious main salon, large aft deck dining area, zero-speed and underway stabilisers and flybridge Jacuzzi. PANFELISS cruises at 20 knots with max speeds of 25 knots. Cruising areas: Turkish Riviera, Greek islands.
QUANTUM, 108 Sunseeker Predator, August Special Offer: €49.500 Per Week 
High season: €55.000 Per Week
QUANTUM is a sleek and powerful sport yacht crafted for ultimate outdoor living. Plenty of sunbathing lounges, a Jacuzzi hot tub, a super sound and audio system, secure stabilizers, a generous aft deck with custom wet bar and BBQ are all ideal for entertaining family and friends. She comfortably accommodates up to 8 guests in 4 ensuite cabins.
PORTHOS  SANS ABRI, 
Ferretti Fly 881, 10% OFF August Rates
Fill the gap and enjoy an especially great rate for charter in Sardinia, Costa Smeralda or Corsica! Available Aug 16-23 and Aug 23-31 for € 58.900/week (instead of 62.000) or enjoy a 10% discount for a two-week charter for € 111.600. Captain Carlo Malgari and 3  enthusiast crew members, professional and very expert of the navigation area, ensure a relaxed luxury yacht experience. Accommodates up to 10 guests in 4 cabins. Porto Sans Abri Brochure
PREFERENCE 19, 119′ Tansu,
 Special Discount from end August to early September:
10 days for the price of 7 (30% discount)
Embark North Italy, Monaco or SOF to south towards Sicily. Potentially could also be Naples to Sicily or Sardinia to Sicily. Accommodates 10 guests in five staterooms with seven crew.
ELENI, 164′ CBI Navi, SPECIAL OFFER:


€150,000 p/w + exp – September charters
ELENI is designed to be opulently relaxing. Her interior is by Italian designer Luca Dini and features light cream furnishings paired with beautifully carved dark wooden paneling. All guest cabins are ensuite, and the master and VIPs both have Jacuzzi tubs. ELENI welcomes up to 12 guests, in six staterooms. Regular rate from €175,000 p/week + expenses.
AMANDA 10% Discount 
AMANDA is a classic wooden motor yacht homeported in Piraeus, Greece. Built in 1956 in the U.K., she was refitted in 2017 to her original layout. Further refit work was performed in 2018. AMANDA is a shining example of a lovingly restored traditional craft. She accommodates up to 12 people in five cabins. Captain plus crew of three speak English, and are eager to share the AMANDA experience with guests. 
HEED, 115′ Azimut, Rate Reduced by €10,000 for SEPT 17-27
Gorgeous, brand new launch in 2019, is now available for charter in the western Mediterranean at a reduced weekly rate of €130,000. HEED sleeps up to 10 guests in five staterooms; a master suite, two VIP staterooms and two twin cabins. HEED Brochure
FX, 125′ Peri Yachts, €10,000 off Summer Charters
FX offers a rate reduction of  EUR 10,000 per week for Summer 2019 charters in the Eastern Mediterranean. Based in Marmaris, Turkey, FX has a sleek, ultra-modern design that turns heads. FX accommodates 10 guests in 5 deluxe staterooms on the lower deck, with a full-beam owner's suite on the main deck. FX's sundeck is a design highlight with a spacious sunbathing area with Jacuzzi and sun loungers. 
MARAYA, 178′ CRN, OFFERING AT €250,000 P/W in September (USUALLY €300,00)
MARAYA
features five deck areas, a private master statroom balcony, a great selection of toys and an experienced crew of 15 always at hand to help guests. 12 guests in four doubles and two twins with Pullman berths. 
MARAYA
is available in September in the Western Mediterranean.
MY MARAYA Brochure
ANDREA, Baglietto 120′, LOW WEEKLY RATE in GREECE!
This is a kind gesture by the Owner who offers this special rate for the first year of the yacht's operation in the charter industry.
High season (July – August): 23.900 € + VAT 12% + all expenses
Low season (June & Sept): 23.900 € + VAT 12% + all expenses
Accommodates 12 guests in 6 cabins with 6 crew. ANDREA Brochure
M/Y QUANTUM €39000/week, Save €6000 on October Charters in Croatia!
M/Y Quantum is a Sunseeker Predator 108′ available for charter in Croatia. She offers plenty of sunbathing lounges, Jacuzzi, a super audio system, secure stabilizers and generous aft deck space with a custom wet bar and BBQ. She comfortably sleeps up to 10 guests in 4 ensuite cabins.
SIRENA, 92′ Gulet. Enjoy last minute discounts for 2019 & 20% off 2020 Charters!
August 24-31

20% Discount for Split-Split charter. 

Sept. 28 – Oct. 26 – €10,950 EB RATE 20 % DISCOUNT €8,760
6 Cabins 12 Guests, based in Dubrovnik, Croatia. SIRENA Brochure
MERCURY, 164′ Amels charters in Greece at a 20% rate reduction of €136,000 p/w 
This luxury superyacht is the epitome of excellence in charter. Embark on itineraries in Croatia, Greece and Turkey. Experience these stunning coastlines in style. With three spacious decks, some of her key features include a hot tub on her sundeck, a wide array of water toys including two tenders and three jet skis, ample seating and dining areas on her decks and a highly experienced crew of 12 for a 1:1 crew to guest ratio. MERCURY accommodates 12 guests in five staterooms. MERCURY Brochure
M/Y SERENITY 236′ SPECIAL RATE: EUR 385,000 per week.
SERENITY is a stunning beauty with accommodations for 28 guests in 15 cabins, plus one additional cabin for two children or staff. Take advantage of this rare unique opportunity to charter a magnificent private yacht in the Mediterranean. Standard weekly charter fee:  Euro 550,000 high/low. SERENITY Brochure
Charter Specials Bahamas

ANDIAMO 82′ Monte Fino, 8 Days for the Price of 7
ANDIAMO is a wonderful charter yacht for families or a group of friends set to explore the Bahamas. Take advantage of this special summer rate to extend your vacation at no additional cost. ANDIAMO Sleeps eight guest in four staterooms. Large Enclosed Fly Bridge, 25′ Towed Tender, Waverunner ANDIAMO Brochure
20 Guests – Family Tandem Charter – Special Rate!
Exumas, Bahamas, luxury charter catamarans Swish, Rubicon and Destiny III offer a fabulous tandem charter special for up to 20 guests. Tandem charter special includes:
5% discount off total charter rate

$250 discount for 1 child under 6 yrs of age per yacht

Complimentary daily yoga instruction
Swish, Rubicon happily offer a $250 discount per charter for one child under 6 years of age on individual bookings as well.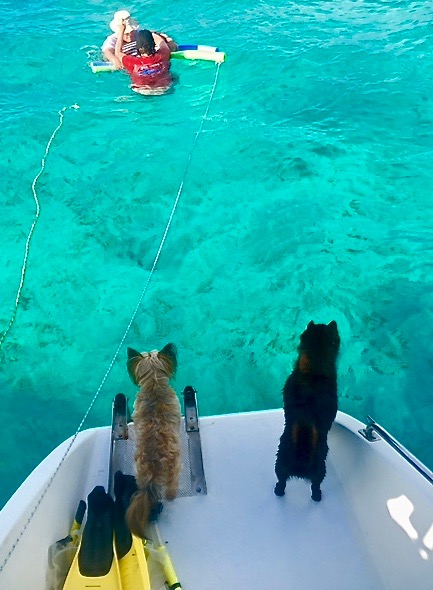 Can't bear to leave your pup at home? Bella on board Swish entertains canine and marine friends. She swims with the dolphins every day. She has been featured on Distant Shores TV program and Australian News. Check out the Ellen De Generes' Instagram with 5 million views of Bella: https://www.instagram.com/p/BejQW5vgP5H/ Book your charter with a resident celebrity aboard!
SWISH Honeymoon charter in the Bahamas:
Select gifts from Select Yachts
We would like to thank guests who charter a yacht with Select Yachts for one week or more. We offer the charterer a choice of one of the following gifts:
Sample Local Cuisine: While on charter, plan a special evening to dine out at the restaurant of your choice, with a $100 gift certificate from Select Yachts.
Scent of the Tropics: A tropical bouquet from Select Yachts, delivered to your home or office, upon confirmation of your booking.
Taxi or Ferry Ride: Use a voucher from Select Yachts worth up to $100 for transportation to your yacht.
Pop the Bubbly: Upon your arrival, relax on deck with a chilled bottle of Dom Perignon. Welcome aboard from Select Yachts!
Travel Accessories: A duffel travel bag gift set from Select Yachts makes a stylish carry on statement.
Terms:
One perk package per yacht charter to the person shown on the contract.

Perk package is available upon payment in full for the charter.

This offer is valid while shown on our website and may be removed or revoked at any time without notice.
Select Yachts Toll Free 1.833.792.2487
---