Alaska: Natural Wonder
Alaska is a yachting destination where each day brings into view something jaw dropping and totally unpredictable. Imagine such an extreme wilderness. A family of brown bears playing on the beach disturbs young bald eagles in their nest. Their flustered cries draw your attention. You capture an amazing photo from the sundeck. Each day is one of extraordinary adventures. At night in bed you replay them in your mind's eye. As you drift off to sleep, you are dimly aware of the hypnotic sound of whales, rushing underwater past your bow.
Alaska: Extreme Adventure
Charter a helicopter or take a seaplane tour and be astonished by fantastic geological wonders like the gaping crater of Mt. Edgecumbe and Mendenhall Glacier. Embark on a world class kayaking, ocean rafting, diving, or snorkeling exploration. Reel in some of the world's largest salmon and halibut. Hike through ancient spruce and hemlock rainforests. Photograph calving ice bergs and breaching Humpback whales.
Sitka Alaska, Baranof Island
Considered Alaska's most beautiful seaside town, Sitka is an authentic treasure of history, culture and nature. Home of Kiksadi Tlingit Indians for centuries, long before colonial Russians arrived and declared it the Capital of Russian America. American settlers further contributed to a heritage of cultural diversity that became the hallmark of the town. Of the 24 attractions listed on the National Register of Historic Places, some are ancient Tlingit and several are early 19th century Russian.
A stroll through town brings you to museums, shops, galleries, and a first rate brewery. The Sitka Summer Music Festival in June showcases world-class classical musicians. Evening concerts are performed at Harrigan Centennial Hall, renowned for its breathtaking views of Sitka Sound. In August, the Home Skillet Music Festival is a jamboree of Soul, Hip Hop, Blues, and Garage Style Rock n' Roll. Golfers can tee off at Sea Mountain Golf Course with stunning Mt. Edgecumbe and Harbor Mountain towering in the background.
On the eastern side of Baranof Island is the tiny community of Baranof Warm Springs. Hike the scenic half mile to reach 107-degree geothermal pools near the 100-foot Baranof Falls.
Frederick Sound: Humpback Highway
Frederick Sound is an 80-mile body of water running through the heart of the Inside Passage from the Stikine River delta to Chatham Strait. The waterway is a lure to hundreds of Humpback whales feeding on an extraordinary abundance of krill and herring. The Sound is home to the Steller sea lion, Dall's porpoise, harbor porpoise and harbor seals. Black and brown bears, Sitka black tailed deer and wolves can be spotted on shore.
Spectacular scenery includes Leconte Bay with LeConte Glacier, the 'fastest moving ice' on the planet. Calving ice bergs toppling into the fjord are breathtaking. Newly exposed bits of flora and fauna embedded in the ice cause a feeding frenzy among seagulls patrolling the glacial slush.
Troll for salmon off Kingsmill Pt. and photograph playful Sea Otters in Security Bay. The commercial fishermen of Frederick Sound deliver their catch for processing to Petersburg, a quaint Norwegian fishing town on Mitkof Island. Here storefronts and homes are decorated with rosmaling, Norwegian decorative motifs. Public art includes raven and eagle totem poles and the Harold Balazs designed brass inlays installed in the sidewalks of Nordic Drive (Main Street).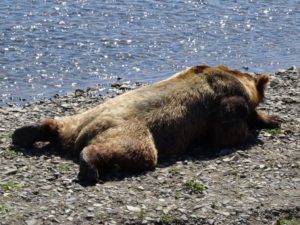 Tracy Arm and Endicott Arm
Tracy Arm-Fords Terror Wilderness contains 653,179 acres and consists of two very deep, very narrow and very spectacular fjords: Tracy Arm and Endicott Arm. Both fjords are over 30 miles long and 20% covered in ice. Take a seat on the bow to be impressed by your Captain navigating the obstacle course of floating ice chunks from snowball-sized to pieces as large as a three-story building. Gaze up vertical granite walls to spot magically balancing Alaskan Mountain Goats and cascading waterfalls. The deeper you go into the fjord the more the walls of the fjord close in on you. It's an exciting sensation. Your ultimate destination is the ice blue twin glaciers, North and South Sawyer, located at the end of Tracy Arm.
Alaska Capital City: Juneau
The city ebbs and flows into the wilderness. Primeval forests, glaciers with helipads and ice caves, salmon streams, bear habitats, and migratory whale routes all lie within Juneau's city limits. The core of this vibrant state capital is a grid of Gold Rush-era buildings, art galleries, museums, historic and native heritage sites, fine dining restaurants, bars and boutique shopping. Join a walking tour from the Juneau-Douglas Museum that ends at a historic home for afternoon tea. Step out on your own, the area is criss-crossed with more than 90 hiking trails. Nearby Mendenhall Glacier, a massive ice flow calving into its own lake, offers extraordinary vistas either on foot, by plane, or relaxing at the visitor's center enjoying spectacular views. In the evening, attend a performance at the acclaimed Perseverance Theatre. Have a nightcap at the historic Baranof Hotel's Bubble Room.
Alaska: lose yourself in a miraculous display of nature.
Alaska remains largely wilderness. You have to be an especially rugged individual to live here. There are no five-star resorts, no Michelin-starred restaurants, no world-class spas. A private yacht charter is the only first-class way to deeply explore this profound landscape. Contact Select Yachts to book your Alaska charter vacation. We've been there. We know the ropes.