Thailand: Andaman Sea
Thailand is an enchanted world of exceptional beauty. Visit towns with architecture as intricate as fine jewelry. Immerse yourself in laughing colors, fragrant breezes, and charming people. Discover empty coves and beaches without a footprint. Snorkel shallow reefs or dive with whale sharks and rays. Hike trails through exotic flora and fauna up to dizzying heights with awe-inspiring views. The islands of the Andaman Sea are an unforgettable voyage.
Thailand, Merqui Archipelago
Comprised of over 800 islands, the Merqui Archipelago is located in the southernmost part of Myanmar. Explore tropical rain forests where Tucans and monkeys will make you smile. Anchor off shallow sandy beaches with gentle surf, perfect for young children. Extensive coral reefs are wonderlands for snorkeling and diving. The remote location means that much of the archipelago has not yet been thoroughly explored and the nomadic Moken can often be seen fishing or diving for pearls.
Thailand, Surin Islands
Long broad and shallow coral reefs line the sheltered eastern coast providing excellent opportunities for beginning snorkelers. Visit the world famous dive site of Richelieu Rock, and a traditional village of the indigenous Moken people. These enterprising locals derive everything they need from the sea. Their kabang boats are gracefully crafted from a single piece of wood.
Phuket: the largest island in Thailand
Yacht Haven Marina is just a 15 minute drive from Phuket International airport. Cruise to Phang Nga national park. With over 100 islands and islets and impressive sheer limestone cliffs, it offers breathtaking scenery, exciting exploration, secret
coves and the iconic rocky pinnacle of James Bond Island.
Thailand, Phi-Phi Islands
The vertical cliffs of these two islands thrust upward like massive guardians of the emerald sea. Phi Phi Le, the southernmost of the islands, encloses the picturesque lagoon made famous by The Beach, starring Leonard DiCaprio. Spectacular limestone cliffs above the water plunge into the depths to become sheer drop-offs and coral gardens underwater. This is a diver's paradise of color and marine diversity, which includes the occasional whale shark.
Thailand, Krabi and Koh Lanta
Krabi is a lush province of jungles, limestone cliffs and idyllic isles. The town of the same name is a popular tourist destination with much to see and do, from hang gliding tours to cooking classes. Buddhist shrines still used by local monks are tucked into the chambers of the town's top attraction, Tiger Cave Temple.
Koh Lanta is a 25km long island south of Krabi, renowned for its secluded endless beaches and natural beauty above and below the water line. The dive sites surrounding Koh Lanta are some of Thailand's finest, with reefs teeming with vibrant sea life.
Racha Noi: Little King Island
This island is another spectacular dive and snorkeling destination with a great chance to see reef sharks, manta rays and whale sharks. The underwater landscape, like the Similan Islands, is a tumble of giant boulders covered with large soft corals, powder white sandy bays and exceptional visibility.
Thailand, Similan Islands
Northwest of Phuket, these nine uninhabited tropical islands are renowned for their pure white coral beaches, huge granite boulders, colorful coral reefs and incredibly diverse marine life. This archipelago is one of the most popular dive destinations on earth. Here is a realm that inspires romance, with anchorages you can claim as your own, and deserted beaches to enjoy a leisurely stroll, sun worship and an uninterrupted commune with nature.
Some of our favorite places:
Wanakarn Beach Resort & Spa, Thaimuang Beach: The Twin Waters Restaurant has an exceptional wine cellar and innovative Thai fusion cuisine created by award winning Executive Chef Ratchaneeporn Dapachutisan. The full-service spa is operated by renowned Sukko Spa and offers a range of traditional and exotic therapies and treatments.
Amanpuri Resort, Phuket: Be pampered at the Aman Spa, natural herb-infused treatments are offered in six light-filled pavilions that include a private steam room, shower, bath, and outdoor meditation sala.
Pimalai Resort, Koh Lanta Island: Step ashore and wander through the beautiful gardens of this five-star property. Indulge in a treatment at the award-winning spa. Dine at the Seven Seas Wine Bar and Restaurant, serving vegetables from their own organic farm. Watch the sun set over Ba Kantiang bay, seated 60 meters above sea level.
Andaman Club, Thahtay Island, Merqui Archipelago: The entire island of 1,800 acres is for the exclusive use of Andaman Club visitors. The property includes restaurants and bars, casino, and golf course.
Some of our favorite charter yachts:
Superyacht Lauren L offers spectacular yachting for up to 36 guests pampered by 41 crew.
Lauren L is one of the largest and most sophisticated charter yachts  presently available to charter in Thailand. Lauren L is equipped with superb staterooms, salon with grand piano, conference/cinema room and library, and  inside and outside dining areas. Cuisine is created by experienced and versatile chefs for an unsurpassed dining experience. The sun-decks, gym and health-suite make certain guests have an exclusive and indulgent voyage. Facilitating for smaller guests, there is a children's play area to add to the enjoyment. Lauren L is currently in Phuket. 
Sailing Yacht Lamima allows charter guests to experience traditional Indonesian boat building with modern superyacht technology, luxury and comfort. The 62-meter yacht accommodates 14 guests in seven en suite staterooms for private, luxury charters in Thailand and Indonesia. Exclusively for guests booking through Select Yachts, receive an amazing gift basket of the finest local products.
Sailing Yacht 101.7′ Sliverlining, designed by renowned Sparkman & Stephens, was launched in 2011 from the Pithak Shipyard in Thailand. The all-aluminum sloop-rigged yacht has cruised more than 50,000 nautical miles around the world, visiting more than 40 countries. Up to eight charter guests can cruise the Andaman Sea in style on this luxurious, safe, seaworthy sailing yacht.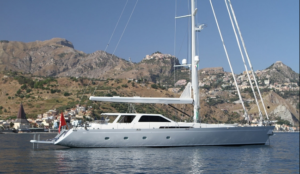 Contact Select Yachts to launch your dream vacation aboard a luxury private charter yacht.