Motor yacht charter Croatia takes you on an enchanting journey through the Adriatic Sea. You can explore thousands of islands, some inhabited, but many uninhabited. Scuba dive and kite board at world-class sites. Step ashore in coastal villages with ancient roots. Explore the history, culture and cuisine of vibrant cities. Rejuvenate in a warm, Mediterranean climate afloat on blue-green seas. Your motor yacht charter in Croatia will exceed expectations.

What type of motor yacht should you choose?
Your first decision is whether to opt for a bareboat or skippered or fully crewed yacht. For example, if you have a boat license, you can rent a bareboat. You'll need an internationally recognized boat license, such as ICC, CEVNI, as well as a Radio License. Because these certify you've undergone formal training and can manage a vessel in international waters.
A bareboat is rented bare, without any crew or provisions. So, you will need to purchase supplies, cook your own meals and be your own captain. If you're an experienced yachtsman, it's a wonderful way to enjoy an intimate voyage with friends and family. If you don't have a boat license, but want to provision and cook while aboard, you can hire a skipper. The most economical way to embark on a motor yacht charter Croatia is to rent this type of boat.
At the opposite end of the spectrum, a fully crewed, fully equipped superyacht is the epitome of luxury yachting. Most superyachts accommodate 12 passengers and are staffed by professional crews. Your captain is familiar with the region and will customize your itinerary according to your preferences. Your charter party will enjoy meals prepared by your private chef according to your preferences. There are plenty of water sports toys and gear aboard. Superyacht charters offer the ultimate cruising experience.
Perhaps the most unique experience is had aboard a motor sailer. These romantic yachts imbue your charter vacation with classic, Old World elegance. The best of both worlds, they are sailing yachts equipped with motor power.
The Cost of Motor Yacht Charter Croatia
Bareboat charters are the most economical, with daily rates as low as $200 for a two-cabin layout. But, bear in mind there is a long list of add-ons. These include linens, WiFi, paddleboard, fishing gear, etc., and you must purchase all food and beverages.
Crewed motor yacht charter prices vary according to the size, style and age of the yacht. Luxury superyachts rent from $30,000 to over $1,000,000 per week, plus expenses, in the form of an advanced provisioning allowance (APA). Conversely, smaller 'all inclusive' type vacations cost between $15,000 to $50,000 per week. Motor sailers range from $6,000 to $75,000 per week plus expenses.
Top Destinations for Motor Yacht Charter Croatia

Zadar
The New York Times put Zadar high on its must visit list. Yachts of every type line the docks and upscale marinas of this picturesque city. Visit the Archeological Museum and Old Town to reach into the past. Take a stroll along the waterfront. Poke about the boutiques and market stalls filled with local crafts; woven textiles, handcrafted laces and sheepskin products. Find treasures at the galleries and jewelers. The nearby island, Dugi Otok, has several, amazing scuba diving sites. But, for those who prefer the sun, the beaches are alluring, pristine and secluded.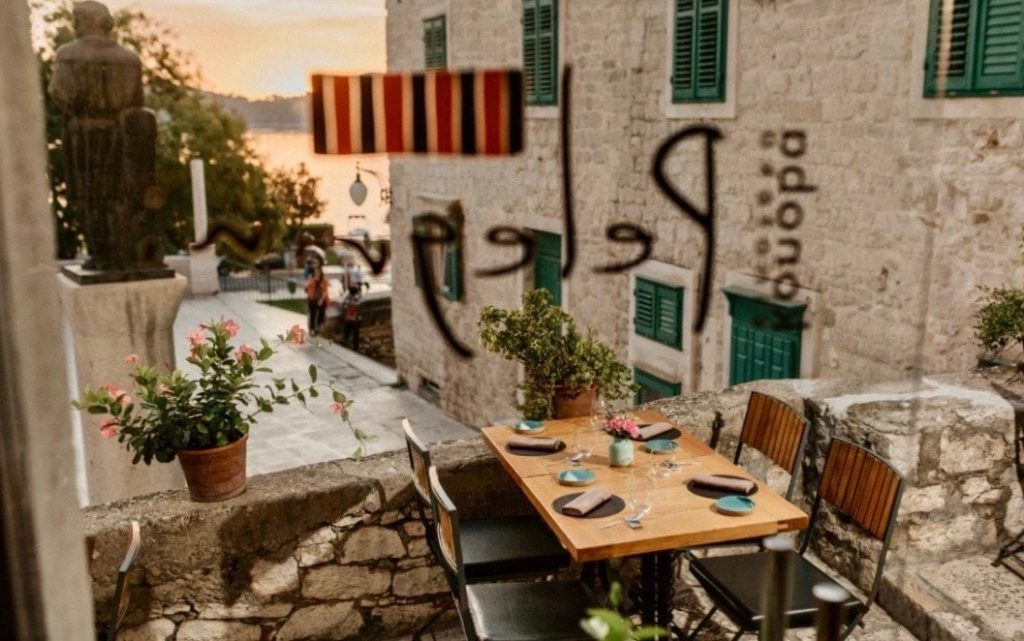 Šibenik
Šibenik is a coastal town on a gorgeous bay where the Krka river meets the sea. Historic monuments include the Cathedral of St. Jacob and the UNESCO protected St. Nicholas Fortress. During your tour of the town, we recommend stopping for a leisurely lunch at Pelegrini Tavern. In the afternoon, take the tender upriver and anchor at Krka National Park. It's a short walk to view the seven stunning waterfalls. The nearby Kornati National Park is a nautical paradise. You could easily spend a week just exploring the reefs and inlets surrounding these 140 uninhabited islands.
Split
Split is the second-largest city in Croatia and the largest city in Dalmatia. It was founded by Diocletian, emperor of ancient Roman Empire, as his place of retirement. The opulent remnants and ruins scattered throughout the Old Town are architectural and historical gems. Peruse the underground shopping center of Podrum for keepsakes. Head to Enoteka Terra for the best in local wines and spirits. Fashion boutiques with designer apparel line Marmontova street. But, when it's time to relax and dine with sea views, waterfront restaurants offer the best in local cuisine.

Brač
The world-famous attraction on the island of Brač is in the village of Bol. Zlatni rat beach is a Mecca for world-class windsurfing and kiteboarding because of the constant Maestral winds at 15-25 knots. This long, sandy peninsula is also a favorite of families. Calm, shallow water is ideal for children.
But there are many more reasons to drop anchor off this romantic island. Olive groves, vineyards and fig trees surround the villages and fragrance the air. There are excellent restaurants and historic monuments. The annual Cultural Summer Festival has a calendar of concerts, exhibitions, theatrical performances and events.
Hvar
The Dalmatian island of Hvar is a very popular destination on a motor yacht charter Croatia. In addition to beautiful inlets and coves, Hvar is well-known for it's exciting nightlife. This tiny island has 12 top-rated clubs, with Carpe Diem bar and beach club consistently ranking #1.
Korčula
The island of Korčula is one of the most beautiful and romantic islands in the world. It is considered the finest medieval town in Croatia and one of the best preserved in the Mediterranean. Explore markets, fortresses, cathedrals, palaces and the lush botanical garden.
Trogir
Trogir is a UNESCO world heritage site. It is one of the oldest Croatian cities on the Adriatic coast. Its heritage is a rich tapestry of old Greek, Roman and Venetian cultures. The Trogir archipelago includes 20 islands, islets and little villages. It is a breathtaking destination of natural and historic wonders.  

Dubrovnik
Dubrovnik is one of the most beautiful seaside towns in the world. On a motor yacht charter Croatia, Dubrovnik is a highlight. It has also become one of the world's trendiest destinations. Because here, ancient and modern are seamlessly interwoven. So, walk the ancient ramparts, then head to the Maria Store for international designer brands. If you're Game of Thrones fan, there are an abundance of thematic tours around the walled city. For fine dining with views, we recommend Restaurant 360 (pictured above).
Contact Select Yachts today. We love to share our personal experiences in Croatia. We'll listen to your desires, needs and budget. Then we'll find you the perfect yacht. We do it right, because we want your dreams to come true.