Turkish Riviera Blue Cruise Itinerary
The Turkish Riviera is where occident and orient come together. It is a tantalizing fusion of flavors, cultures and history. Captain Bruno, of S/C Harmony, declares this his favorite place to sail. So many beautiful islands scattered off the mainland. Captain Stephan, of M/Y Özsarı, says high-profile clients appreciate the high level of service. Super yacht marinas and exclusive beach clubs cater to jet-setters.
Here is a suggested itinerary for a one-week Blue Cruise in the Turkish Riviera. Begin in the Gulf of Göcek and end in Marmaris.
Day 1: Gulf of Göcek, Turkish Riviera
Embark in the afternoon from the marina in Göcek. Located in Fethiye district, Muğla Province, it offers natural beauty and a sophisticated infrastructure. Six yacht marinas, a surround of rustic villages and beautiful offshore islands make Göcek extraordinary. Anchor overnight in one of the forty anchorages of the Göcek Gulf.
Day 2: Oludeniz and Gemiler Island, Turkish Riviera
Next, cruise to Oludeniz. This beach resort is famous for the long stretch of white sand on a near motionless lagoon. The beach lies in the shadow of Mount Baba, a favorite leap of paragliders. The scenic Lycian Way walking trail begins here.
Drop anchor for the night at Gemiler Island. The north shore still has the ancient slips of Lycian and Byzantine pirate ships. A covered walkway to a basilica leads to the ruins of an ancient village. Archeologists believe that St. Nicholas, patron saint of sailors, spent the end of his life here. He was originally buried at a church cut directly from the rock at the island's highest point.
Day 3: Fethiye
Firstly, take breakfast on deck. Striking beauty surrounds you in the Gulf of Fethiye. Then, hoist anchor and float past high mountainsides. Their forests conceal the crumbling foundations of elaborate cliffside tombs. The ornate monuments of Lycian kings loom up behind Fethiye town. They mark the end of ancient footpaths that begin in the harbor.
Also, explore the lively waterfront cafes, handicraft stalls, and souvenir shops. Meander up the twisting alleyways of Old Fethiye. You can then peruse the weekly local market, which is the biggest of the region. Or, spend a leisurely afternoon swimming in Fethiye Gulf, as well as scuba diving at one of many remarkable sites.
Red Island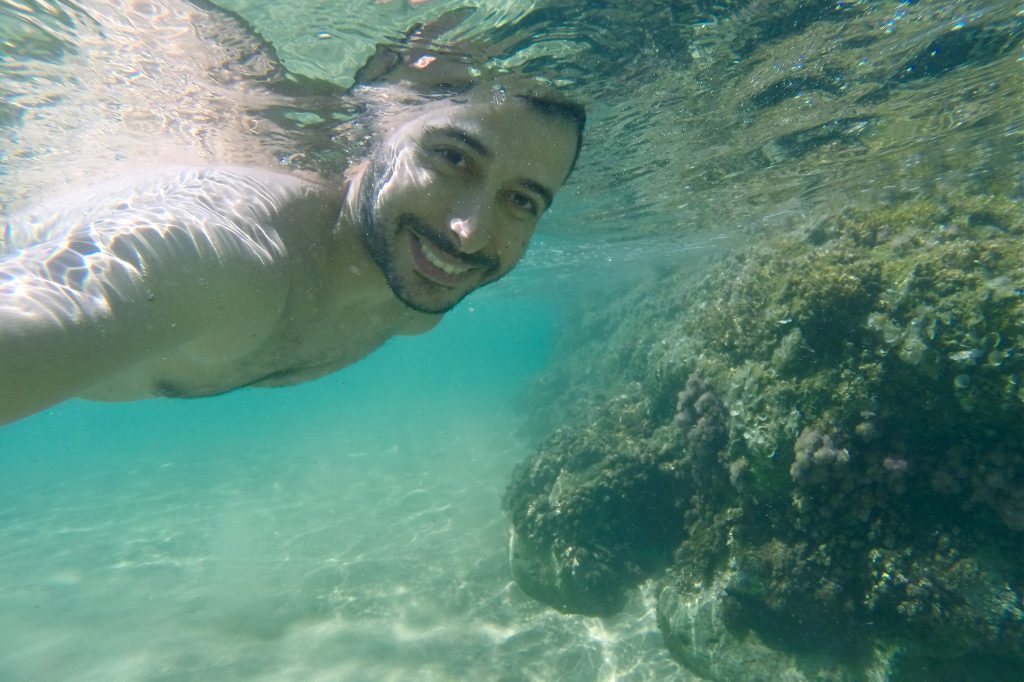 This dive site follows a natural slope to a seabed with underwater topography that resembles an amphitheater of colorful sponges and large groupers gliding among them.
Tarzan Bay
Here you'll see all kinds of small fish swimming among amphora. These ancient jugs have been laying on the seabed for 1000s of years. This is a fascinating dive for both beginners and experienced divers.
Amphora Bay
One of the oldest amphora sites in this area of Turkey that dates back to the Roman era of 300BC. Two large rock formations are home to all kinds of sea life, such as white grouper, octopus, crayfish, moray eels, clownfish, fork tails, sea aubergine and sponges.
Day 4: Manister Bay, Cleopatras' Bay, Wall Bay
Manastir Bay is popular for swimming, snorkeling, kayaking and hiking. Pine forests encircling the bay fragrance the air. Crystal clear water equals excellent underwater visibility. At Cleopatra's Bay, snorkel or wade in half submerged, medieval ruins.
Hike the footpath up to the archeological site of Lydae. Then wander through the remains of ancient buildings including mausolea, agora foundations, statue remnants, Corinthian column sections, and inscribed pedestals from the Roman and Byzantine periods. Cleopatra, who traveled the Turquoise Coast, was here in 46 BC. In 32 BC she stopped while on her honeymoon with Marc Antony, who was en route to Actium. Swimming, snorkeling, and kayaking around Wall Bay are also options. Lastly, you can cruise to Tomb Bay or Monastery Bay to anchor for the night.
Day 5: Cold Water Bay, Kayaköy, Aga Limani
Cold Water Bay is cooled by fresh water springs coming up under the sea. The shade of the hills block late afternoon sun.
A twenty minute walk up from the bay leads to the eerie ghost-town of Kayaköy. Fans of Louis de Bernieres will recognize Kayaköy from his novel Birds Without Wings as the fictional Eskibahçe. Tragically emptied by the Turkish-Greek population swap of 1923, the town was adopted by UNESCO as a World Friendship and Peace Village.
Anchor overnight in the beautiful cove of Aga Limani at the foot of mountains perfumed by pine, eucalyptus and wild rosemary. It is an inspirational setting for a late afternoon hike.
Day 6: Dalaman River, Kaunos, Daylan
Anchor in Ekincik. Join other visitors aboard small fishing boats that cruise to the delta of Dalaman River. Go for a swim at Caretta beach, a breading ground for loggerhead turtles. History enthusiasts will want to visit Kaunos Ruins and the town of Dalyan.
You can also opt for a more energetic adventure. Try rafting along the Dalaman River through steep gorges. Or, bounce along on a jeep safari. Go forest mountain-biking or trekking. Splash for health at therapeutic mud baths and thermal springs with rejuvenating properties in Dalyan.
Day 7: Cennet Island, Marmaris
Cennet Island is actually Nimara Peninsula. It is located just across from Marmaris Bay and completely covered in pine forest. The trekking experience here is a must for nature lovers. It's a lovely place for a swim and a snack. Try an Efes beer with a traditional meze (snack platter) at a beachfront café. The gulet shipyard is also an interesting place to see how these vessels are built.
Marmaris
Turkey's yachting capital is nestled in the corner of an attractive, sheltered bay. From the Marmaris Yacht Marina you're just steps from the lively port city. The seafront promenade hosts miles of hotels, shops and restaurants. The bazaar is a tangle of treasures, trinkets and local fare.
Marmaris has a wide range of evening entertainment. Soccer fans have their own street of soccer bars, such as Ibrox Bar, Manchester United Bar, Newcastle Bar, and Liverpool Bar. Bar Street, however, is hidden on an alleyway accessed through the bazaar.
Get your party on with R&B, rock and alternative music until 4:00am. The resort hotels have traditional shows where the dervishes will whirl. Or simply stroll along the promenade, pause to sip a Raki, and then savor the passing parade.
Sadly, in a 7-day itinerary, you reach little of the vast length of coastal Turkey. Options might include the Greek islands of Rhodes and Kos. You can also embark in Fethiye or Antalya. Cruising from Istanbul to Bodrum is an adventure. Journey through the Sea of Marmara, the Aeolian coast and the Ionic coast. Whatever your vision, Select Yachts works with you to realize your dream vacation.
Additional Resources: Turkey: The Exotic Riviera