Excerpts reprinted with permission from the author, Karuna Eberl, our favorite resource for all things Florida Keys.
Abandoned Water… Enduring Off-Shore Lighthouses of the Lower Keys
For almost two centuries, a string of Florida Keys lighthouses have been standing sentinel over treacherous shoals and reefs. Eight of them were built in the open water, miles from land. Three still stand in the Lower Keys.
Keepers lived in these feats of engineering, illuminating the lights each night. They led lives of danger, isolation, and incredible beauty. Hurricanes struck with no forewarning. It might be weeks between human interactions, and sometimes that was to heroically rescue passengers from a sinking vessel. This sort of extreme solitude could lead to mental derangements of all sorts. But on serene days, they wrote of seabirds nesting and sharks swimming by in crystal waters.
Life eventually changed. In 1929 radios came, a generous Christmas gift from a Key West woman. Soon after, the keepers wrote of these wireless wonders. They listened to Sunday sermons and choirs, boxing matches, and presidential election results. Gradually the lighthouses became electrified, then fully automated, and the keepers moved ashore. But their towers still stand as beacons, fishing holes, and snorkeling meccas — photogenic sentinels to the stories of triumph and tragedy along the Keys reefs. Unfortunately, climbing them is illegal.
AMERICAN SHOAL LIGHTHOUSE
This striking red, 124-foot tower stands around 7 miles south of Sugarloaf Key. There are no mooring balls. There are usually a few boats anchored nearby for snorkeling and fishing. First lit in 1880, in 2016 American Shoal made headlines at the center of a wet-foot, dry-foot controversy. It served as the brief landing spot for 21 Cuban refugees, who were reported to the Coast Guard just shy of succeeding on their 90-mile float.
According to the Florida Lighthouse Association:
Active: No
DayMark: Brown octagonal pyramidal skeletal tower enclosing white staricase and brown octagonal dwelling; screwpile foundation.
History: Constructed 1879 – 1880. First Lighted: July 15, 1880. Lighthouse light turned off and structure abandoned 2015.
Lens: Original: 1st order revolving Fresnel lens (removed in 1980). Present: Vega VRB-25 revolving beacon; RACON. Focal Plane: 109′.
Construction: Builders: Phoenix Iron Co. Iron screwpile constructed of wrought iron.
Visitor Info: Closed to public. From Sugarloaf Key the lighthouse is approachable by boat and can be seen from shore.
SAND KEY LIGHTHOUSE
Today the snorkeling is stunning at this 132-foot structure near Key West. In 1827, the year the first Sand Key Lighthouse was built, it stood firmly atop the island of Sand Key. It was a vital guardian of the main channel leading into Key West Harbor, and a burgeoning social scene for picnickers.
Unfortunately, it was also the site of dire tragedy in 1846. A hurricane hit the original structure and it disappeared without a trace, along with the island, the keeper, his daughter, and her family. In 1852, on the island greatly reduced in size, a new lighthouse was was built. Today, it is on a shoal, which is high enough to serve as a roost for large congregations of seabirds; pelicans, terns, and magnificent frigate birds.
According to the Florida Lighthouse Association:
Active: No
Height: 132 feet, 112 steps
DayMark: Brown, square pyramidal skeletal tower with white lantern
History: Constructed 1852-1853. First Lighted July 20, 1853. Deactivated 1989-1996 during restoration. On National Register Listing. Lighthouse light turned off and structure abandoned 2015.
Lens: Original: Revolving first-order Fresnel lens (removed 1982); Henry-LePaute (1853). Present: Vega VRB-25 rotating beacon. Focal Plane: 109′.
Construction: Architect: I.W.P. Lewis. Builders: Lt. George Gordon Meade and John F. Riley Iron Works. Constructed of wrought iron and iron screwpile.
Visit Status: Closed to public. Approachable by boat from Key West.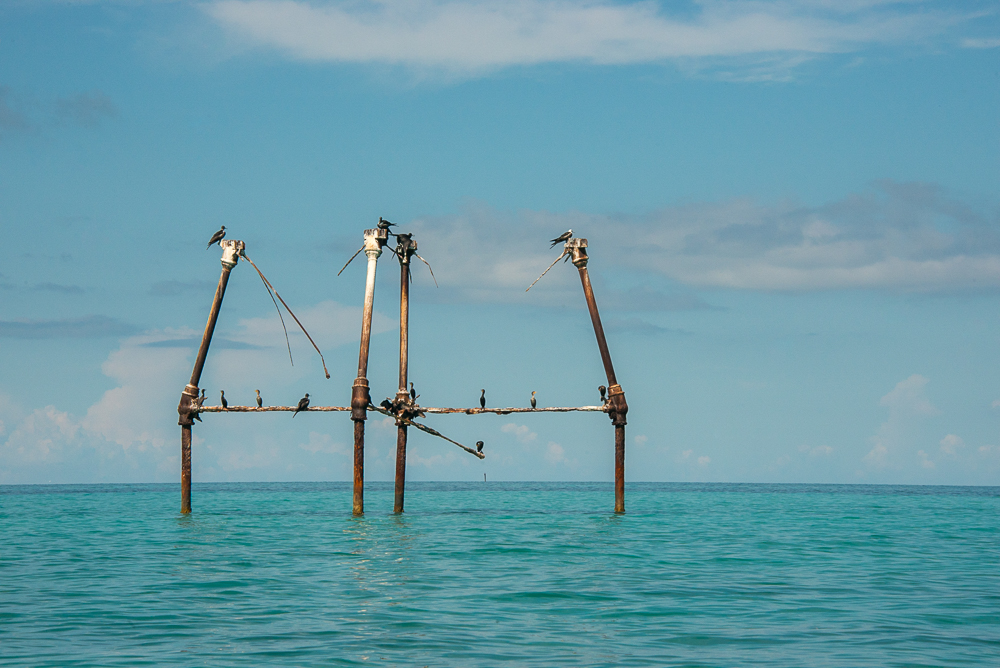 NORTHWEST PASSAGE X-LIGHTHOUSE
A group of twisted iron sticks rise eerily above the water 8 miles northwest of Key West. They are all that remain of the lighthouse that saved countless ships from 1855 to 1921. At 47 feet tall, it was never the grandest of the Florida Keys lighthouses. But in the 1930s it was a favorite fishing spot for author Ernest Hemingway, earning it the modern-day title of the Hemingway Stilts. The surrounding area is a scenic hangout to watch for sharks, large grouper, dolphins and seabirds.
Florida Keys Reef Lights Foundation has been formed to promote the establishment of Florida Keys lighthouses museums, with eventual public access and tours. Plans included the American Shoal and Sand Key Lighthouses. Visit their web page to donate to the preservation of these historic structures.
This feature includes photos and excerpts from Quixotic's Key West & the Lower Keys Travel Guide, 2017, by Karuna Eberl and Steve Alberts. This favorite guide is available on amazon at www.quixotictravelguides.com.
Contact Select Yachts for sailing yachts, power yachts and superyachts available for charter in the Florida Keys. Let our professional charter brokers match you with the perfect yacht and crew.