St. Martin is ideal for first time charter clients seeking a gentle experience that features the excitement of an ocean voyage without ever losing site of land. Your individually customized itinerary is designed to perfectly suit your charter party. Charter guests of all ages will want to spend time on the stunning beaches, snorkeling, swimming and enjoying the local beach barbecues and island music. Family charters with children will be delighted with the diversity of on shore activities that give everyone a chance to stretch their sea legs.
St. Martin on the French side, Sint Maarten on the Dutch side, visitors to this island
paradise enjoy the cultural intrigue of visiting two island colonies in the same 37 square miles. Saint Maarten/Saint Martin's exotic fusion of Caribbean, French and Dutch cultures are paralleled by its physical diversity. This includes cosmopolitan centers and seaside towns, lowlands and mountains, rainforests and white sand beaches. St Martin is a place where you can do it all or do nothing at all. Nevertheless, the ultimate way to experience the island is aboard a private, luxury charter yacht.
Day 1: Marigot
Board your private charter yacht in Marigot. The picture postcard French capital is ringed by delightful restaurants, charming boutiques and duty-free shops.
Fine art collectors and admirers should visit the gallery of Sir Roland Richardson, world famous for his colorful impressionist works. There's a small local market every morning by the waterside where you can buy local spices, clothes with bright Caribbean colors and motifs, and other trinkets for authentic souvenirs. If time permits, you can also visit Fort Louis. Despite being a bit of a climb, you are rewarded by spectacular, panoramic views of the island.
Day 2: Grand Case
This enchanting French seaside town features a beachside road lined with excellent restaurants, galleries and boutiques. The famous Calmos Café on Grand Case Beach is a long time favorite of yacht charter guests and crew. This funky Franco-Caribbean beach bar and restaurant offers live music a couple of nights a week. Yachts anchor offshore to revel in the lively jazz or reggae while guests enjoy cocktails and dinner on deck.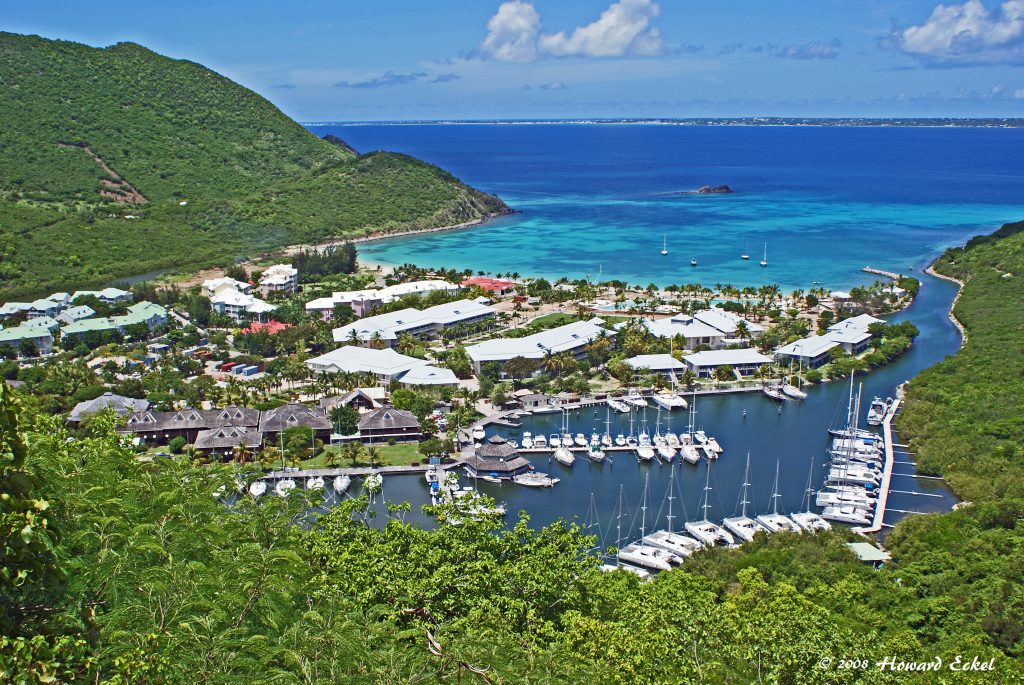 Loterie Farm is an enchanting shore excursion by taxi, departing either from Marigot or Grand Case. This unique farm that once cultivated sugar cane is now the ecological showcase of a Californian philanthropist. Hike on nature trails through the "hidden forest" with splendid views towards the Caribbean Sea, Marigot, and the island of Anguilla. The Fly Zone is a zip line along ropes from tree to tree. The higher and more challenging tour is for adults and youngsters over 4 ft. tall. The lower and easier tour, however, is for small children. The Treetops restaurant showcases estate grown produce and features gourmet French-Caribbean cuisine. Rent a lounge or cabana to enjoy the Jacuzzi and spring fed pool.
Day 3: Anse Marcel and Pinel Island
Anse Marcel is a tropical, upscale beach, positioned at the northernmost part of the island, is ideal for couples and families. Nestled in a quiet bay, protected from swells, the white sand beach has shallow, calm water. Here, two large hotels with sprawling landscaped grounds offer excellent amenities. The Marina Port de Lonvilliers is located at the northern side of Anse Marcel, facing the island of Anguilla. Facilities at the marina include a tiny handful of boutiques, shops and a restaurant.
Pinel Island, or in French Ilet Pinel, is a tiny island gem on the north end of St. Martin off the shores of French Cul de Sac. Located in the heart of the Marine Park of St Martin, the beach has calm, crystal clear water and is a very popular weekend spot for families with children. Enjoy an afternoon swim along the snorkel trail protected and maintained by the Marine Park. Then head for the beach to relax on a lounge chair and bathe in the gentle surf.
Located on the far left side of the beach, Le Karibuni Restaurant and Beach Bar offers fantastic Caribbean cuisine. Yellow Beach restaurant, located straight in front of the dock, is known for its amazing BBQ and tropical
Tiki huts. For a lovely walk and a bit more seclusion, take the path across the island and you'll end up on a pristine beach and likely have it all to yourselves. Please be aware that Pinel Island is a clothing optional beach, especially the north side.
Day 4: Le Galion Beach
This slice of paradise features a northern end of brilliant sands and calm water so shallow you can wade out thirty yards without getting your suit wet, perfect for toddlers, children and non-swimmers. Le Galion is also a popular hangout for surfing, kite-boarding, and windsurfing enthusiasts. In front of the former "Le Galion Hotel" great surfing results from trade winds along the Atlantic coast.
Le Galion Beach is next to bustling Orient Beach. The area offers lots of exciting attractions. The Butterfly Farm (La Ferme des Papillons) contains marvels such as a beautifully landscaped garden, waterfall, pond, Japanese fish and tranquil music. As you wander through this serene atmosphere, some of the world's most exotic butterflies fly around you, laying eggs and performing courting dances. Early each morning the butterflies emerge from their chrysalis to take their first flight. Guided tours, a gift shop and refreshment stand are also located here. Nearby, the Bayside Riding Stables offer horse (and pony) riding for all ages and skill levels on trails through the Marine Reserve and along the beach.
Day 5: Phillipsburg, Frontstreet and Great Bay Beach
Phillipsburg is the Dutch Capital, which has now become the independent country of Sint Maarten. Old renovated buildings as well as the typical Antillean architecture characterize this bustling seaside city.
Frontstreet and Backstreet are the main roads, bisected by little alleyways crammed with retail shops. Gift stores and art galleries fill Old Street. Back Street, on the other hand, has a colorful local market, souvenir shops, and inexpensive clothing.  History buffs will enjoy the St. Maarten National Heritage Foundation is a small museum, in a converted 1800s house, with exhibits covering the culture, history, flora and fauna of the island, and reference and video libraries.
Great Bay beach is just steps away and offers a lovely respite from shopping. The sand is white, along with a lovely turquoise sea. Places to eat, drink and shop line the boardwalk. There are plenty of places to rent chairs, access wifi, get cold brews, and rent Jet Skis or banana boat rides.
Day 6: Simpson Bay
While most of the bay is home to private residences there is plenty for visitors to do here. Pelican Beach, part of the Pelican Resort, has one of the most interesting little reefs to snorkel. The small beach has a favorite children's attraction, the Playstation 4 Kids. Anchored right off the beach, the "Playstation" was formerly a catamaran converted into a platform with ladders, Tarzan swings, kids swings and two types of slides. Pelican Beach is on the eastern side and most boats anchor here for the night. Buccaneer Beach bar often has live music and games for kids. The airport is on the western side and next to it, housed in a
converted bus is the Karakter beach bar, which features great food on a nice beach with a view of the planes.
For an interesting family walking tour, meander past the many retail and restaurants establishments down to the St Maarten Yacht Club on Simpson Bay to watch boats large and small make their way through the lift bridge at 4.30 and 5.30 pm. Then continue on to the Carousel Ice Cream Bar where a real indoor carousel whirls children around on gaily-painted horses. For family evening entertainment, enjoy a film at the movie theatre opposite.
Day 7: La Samanna, Terre Basses, Marigot
Set sail along the western coast, past the airport,  where you may witness some of the low flying airplanes during take off or landing. Head to La Samanna Hotel to enjoy lunch on the terrace at the casual beach bar, take a dip in the sea or  take advantage of good snorkeling. spot. Back on board, sail around the headland of Terre Basses or Lowlands in view of some of St. Martin's largest and most impressive villas built on 4 acres lots. Return to Marigot and prepare to bid farewell to your beautiful yacht and endearing crew and consider your plans for your next family yacht charter vacation.
Select Yachts assists our clients in creating customizing itineraries and booking the perfect yacht and crew. Contact us for detailed information about chartering a yacht from our superb selection of megayachts, power yachts, luxury sailing or racing yachts, and crewed catamarans in destinations worldwide.