Mega yacht NATURE is an extraordinary concept in every way.
The Owner's design brief was to integrate a bit of bliss into every space on board. This was masterfully achieved by Sinot Yacht Design. NATURE meets all expectations of innovation and luxury, while pushing the boundaries of contemporary yacht design to the extreme. The superlative concept yacht premiered at the Monaco Yacht Show earlier this year.
In a radical design innovation, the superstructure appears symmetrically centered. The vertical bow evokes a towering wall as much as a ship's hull. Her profile aptly conjures an Asian temple.
Exterior deck space is a masterwork of symmetry. The network of levels, walkways, cross beams and terraced lounge and relaxation areas are defined by the air; the absence rather than the presence of architecture. Open wall and floor sections and voluminous ceiling hatches represent a stunning departure from conventional yacht design.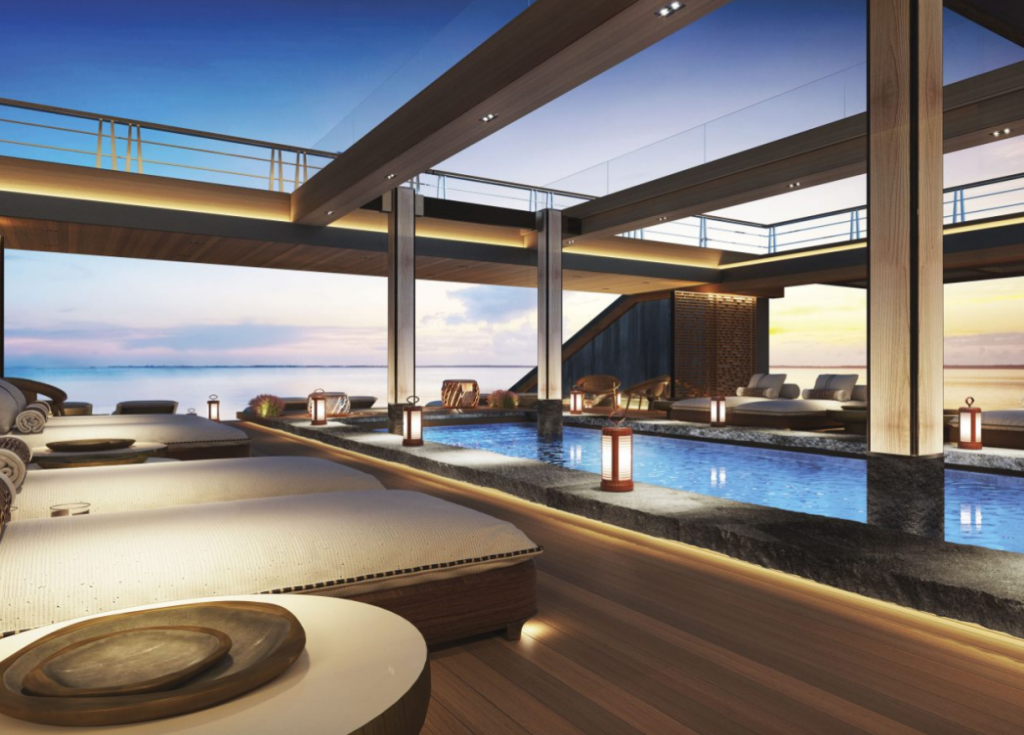 The effort to realize the Owner's vision for Mega yacht NATURE required total customization, right down to the footstools. On every deck level, rooms are encased in glass. Floor to ceiling windows and low-profile furniture made of natural materials blur the definition of indoor-outdoor living space. The layout features a palatial Owner's suite, elegant VIP and guest staterooms, a splendid Spa deck, gym, swimming pool at sea level, and a grand circular staircase, linking the Owner's deck with the 900 sqm+ Panorama deck.
Mega Yacht NATURE: Innovative Surprises
Mega yacht NATURE is endowed with all of the expected architectural elements and then some. The Owner's vast compartment includes areas equipped for office work as well as relaxation and contemplation. The central focus is an inner garden, sizable enough to grow trees. State-of-the-art climate control technology automatically maintains the environment. On this deck level, roof hatches provide extended balconies and create an unexpected second level in the beach area, connecting the Spa and Owner's decks.
Guest and VIP staterooms feature textured silk carpets, high ceilings, floor to ceiling windows, fully-customized furniture in durable woods, and complimentary natural woods in wall and ceiling paneling. There are very large salons on the main and upper levels. The upper deck observatory at the bow is architectural genius. Sitting in this amazing space would be magical. Two floor-to-ceiling windows eliminate boundaries.
Outdoor social spaces occupy the aft decks. Open the stern and side hatches. Slide out the roof hatches. Behold a magnificent, open-air beach area. The central pool and surrounding terraces provide unlimited views and space for relaxation, sunbathing, cocktails or parties.
Mega yacht NATURE has a steel hull and aluminum superstructure. The yacht accommodates 18 guests and up to 50 crew members.
Considering a yacht purchase? Select Yachts licensed brokers will give you honest, unbiased advice.
Contact Select Yachts to assist you in researching the finest yachts for sale in the worldwide market today.
Source: Sinot Exclusive Yacht Design