Project Neptune: World's Most Posh Submersible
Project Neptune raises the bar on personal submarines. This high-tech craft embodies the luxury, beauty, and state-of-the-art engineering expected from two iconic brands. Aston Martin, the British luxury automaker, delves into a new range: submarines. Triton Submarines, LLC, are leading experts in the design, manufacture and operation of personal submersibles. Together they launch Project Neptune.
The design by Aston Martin is a complete departure from the bubble-top, personal submarine architecture presently on the market. Project Neptune is sleek, aerodynamic and futuristic. The aesthetic is closer to a personal spacecraft than a watercraft. Most of all, it has the refined elegance and elite styling that defines the British marque.
Project Neptune: Perfect For the Man Who Has Everything Except a Sub
Triton offers a series of superb, deep-diving, submersible models, popular with superyacht owners, researchers and explorers. Project Neptune takes it up a notch, encapsulating Triton's diving and operational expertise in a new, head-turning skin. With Aston Martin's design, materials, and high-end craftsmanship, this strictly limited edition will likely be on the toy list of the world's wealthiest one percent.
This is not Aston Martin's first departure from auto manufacture. The company is developing a whole new product lineup for the ultra-luxury market. Last year, those who attended the Miami Boat Show might remember the reveal of their sleek, speedy, 37-foot Aston Martin AM37 powerboat, which debuted at the 2016 Monaco Yacht Show.
Project Neptune: Testimony to Perfect Partnership
Aston Martin Executive Vice President and Chief Creative Officer Marek Reichman said, 'Project Neptune is defined by its sleek, elegant exterior. We have used forms and proportions that express the same devotion to design, engineering and beauty that shape our cars, such as the Aston Martin Valkyrie hypercar project.'
Patrick Lahey, President of Triton Submarines LLC said: "We have always admired Aston Martin. The marque represents a deeply held passion for technology, engineering and timeless, elegant design. From our first interaction, it was apparent that Triton and Aston Martin were natural partners and our complimentary values will be realized in this truly exciting project."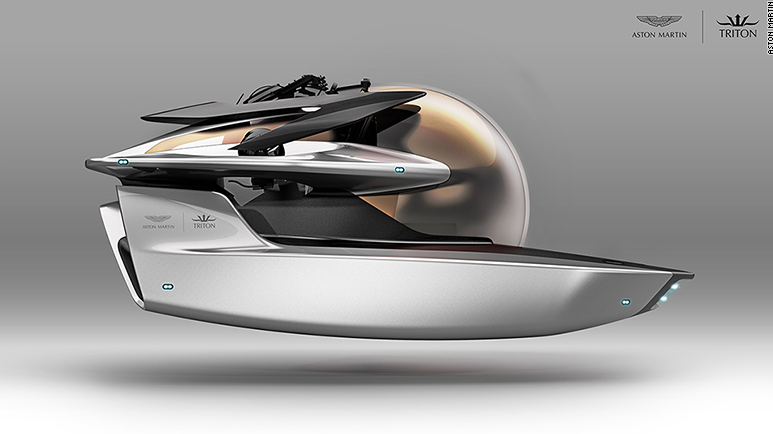 Aston Martin expects to start shipping its new submarine in late 2018. Probably, those who really want one better pre-order now. Maybe this exclusive edition will sell-out. Then, submarine buyers will have to settle for the yellow bubble-top model.
INQUIRE: www.astonmartin.com/projectneptune