GYRFALCON is magnificent. The Select Yachts team went aboard during the Fort Lauderdale International Boat Show to tour the yacht and chat with the crew. We were very impressed.
The Yacht
GYRFALCON is a brand new Sunreef 60' sailing catamaran with a 33.6' beam. The wide beam makes the main deck living areas, the foredeck and the flybridge feel enormous for a 60-footer.
Stepping aboard aft, a large teak table and outdoor bar create a delightful dining al fresco option. Inside, the main deck galley, with expansive counter space, is positioned opposite the dining/lounge area. This layout facilitates service and encourages interaction. Exit via the doorway from the saloon to the forward deck. Generous sun pads flank a comfortable seating area with cocktail table. Two giant trampolines offer guests the thrilling ride that's exclusive to a cat.
Elegant Quarters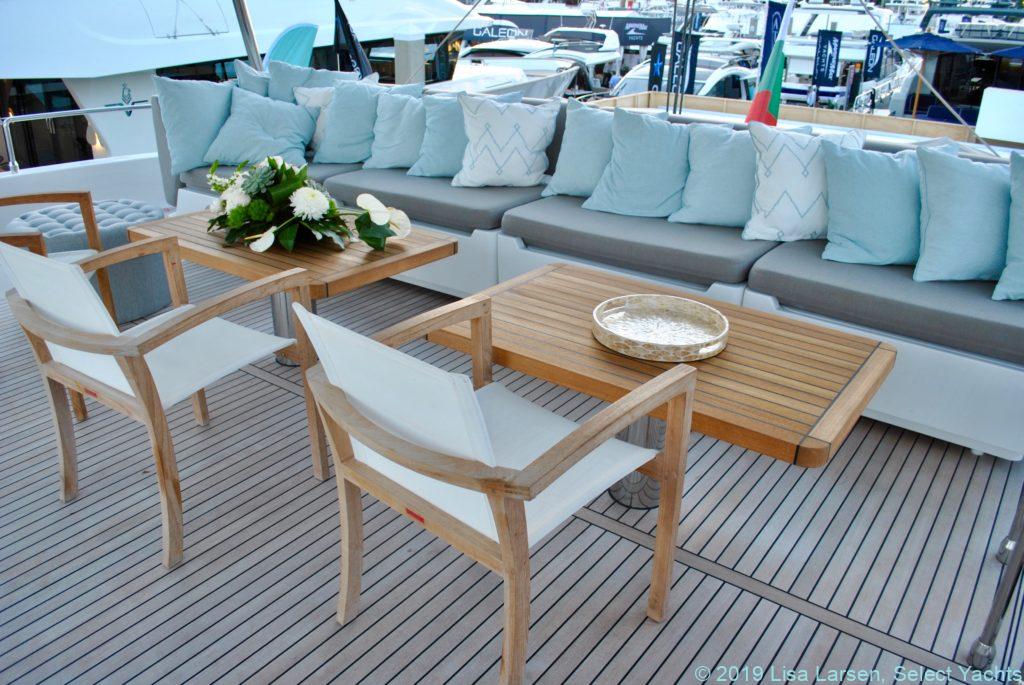 Accommodations for up to 10 guests are in three, equal cabins positioned in the starboard hull, one double guest and the master in the port hull. The modern minimalist design in muted tones creates a relaxing, zen-like atmosphere. All cabins are ensuite, outfitted with double beds, quality linens and soft goods, individual reading lamps and storage space. Each bathroom has a generously proportioned, enclosed shower. Favorite feature: triptych of sea-facing windows in the master.
The flybridge offers a protected space with panoramic views. It is an especially enjoyable spot when underway. The sea breeze refreshes as the beautiful, tropical landscape slips by. There's plenty of seating for the entire charter party to enjoy refreshing drinks and snacks served by the crew. GYRFALCON is designed for a relaxing cruise, but when energy runs high, there's plenty of toys and gear aboard for water sports fun.
GYRFALCON Chef Elise
Chef Elise Esposito has plenty of experience working Caribbean charters. She is enthusiastic about GYRFALCON's upcoming four-week charter in the British Virgin Islands. It's certainly a busy and exciting, six-week schedule for the crew. Delivery to the BVI immediately following the Fort Lauderdale International Boat Show and the charter immediately after that.
Elise is a diminutive chef with seemingly inexhaustible energy. She is effervescent and immediately likable, with impressive professional credentials and an infectious smile. The galley aboard GYRFALCON benefits from huge counter spaces, although four burners could test her timing skills in preparing gourmet cuisine for 10 guests. However, Elise is accustomed to preparing meals for large groups and doesn't seem a bit concerned.
Elise grew up in New Jersey. Her large Italian family, and a grandmother, with her treasure trove of traditional recipes, were a childhood inspiration. Being a chef is her calling, although before attending culinary school she was a business executive in New York City. Both high stress jobs, yet she has the personality and cumulative experience to remain nonplussed under pressure.
Elise shops Caribbean markets for fresh ingredients, including local specialties for restricted diets. We asked Elise if she would be interested in guiding guests through the markets, possibly hosting a cooking charter to teach a few recipes and techniques. It took only a second for her to say yes. Foodies take note.
GYRFALCON Captain Ricky
While he is every bit a seasoned, professional mariner, Captain Ricky Moss puts the emphasis on fun. During the day it's all about sand and surf. He loves snorkeling, diving and free diving. When he is snorkeling with guests, he'll take a free dive and surface with sea creatures to show to them. Ricky says, "In a lot of cases our guests have not been on charter before, or snorkeling before. We hold them and teach them step by step, baby steps. By the end of the week they book another charter with us because now they can do it!
"I know the BVI very well. There's a lot of secret spots I sail to. I like hiking, and when we anchor somewhere I take the guests ashore and guide them around. I like to be active all the time and spend time with the guests if they allow me to.
In the evening we have dinner parties. When we do our table, sometimes we have theme seating. We have masks of Amazon animals for some costumed foolery. We also have board games and cards. Playing Cards Against Humanity is popular. We always interact with guests a lot, especially at nighttime. Of course, it all depends on the guests.
"Being a Captain, you have to read people very well.
You can always read if guests want more space, or if they want us more involved with them. You get it right from the beginning. Everybody has different energy and you just go with the flow.
I'm super excited about the four-week charter coming up. During the 28-days we'll host different people aboard. To keep changing guests always brings new energy into the crowd. All I can see is that we'll probably become a family. Spending days together on a 60-foot yacht, we'll get pretty close. I'm super excited for it!"
Energy, charm, sensitivity and experience are qualities that make Ricky an outstanding Captain. He has chartered in the Mediterranean and all over the Caribbean as well; St. Thomas and the BVIs, St. Maarten, St. Kitts and Nevis, Guadeloupe and St. Vincent and the Grenadines.
GRYFALCON will be based out of Nanny Cay, in the British Virgin Islands. She is available for charter throughout the Caribbean during the winter season and during the summer in Croatia. If you're keen to charter GYRFALCON act quickly. Her booking calendar is filling up fast for very good reasons. She's a superb build with an awesome crew.
Contact Select Yachts for more information and to book your charter holiday aboard GYRFALCON. You deserve the ultimate vacation.