Day One: St. Thomas to Hurricane Hole, St John
Step aboard luxury charter yacht ISLAND GIRL in St. Thomas, USVI. We'll be waiting for you with a warm greeting and a cool, tropical refreshment. We are your crew, Captain Lee and Chef Liz. It's a pleasure to share our favorite spots with you on an unforgettable seven-day adventure. Once your luggage is stowed and you've been briefed about the yacht, we set a course for the natural wonders of St. John.
We drop anchor at Hurricane Hole, so named because it is protected on three sides. Here you can enjoy scuba diving or snorkeling amongst tropical mangroves. Paddle board or tender over to Lime Out Taco Bar. This trendy, floating bar is nonstop party fun. Return to your private charter yacht, ISLAND GIRL. Relax on deck with sundowners and hors d'œuvres followed by a superb meal. The surround of stunning scenery, the gentle song of birds, the softly lapping sea, it's a world without equal.
Day Two: Trunk Bay, St. John, and Cane Garden Bay, Tortola
Wake up to a delicious breakfast on deck with unforgettable views. You may want to do a quick lap around the yacht before we set off on a short cruise to Trunk Bay. This ribbon of sand against a turquoise bay is St. John's most photographed beach. It is very family friendly. Shallow water with a well-marked underwater trail is fit for beginning snorkelers and fascinating for all.
Back aboard ISLAND GIRL, Chef Liz has prepared a delicious lunch. After lunch we'll clear into the British Virgin Islands at Soper's Hole. The charming marina and shopping center on Tortola's West End are a good place to pick up a few locally made souvenirs. We depart for Cane Garden Bay, Tortola, where we drop anchor for the night. This is one of our favorite places. The arc of sand beach is dotted with beach bars and barbecues, souvenir stalls and restaurants with live music. The village is just a short walk away.
Day Three: Sandy Spit and Jost Van Dyke
This morning we take a short cruise and anchor off of the tiny islet of Sandy Spit. The uninhabited islet is a ring of white sand surrounding a mound of light foliage. It feels like you've landed on your own deserted island. It's a lovely place to walk on the beach and go for a swim.
We pull up anchor and head to exquisite White Bay at Jost Van Dyke. This beach is consistently voted one of world's top 10 BVI beaches. The stretch of white sand beach is protected by a great snorkeling reef and is dotted with award-winning beach bars.
Go ashore to experience the favorite haunts of fellow yachtsmen, including Foxy's Bar & Restaurant, equally famous for the food and the entertainment. The menu features lethal cocktails, local food favorites and fresh lobster. The legendary Foxy himself serenades guests with his guitar. Be prepared for an evening to remember!
Day Four: Norman Island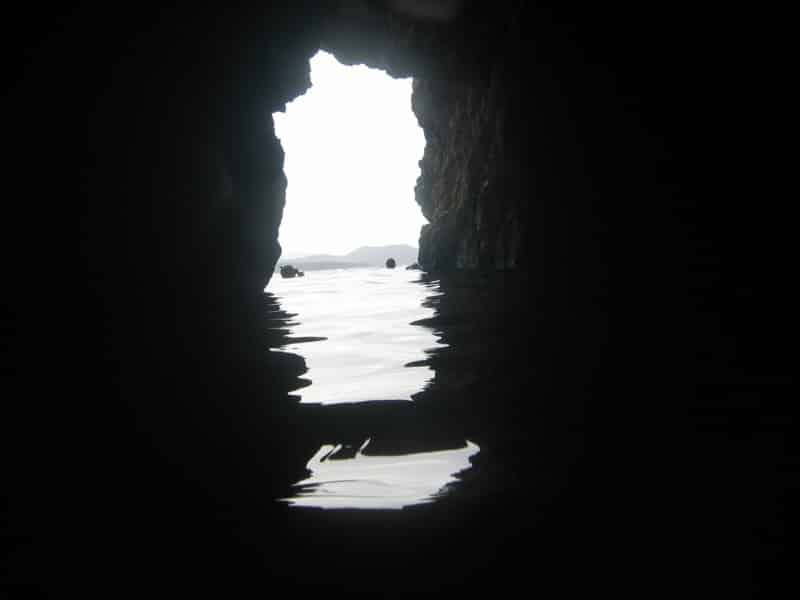 There is a widespread belief that Norman Island was the source of inspiration for Robert Louis Stevenson's classic novel, Treasure Island. Pirate legends still abound. It is our favorite anchorage for pirate-themed parties and treasure hunts.
We anchor in The Bight, a picturesque bay around the bend from the world-famous Caves. This is a tremendous snorkeling spot where you can explore deep into the caves and search for sunken pirate treasure! Another famous snorkel or dive attraction nearby are the rock formations called "The Indians". On this uninhabited island there's also a scenic nature trail that's fun to hike.
In the evening, we suggest going aboard the infamously popular Willy T's. This floating bar and restaurant is the hotspot to enjoy cocktails, dinner and then dance the night away to live music!
Day Five: Peter Island
We drop anchor in Dead Man's Bay on Peter Island, renowned for its gorgeous white sand beach. Enjoy a refreshing swim or go snorkeling right off the deck to explore the sea grass beds below the yacht.
There's a very good chance you will come across a sea turtle or two, so take your GoPro! Naturally timid, sea turtles tend to keep their distance, so it's best not to try to get too close.
Around the point, Great Harbor and the beautiful cliffs of Little Harbor are perfect spots for water skiing, snorkeling, or paddle boarding. Spend an exhilarating day running about on the tender and enjoying the water toys and gear. Then relax aboard your luxury motor yacht, ISLAND GIRL, for evening cocktails and gourmet dining!
Day Six: The Baths and North Sound, Virgin Gorda
Have your camera on deck as we approach Virgin Gorda. This is one of the most picture-perfect Caribbean islands. You could never grow tired of the breathtaking vistas. At the incredible Baths of Virgin Gorda, spend the day playing in the surf and sunbathing on the rocks. The Baths are a geologic wonder of gigantic granite boulders and natural sea water pools. Splash around in the magical grottos of cerulean water, swimming and snorkeling for as long as you wish!
After a full day of fun and sun we take a short cruise to North Sound at the north end of the island. This beautiful bay is surrounded by several islands including Mosquito, Prickly Pear, Saba Rock, Eustatia, and Necker Island, owned by Sir Richard Branson.
Day Seven: Virgin Gorda to Cruz Bay, St. John
Wake up to magnificent views from our anchorage in North Sound. After breakfast we'll go for some great snorkeling in nearby Eustatia Sound. Then relax at Oil Nut Bay Resort. Charter yacht visitors are welcome to take advantage of their upscale amenities including the beach club, restaurants and spa services.
Back aboard, enjoy the relaxing cruise to St Thomas, reminiscing on the events and scenery you've seen. Depending on our arrival time and your schedule, we'll clear back into the USVI that evening, or first thing in the morning.
Day Eight: St. Thomas
Sadly, your charter in paradise must has come to an end. We can't wait to see you back aboard ISLAND GIRL on your next charter in the spectacular Virgin Islands!
ISLAND GIRL
This 75' Hatteras is a gorgeous yacht for charter families and groups of friends. Charter guests who want to get where they're going fast and comfortably will appreciate her top speed of 23 knots.
The ambiance aboard is casual elegance; dress up for formal dining, dress down to unwind in the salon, or barely dress at all to sun and lounge on deck.
Accommodations are for six guests in three spacious staterooms. The master stateroom has a king size bed, roomy private bathroom, a generous amount of built-in storage and full entertainment center. Two guest staterooms have walk-around queen size beds and ensuite facilities. ISLAND GIRL Brochure
Captain Lee Dixon
Lee has been a captain for 21 years, and commander of ISLAND GIRL for the past 10 years. He's chartered along the New England coast and throughout the islands of the Caribbean. He's warm, friendly and knowledgeable, an expert guide and charming host.
Chef Lizzie Wilkens
Lizzie has lots of experience cooking on charter. She goes out of her way to make sure the guests are happy and their taste buds are even happier. She is thrilled to be aboard ISLAND GIRL and knows a great crew makes the charter extra special. She always takes the extra step to make that happen.
Contact Select Yachts today to book an epic 7-days aboard ISLAND GIRL!