Sailing catamaran Imagination is crewed by Shawn and Ally. Above all else, that's what makes this charter yacht so special.
I had the great privilege to experience the magic firsthand on a sail from St. Vincent to Grenada this summer. One magnificent evening, when the Saharan dust made the stars shine with a particular brightness, I asked how the two had met.
Shawn and Ally have known each other since they were 10 years old. Shawn arrived on the south coast of England from South Africa with his family. He and Ally were classmates and had the sort of boyfriend-girlfriend relationship typical to 10-year-olds. Ally remembered, "I used to chase him around the playground to catch him and kiss him." Shawn quipped, "Girls were evil."
In their area, the post-elementary schools were gender specific. So at the age of 11, Shawn went off to senior boys school, Ally to girls school. They meant to stay together. They kept in touch for several years, got together on weekends, hung out in town, but eventually other people and things took precedence.
They didn't see each other for years. Shawn continued to university to get his degree. Ally trained as a nurse. They both married other people. The both got divorced, Ally, after an 18-year marriage and three gorgeous children.
There's a website in England called "Friends Reunited". That's where Ally stumbled across Shawn's profile, with his plan to retire early, buy a yacht and travel the world. She sent him a simple message, "Have you achieved your dream yet?" He was divorced, her marriage was unraveling, the seed was sown.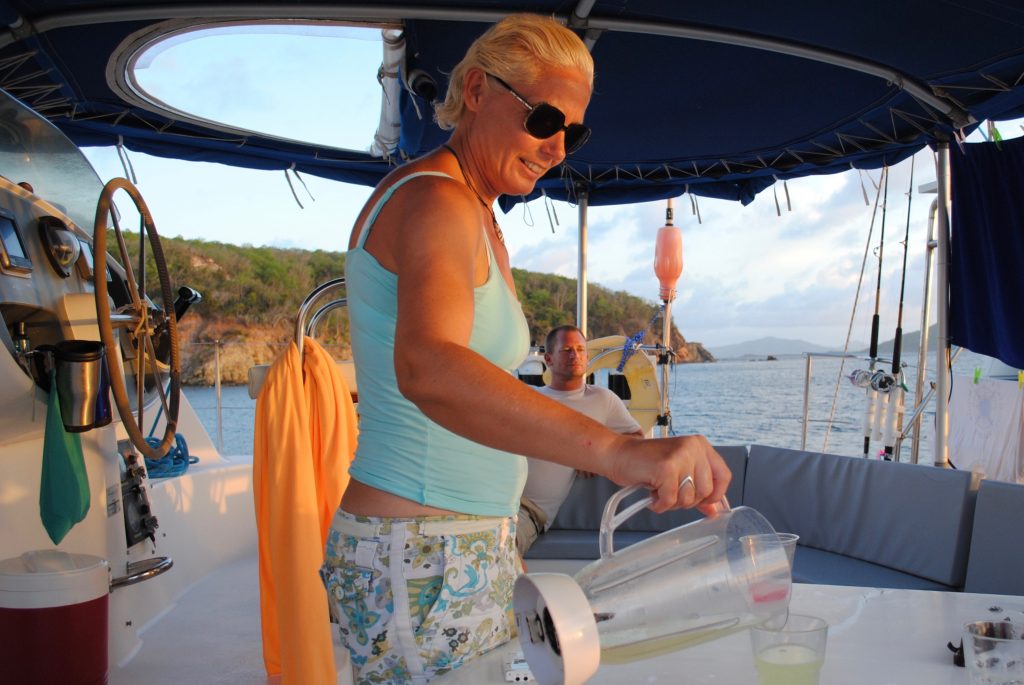 Shawn suggested they get together for coffee. She told her husband that a friend from school wanted to catch up. Her husband said, "I don't think so." Ally shrugged her shoulders and said that's fine. So, Shawn and Ally did not meet. Shawn left for the Caribbean to work as a charter yacht Captain. Ally nursed the sick. They kept in touch via Facebook for the next couple of years. Ally's marriage disintegrated. Shawn sailed back to England. Finally, it was time for coffee.
Ally describes the coffee sessions. "We had no expectations. I didn't think that anything romantic was going to happen. I didn't particularly fancy him. But then once we were actually in the same room together chatting, it was just so easy. We'd been friends and chatting for years and years. It was so relaxed. There were no difficult feelings, it was so very comfortable."
It quickly went from coffee to something else. Ally knew early on. She would have to make the decision to give him up or adopt, as her own, Shawn's dream to own a yacht and scuba dive around the world. She had left her marital home and was living in Poole, "in a tiny little box-room at a friend's house". She had no plan. He was working through a five-year plan to complete his sail training, ocean yacht master and scuba instructor, aiming for the top level in every competency.
It was just 18 months from the time Ally was reunited with Shawn until the day she found herself agonizing in the departure lounge at Heathrow airport. Over and over the voice in her head debated the pros and cons. Could she or should she get on that plane?
She had taken a sabbatical from her nursing position. They would leave the post open for her for a year. She had never sailed before. What if she got horribly seasick? She compartmentalized the future into neat time segments, two weeks, or two months, maybe six months. "If it all goes tips up I can come home. It won't be the end of the world," she told herself. But it was a big transition, Nurse Ally to Ally Chef and Mate. It was April, 2011. Ally got on board.
It was a very courageous move. Ally had no formal training in seamanship, cooking or catering. She had some basic cooking classes in school, and had raised a family with fussy appetites. The latter prophetic experience gave her great skill at meal planning. She experimented and collected recipes to put together a six-week repertoire of meals to please her charter guests. She knows exactly what to provision for a two-week charter menu without repetition.
Watching Ally hoist the sails, take the wheel, or tie a running bowline, one might think she was raised on a yacht. She and Shawn complement each other beautifully. He has encyclopedic knowledge about yachting, and the regions he's chartered. He's an extraordinarily patient teacher, especially when diving. She has psychic instinct when it comes to the needs of guests.
Sailing aboard Imagination is a thrilling adventure. The sails are always up, and always perfectly trimmed. The trampoline, whether serenely afloat or a wet and wild ride, is addictive. The yacht is well maintained and frequently updated. Shawn and Ally are gracious hosts with an encyclopedic repository of knowledge of things above and below the water line. Every day something remarkable happens.
With Ally by his side, Shawn is following his plan to dive around the world. He is looking for guests that are interested in crossing the Pacific to Polynesia sometime in the not-too-distant-future. It's something Ally would never have dreamt of doing just a few years ago. Today she's competent to man the helm. Together they define synergy, sailing toward new horizons in rare harmony.
I did not ask Ally if she has ever looked back. I think not.
Contact Select Yachts to book your charter on Imagination.