Moonen Navarino is no ordinary explorer.
Explorer yacht design used to conform to certain parameters. You'd expect a heavy steel hull and superstructure. Expansive storage for tenders, toys, equipment and provisions reduced living space. A somewhat boxy, stereotypical exterior aesthetic with rugged appeal. Yet, the 155-foot Navarino offers an intelligent, graceful, luxurious departure from convention.
Moonen describes Navarino as an "explorer-type, go-anywhere" yacht. The build has a sturdy steel hull and ocean-crossing capabilities. Yet the elegant superstructure presents a sleek and stylish profile that belies classic explorer design. The Moonen Navarino is a luxury superyacht that can truly go anywhere, from Antarctica to Antibes to Anegada, and turn heads in every port.
Navarino has no side decks on the main deck.
A key design feature is monocoque construction. The hull and main deck are built as a single entity. Major benefits to the design are superior strength, increased interior volume and decreased weight.
There are no side decks on the main deck. The result is an expansive, full-beam interior across the entire main deck. In the main lounge, wide-bodied construction and large windows generate an open feel. A striking inside-out ambience is felt throughout, with countless options for arranging the enormous interiors. The optimum use of interior space makes the Moonen Navarino one of the largest 500 GT superyachts available on the market today.
Innovative stern design further expands living space. The aft deck lazarette is raised to the same level as the beach club. Dispensing with the normal split-level arrangement in this part of the yacht generates a considerable amount of additional living space close to the water. The design team at Moonen has several options for maximizing this space according to owner preferences.
Bold innovations for live aboard comfort.
First of all, the foredeck holds the tenders and toys. This frees up the entire aft deck for al fresco enjoyment. The wheelhouse is positioned quite significantly aft. In terms of ship movements this is the most comfortable location, especially for longer periods underway. Finally, a comfortable seat in front of the wheelhouse is the ideal spot for the owners and guests to experience breathtaking views.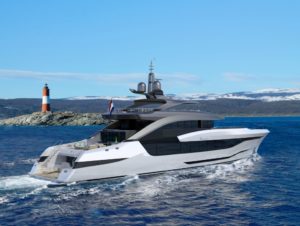 The Moonen Navarino has an impressive amount of dedicated storage space for food and supplies required on long-range voyages. This includes a large area in the forepeak under the crew zone and additional storage beneath the raised aft deck. The Moonen Navarino can carry at least 13,000 gallons of fuel and has a fresh water capacity of over 3,000 gallons.
Forward-thinking options help reduce environmental impact.
The Moonen Navarino offers advanced capabilities to ensure owners continued access to regions with stringent environmental regulations, such as Antarctica. These future-proof solutions include the use of sustainable materials and solar panels, exhaust gas cleaning, heat recovery of exhaust gases and a hybrid prolusion arrangement.
The Moonen Navarino has an 8.5-foot draft, remarkable for a steel-hulled vessel with a 155′ LOA. This will allow accessing bays usually off-limits to explorer yachts. An optimized hull designed for ocean conditions, in combination with stabilizers, ensures a comfortable performance underway and at anchor. With an owner's suite on the main deck and four guest cabins below, a party of ten can set out on this circumnavigator with no limits to their discovery.
Contact Select Yachts Sales Brokers for more information about Navarino. Explore your options to purchase or sell a yacht today.