Caribbean Top Snorkeling Spots For All Ages and Abilities
Virgin Islands
Trunk Bay, Haulover Bay, St John
Caribbean top snorkeling spots for families is definitely found at Trunk Bay. The protected, shallow bay is a favorite family charter destination because the well-marked trail is easy snorkeling for kids. The self guided trail has large underwater signs that identify coral species and other marine life. Slightly rougher and much more dramatic, the western side of Haulover Bay has corals and sea fans growing almost to the waters edge. Much of the nicest corals are in 5′ to 20 feet of water. You'll also see lots of fish, colorful sponges and tunicates as well as sea anemones.
North Sound, Virgin Gorda
The North Sound of Virgin Gordon in the British Virgin Islands is one of the Caribbean top snorkeling spots that is comprised of a series of exceptional reefs; from Mosquito Island to the west, to Deep Bay to the northeast. These reefs are most easily accessible on a sailing charter, power catamaran, or motor yacht with shallow draft.
Buck Island, St. Croix
Just a couple of miles off St. Croix's north shore is an 840-acre reef system. Strictly protected by the U.S. National Park Service, this Caribbean top snorkeling area is open to snorkelers and divers. There are more than 250 species of fish, and colorful varieties of sponges, corals and crustaceans.
The ABC Islands: Aruba, Curacao, Bonaire
Aruba: Asashi Beach and Mangel Halto
With shallow water and sandy bottom, Asashi Beach is one of the Caribbean top snorkeling spots for beginners and children. You will see schools of colorful small fish, a few larger ones here and there, palometas near the shores and cute bottom feeders.
Mangel Halto Reef, near the old city of Savaneta, has calm, shallow waters. An abundance of sea life is supported by an ecosystem of mangroves. Parrot fishes, squid, butterfly fish, yellowtail snappers, sergeant majors, blue tang and sand divers enjoy the waters here. Experienced swimmers can venture out to where the reef plunges to depths of 110 feet. They will view stingrays, deep water gorgonians, sponges and anemones, octopi, morays and barracuda.
Bonaire National Marine Park
Bonaire is often called the Caribbean's unofficial snorkeling and diving capital. The Marine Park that surrounds the island means that for generations to come snorkeling enthusiasts will be able to walk into the water from anywhere on shore to enjoy the fascinating world below the water line.
Curacao National Marine Park
Spectacular marine life rings the island. The best snorkeling stretches along 12 miles of the island's southern coastline. For the more adventurous there are other fascinating sites in the park the include shipwrecks, coral gardens and countless colorful fish.
St. Martin
The French side of this French/Dutch island is one of the loveliest Caribbean top snorkeling spots. Strict government protection of the northeastern underwater nature reserve preserves schools of brilliantly colored fish. Many tiny coves offer shallow reefs with calm water. Charter yachts can find secluded places to anchor and explore.
Dominica
Champagne Reef is one of the Caribbean top snorkeling spots that is quite unique to the region. Subterranean geothermal activity pushes up through small cracks on the sea floor, filling the water with small, warm bubbles, hence the name. Beautiful sea life includes large sponges that are quite impressive.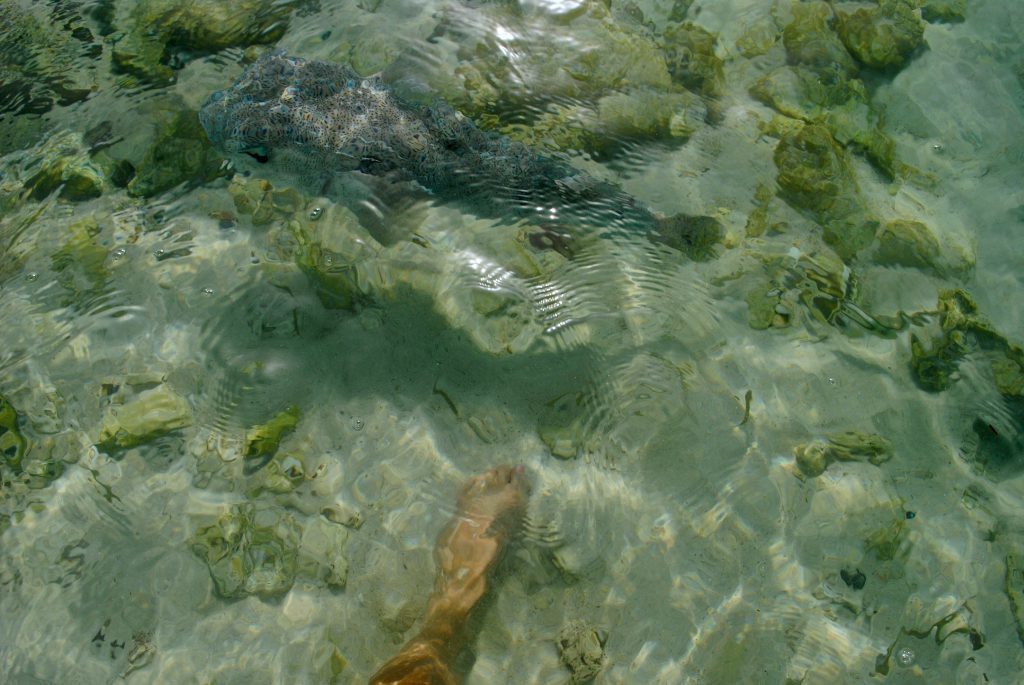 The Grenadines
Just off the white sand beaches of every island in the Grenadines you'll find great snorkeling. There is a mile-long reef off Canouan with beautiful brain coral and colorful schools of fish.
The Tobago Cays Marine Park has a 1400-acre sand-bottom lagoon of crystal clear water with sea turtles every where you look, sea grasses and shallow reefs with vibrantly colored fish and tame puffer fish the size of pillows that hang out in the shallows.
Grenada
Grenada has added a spectacular, new dimension to the undersea world. Just off the picturesque shores of Grenada's capital city, St. George's, resting in shallow water, is one of the Caribbean top snorkeling wonders, the Molinere Underwater Sculpture Park. Sculptor Jason deCaires Taylor submerged his first creations back in 2006 and has added new pieces to the collection ever since. A few of the sculptures have been slightly damaged by fierce weather, but most are in tact at a depth of about 14 feet. Bring your GoPro.
Cancun, Mexico
Founded in 2009, MUSA (Museo Subacuático de Arte) was formed in the waters surrounding Cancun, Isla Mujeres and Punta Nizuc. The site consists of over 500 permanent life-size sculptures and is one of the largest and most ambitious underwater artificial art attractions in the world.
Installations include works by the aforementioned Jason deCaires Taylor. This is a not-to-be-missed Mexican Caribbean top snorkeling destination that will leave you breathless! Explore the statues and the life they've bred along this artistic reef that fuses art and nature in a most elegant and visually attractive way.
Puerto Rico
Gringo Beach, Vieques
Puerto Rico's island of Vieques is quickly becoming one of the Caribbean's up-and-coming destinations — and with two dozen beaches, great snorkeling is within easy reach. We like Gringo Beach, just down the road from the tony W hotel.
Grand Cayman
Stingray City, North Sound
In just a few meters of water divers and snorkelers will be surrounded by dozens of friendly, gentle stingrays. Stingray City, accessible only by boat, is one of Caribbean's more popular snorkeling sites. Friends and families have a unique opportunity to interact with rays on a group of sandbars on Grand Cayman's North Sound. It's worth the trip.
Bahamas
Thunderball Cave, Exumas
Thunderball Grotto, which gave its name to the James Bond film, Thunderball in 1965, is located off Staniel Cay in the Bahamas' Exumas island chain and a Caribbean top snorkel destination on a luxury yacht charter in the Bahamas. Amid a veritable maze of entrances and underwater pathways, snorkelers can get close up to varieties of friendly fish accustomed to being fed bread (bad for them) by visitors. Groupers, lobsters, snappers, angelfish, sea turtles and even octopus swim through.
If you're a snorkeling enthusiast, Contact Select Yachts to present you with a selection of the best motor or sailing charter yachts available. We know the destinations, yachts and crews. Trust us to organize your dream yacht charter vacation.
Super Snorkel Itinerary Bahamas
RUBICON, St. Francis 44, 6 Guests in 3 Cabins
RUBICON: Details and Description
View: The Dreffin Fleet: Family Tandem Charter for 11 Guests