Bequia is an island of sailors and boats. The rest of the world has not made many inroads.
Grenadines Sailing Charter: Bequia Island
This summer a group of us enjoyed a spectacular tandem yacht charter adventure sailing from St. Vincent to Grenada. Our first anchorage out of St. Vincent was Admiralty Bay on Bequia Island (pronounced Beckway).
From the decks of our catamarans, Amazing Lady and Imagination, the protected bay appeared as picture-perfect as we'd imagined. Turquoise water gives way to a sweeping arc of sandy beach. Neat pastel buildings line the shore and climb haphazardly up the hillsides entangled in a profusion of tropical flora.
We jump off the tender and stroll right into "downtown" Port Elizabeth.
A few people amble about. Most relax under overhangs or flowering Flame trees. It's noon. We head for a quick, Bequian lunch, before meeting up with Gunno, our local guide.
The restaurant we are sent to for local fare is a brightly painted shack at the back end of a footpath wedged between buildings. We sit at one of two courtyard picnic tables. No menu, no beer. The plate of the day, boiled fish, comes with beans, rice and plantains. I liberally apply hot sauce.
Here's a tip, local food in the islands is generally underwhelming. For upscale Caribbean cuisine choose restaurants with a chef that caters to expats, tourists, and locals. Bequia Island has several excellent establishments.
We stepped out into the sunshine. Everyone else in town remained sensibly in the shade. Gunno, was somewhere about. We knew this because we spotted his taxi-bus-jeep-thingy. We interrupted some men playing dominoes under a sprawling Banyan tree. They shouted for Gunno, and he appeared within seconds.
Gunno was a dapper sight, dressed head to toe in white.
We set off in his air-cooled tourist jeep. Beer was our first priority. Less than two minutes out of Port Elizabeth we were at the grocers in the neighboring "downtown" of Oca.
The dusty wooden shelves held all sorts of important commodities. Straw hats, breadfruit, paper towels, fishing line, Mauby Fizzz and happily, cold Hairoun Lager – the beer of Bequia Island, brewed in St. Vincent. The little boat anchored off the road seemed aptly named Why Worry.
Bequia is smaller than Manhattan.
According to Gunno, there are 15 towns on Bequia Island, an island smaller than Manhattan. With a population of about 5,000, everyone knows everyone. Excepting some slightly bizarre characters, like the Rasta Man whose entire house is painted in spiritual symbols and biblical quotes, the locals are poised, friendly and family oriented.
One famous islander, Mauvin Hutchins the model boat builder, has been selling his exquisite boats to tourists for decades. We visited his shop, Mauvin's Model Boats on Front Street. His neat display included different builds ranging in size, and priced from about $200.
From Oca village we drove through Hillsborough up to Fort Hamilton.
This scrubby plateau 300 feet up offers great views, four colonial canons, and a postcard photo opportunity. Framing me in the distance are several towns, Belmont Beach, where almost all the hotels are, and Princess Margaret beach, so named after HRMs visit to the island. We leaned on the canons and listened intently to:
The history of Bequia Island according to Gunno.
"When the French came they met the Caribs living in St. Vincent, nine miles from Bequia. The two nations fought each other. First the Caribs won, but during their victory celebration the French regrouped and captured them. Some fled to St. Vincent, some to Dominica.
The French took the Carib captives first to the two little islands, Baliceaux and Battiawa off Bequia and then to Belize, which is where their descendants live today. In the last Bequia election, the opposition leader's platform included a resolution to bring them all back to Bequia if he won. They all want to come back, but as he lost they are still there.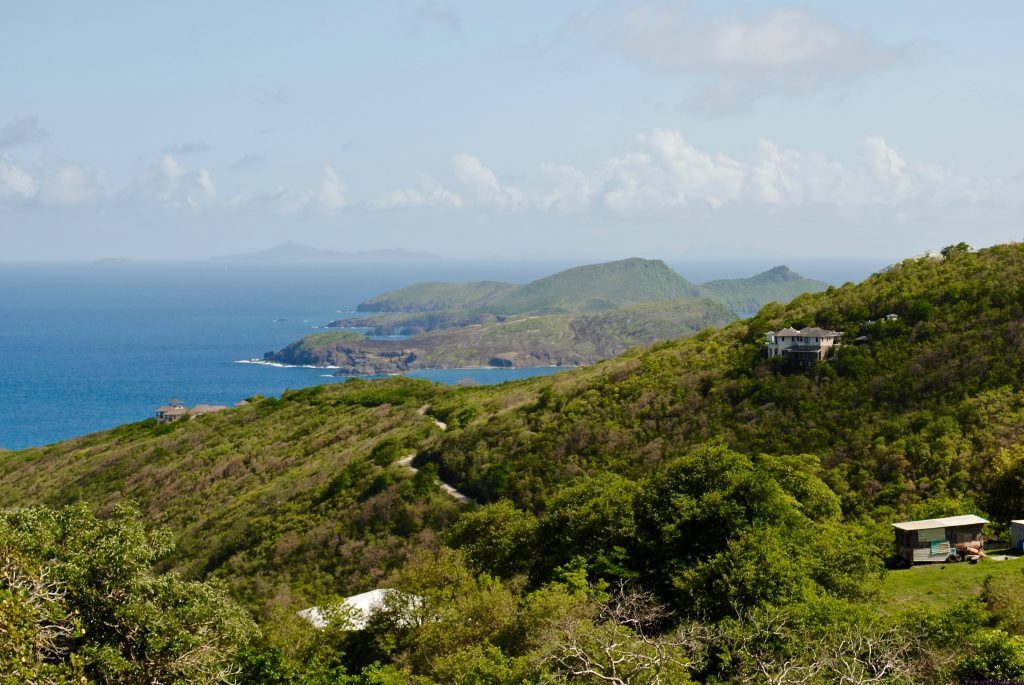 The Scots came as planters when the English took off. Most settled on the top of the mountain and refused to go back. It was too cold back there. They raised sugarcane and cotton." Gunno's cell phone rang and the lecture concluded.
There still seem to be lots of mostly elderly Scottish descendants on Bequia Island. They share last names like Glasgow, Stuart and Williams. Gunno traces his lineage back to the earliest Scottish planters. The topography is a bit like Scotland. Goats graze, border collies rush up for pats on the head, people putter about on the porches of tiny houses, the views are spectacular.
Fishing and whaling are local industries.
Natives of Bequia are allowed to catch up to four humpback whales per year (almost never happens) using only traditional hunting methods of hand-thrown harpoons in small, open sailboats. In the 1870s, a native Bequian, William (Old Bill) Wallace Jr, who learned whaling in New England, returned to start the first whaling station in Friendship.
Somewhat convoluted historical precedent gives whaling rights to indigenous Bequians. Although the earliest permanent inhabitants date back to the beginning of the first millennium AD, by the 1700s due to race mixture there was no longer an indigenous nation. On these grounds there is widespread international opposition to whaling. However, Bequia's whaling tradition is at least a couple of hundred years old, as is their ship building tradition. The island has thus generated a nouveau indigenous.
Bequia beckons tourists.
Tourism is the main source of revenue for the island of Bequia, yet it is difficult to get here by air, which helps keep this Caribbean island authentic. Bequia is a very popular port of call among cruising yachts. It is a destination on every Grenadines yacht charter itinerary. In addition to being a well-protected harbor of sweeping proportions with a stunning beach, Admiralty Bay has everything marine – from chandleries to charts, and sails to seacocks.
Gunno drove along the heights of Belmont Road, we snapped photos of Imagination and Amazing Lady, anchored far below. We switchbacked down hairpin curves to the historic Bequia Plantation Hotel, bid Gunno farewell and met the rest of our group.
Do it all, or noting at all.
They had spent the day floating offshore with sublime rum punches in hand courtesy of the Beach Bar. This is one of the greatest joys of a charter itinerary, everyone can do what he enjoys most, from nothing at all to everything under the sun.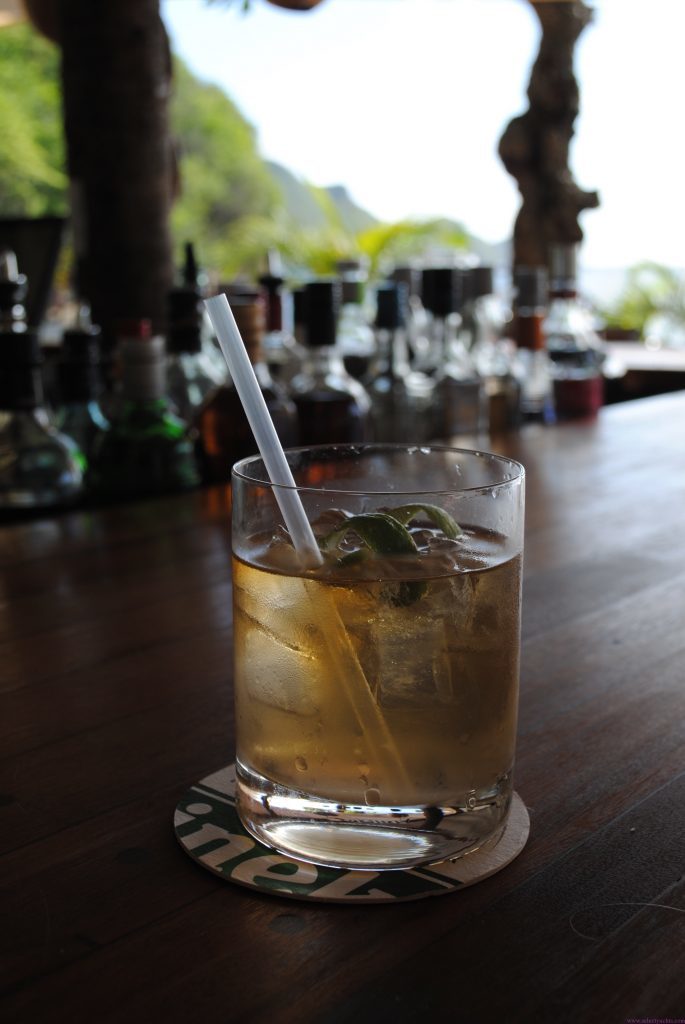 The Bequia Plantation Hotel is one of several stunning colonial restorations on the island. It boasts a long history of hosting glamorous guests including John Paul Getty. Accommodations are in colonial style wooden cabanas with gingerbread trim and traditional verandahs overlooking twenty acres of lush, delicately manicured tropical gardens decorated with classical statuary.
The Moonhole Story
We depart Admiralty Bay southbound on our Grenadines adventure. At the narrow western tip of Bequia the most astonishing structures come into view. Imagination's Captain Shawn tells the story of Moonhole founders, Tom and Gladdie Johnston. In the late 1960s the couple retired to the island and eventually purchased the 30-acre extremity. They built their utopian dream home beneath a massive natural arch where the moon might sometimes be seen. There was no infrastructure, no road, everything had to be hoisted up by hand.
They used whalebones, native hardwoods, native stone, objects recovered from the sea, and local masons to construct large open-air bedrooms, dining room and veranda with magnificent sea views. But it was rustic living, without wells, or electricity. The Johnstons invited several friends, who built their own homes on the property. The Moonhole community was established.
Today a Trust protects the properties and vision of Thomas and Gladys Johnston. The Moonhole Company is the business division, which streamlines your ability to get back to nature in style with the purchase or rental of one of these spectacularly quirky homes.
As Moonhole sank into the horizon we set our course for Canouan Island. On our itinerary was a snorkel followed by lunch at the luxury Tamarind Beach Hotel and Yacht Club. Lovely beachside dining is set beneath a sprawling palapa for breathtaking sea views. Happily, the menu features fine Caribbean cuisine prepared by a talented chef, and icy Hairoun beer.
Select Yachts offers a superb selection of charter yachts available in St. Lucia, St. Vincent and the Grenadines, and Grenada. We work with you to design the perfect charter itinerary. Trust us to get it right. We've been there. We know the ropes.
Overview: St. Vincent and the Grenadines: Island Nation
Read: Sailing Catamaran Imagination: True Love
Description and Details: Sailing Catamaran Imagination