The British Virgin Islands (BVI)
This archipelago is one of the top sailing destinations on earth. Steady trade winds, gentle currents and protected anchorages make for perfect sailing. Over fifty islands and cays in close proximity are a wonderland for island hopping, beachcombing and exploring. Technicolor snorkeling and diving, world-class kiteboarding and windsurfing and every other imaginable watersport is available here. Head to a resort, or into town, for fine shopping, dinning and entertainment. In the BVI, cruising is only a part of an extraordinary vacation.
Lots of Islands
The BVIs comprise the main islands of Tortola, Virgin Gorda, Anegada, Jost Van Dyke, Norman and Peter Island. There are some ten smaller inhabited islands, as well as uninhabited cays. Road Town, Tortola is the capital. It is the most common point of embarkation for a luxury yacht charter.
In the British Virgins, every island has something unique, something for everyone and something worth seeing. Many places can only be reached by boat, which makes yachting in the region even more magical. Whether you explore the island aboard a megayacht, power yacht, sailing yacht or catamaran, you are bound to return again and again.
Once you shove off, the weather and the wind direction will determine your course. You can sail clockwise or counter-clockwise around Tortola to reach alluring nearby islands. Discover reefs teaming with fish to snorkel and dive. Anchor off deserted beaches to laze on, lively beaches to play on, quaint villages and upscale resorts.
Tortola
Tortola is the picturesque administrative capital of the BVIs. Residents are dedicated to maintaining its natural beauty and cultural integrity. Visitors will not find a McDonalds, or many shops open on Sunday. On the other extreme, frolicking and uninhibited full moon parties are legendary.
The Northern coast has the best beaches on the island: Smuggler's Cove, Long Bay, Cane Garden Bay, Brewer's Bay, Josiah's Bay, and Lambert beach. In addition, you can go surfing, scuba diving, kite boarding, windsurfing, explore hiking trails and historic sites and more.
Among Tortola's soaring mountain peaks and bougainvillea-draped hillsides, charter guests find an exciting diversity of things to do and places to play. Drive through hairpin curves to dizzying heights. Hike the trails in National Parks. Visit a museum or rum factory. Dinghy ashore to play on the beach. Sip sundowners at an upscale resort or sample a beach shack barbecue. Island bands play through the night, Tortolan rum flows, and everyone easily forgets about the civilized world.
The adventurous should not miss the opportunity to surf at Josiahs Bay, a secluded local spot accessible by 4×4. This pristine, almost untouched beach has some great surf and a cold beer waiting for you at the local beach bar. Another must do event on the Island is the monthly mushroom-tea fueled full moon party that is celebrated on two sides of the Island, the favorite party always hosted by Bomba at the Bomba Shack.
Virgin Gorda
This phenomenal spot is beloved by movie stars, millionaires and yachties, for so many reasons.  An island of exceptional, natural beauty, Virgin Gorda exudes a peace that captures the soul.
Spend the day exploring the small caves and rock pools. Sunbath on the pure white beaches. Virgin Gorda Sound is the perfect spot for watersports enthusiasts. The gentle surf is ideal for skiing, wake-boarding, tubing, fishing, kyaking or snorkeling. After a great day at the Baths and on the water, spend the evening at Leverick Bay. At the beach barbecue you'll party the night away with local reggae bands and the famous Mocco Jumbies (the Virgin Gorda stilt dancers).
Jost Van Dyke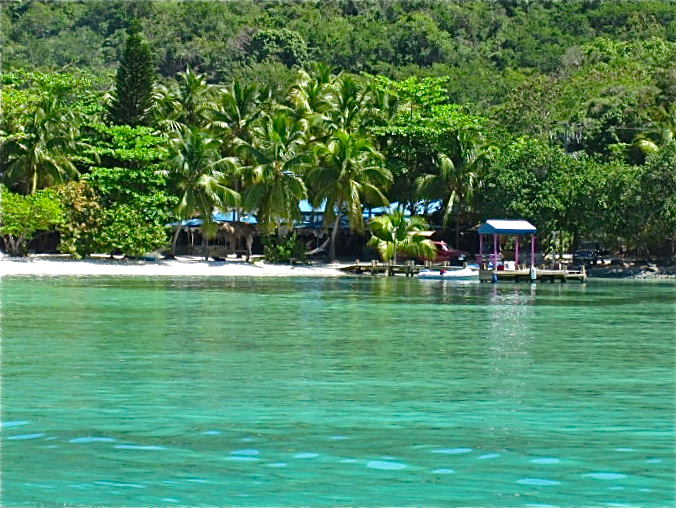 Jost (pronounced 'yoast') is a little island with a big personality. It may only occupy 4 sq miles of land in the teal-blue sea, but its good-time reputation has spread thousands of miles beyond. Jost van Dyke is a jovial island, where a man named Foxy is king and 'time flies when you ain't doin' shit, ' as the T-shirts proclaim.
For over 400 years Jost has been an oasis for seafarers and adventurers. A Dutch pirate (the island's namesake) used the island as a base in the 17th century. In the 18th century it became a homestead for Quakers escaping religious tyranny in England. In the late 1960s free-spirited boaters found Jost's unspoiled shores. Foxy built a bar to greet them.
The tide ebbed and flowed for a quarter of a century and not much changed. Electricity arrived in 1991 and roads were cut a few years later.
Jost is no secret.
Yachties and glitterati (Jimmy Buffet and Keith Richards) stop by. Yet the island's emerald hills and sparkling beaches remain untrammeled by development. As one local says, 'When Main Street is still a beach, you know life is good.'
Equally renowned as Foxy's, the Soggy Dollar bar is a legendary favorite. The bar derived its namesake  because one could not swim to the bar from the boat without getting dollars wet. Wet or dry, still most acceptable as currency.
Spend the day snorkeling and beach combing. In the late afternoon, with a sundowner basket of snacks and champagne, have bubbly on bubbly at the Bubbly Pools. Choose to do it all, or choose to do nothing at all.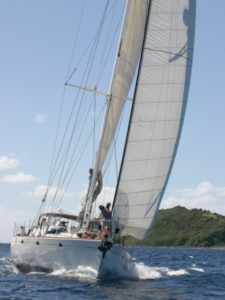 Norman Island
Folklore plays a dramatic role in the alluring fascination of Norman Island. There are tales of captains and privateers, pirates and treasure caves. The island is the setting for the epic "Treasure Island" by Robert Louis Stevenson, perhaps the most famous legend of all. While the island is now uninhabited, it was for only used for grazing cattle in the past.
The coast line comprises a number of bays and offshore reefs. There is excellent snorkeling and diving close to shore. The Bight, a preferred anchorage, is well protected and provides another great spot for watersports and snorkeling.
The Norman Island "caves" are one of the most popular snorkeling attractions. The Indians are another fantastic underwater spot. You'll be surrounded by brilliant live coral and parti-colored fish. In the evening, take a quick ride over to the Willy-T bar for a crazy sunset party.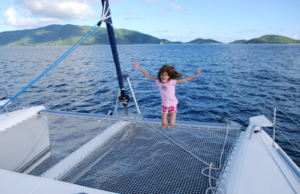 Peter Island
This wonderful tropical paradise stretches some 1,800 acres. Although the entire island is a private resort, yachting guests are welcome to enjoy resort amenities. These include an acclaimed restaurant and spa, five white sandy beaches and twenty secluded coves.
Peter Island was first established as a resort in the late sixties and has continually grown in facilities and popularity. Peter Island has a hair-raising folklore history about the famous pirate Blackbeard. He is said to have abandoned some of his crew to their death on Dead Chest Island. The men were washed up in Deadmans Bay, which is now the lively main beach of the resort.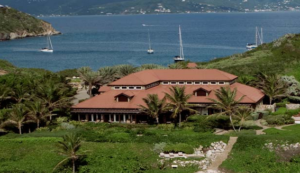 Spend a day in the sunshine, lounging on the incrediblly beautiful Deadmans Bay beach. Take a short walk over the ridge for a magnificent view of palm tree forests and coral bleached bays on the windward side of the Island. The highly-rated Spa has spectacular bay views from the 10,000 square foot interior space. It's set amongst vast acres of lush, undisturbed flora and fauna. The menu includes beauty, relaxation and rejuvenation body treatments. The resort also rents snorkel and dive gear, kiteboards and water toys.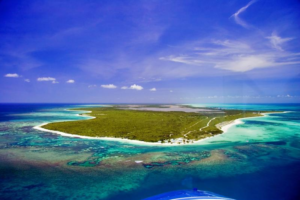 Anegada
The island may derive its name from the Spanish word for 'drowned' or 'flooded', appropriate to this low lying island that devastated over 300 ships in centuries past. The island measures only 28ft above sea level at its highest, so flat that mariners couldn't see it to get their bearings until they were trapped in the surrounding coral maze known as Horseshoe Reef.
Anegada floats on a remote reef, a short sail north of from Virgin Gorda. The Island has large salt ponds teaming with flamingos, flowering cacti and giant rock iguanas. You can dive on many of the shipwrecks, or snorkel the transparent blue waters from beaches such as Loblolly Bay and Flash of Beauty. If you're looking to get away from it all, this atoll has a hammock waiting. Explore the island by taxi and stop at some of the best beaches in the Caribbean.
Cooper Island
Caribbean Journal's Bar of the Year 2019: Cooper Island Rum Bar. It's the last place you'd ever expect to find a world-leading rum collection. But that's precisely the case at the recently-relaunched Cooper Island Rum Bar, a collection of rum and rhum agricole from across the Caribbean, curated by expert bartenders and served up in a quirky, effortless style. Oh, and the cocktails alone are worth the trip.
The British Virgin Islands offers a yachting playground of crystal clear waters, vibrantly colored reefs teaming with life, exhilarating water sports fun, and gleaming white sand beaches shaded by overarching palm trees. This island nation also offers yacht charter guests the opportunity to get to know its friendly people, learn its colorful history, breathe its fragrant air and savor its tropical cuisine. Cruise the british Virgin Islands once you will want to return to again and again.
Contact Select Yachts  to make your Caribbean fantasy a reality. Our brokers know the yachts, the crews and the islands. Trust us to create your unforgettable yacht charter vacation.