St. Lucia: island of romance, beauty and inspiration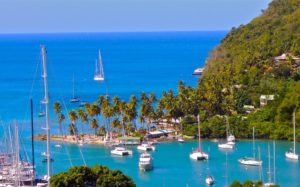 Imagine lush mountains in hues of green, black beaches of volcanic sand, villages bursting with color, heady aromas, and happy energy. Embark from St. Lucia on a luxury yacht charter through the Grenadines, or go no further than the varied shores of this enchanting island.
St. Lucia is primeval.
St. Lucia is one-sixth the size of Rhode Island, yet mountainsides and jungle valleys remain undeveloped and remote. Traveling steep, switchback roads is fun for some, but be prepared for steep passes and hairpin curves. The distance from north to south is just 27 miles as the St. Lucia Amazon parrot flies. The drive takes three hours. For the slightly intrepid, guided excursions through jungle flora and fauna, or scaling an active volcano, are extraordinary experiences. The leisurely traveler can lounge on deck with a signature cocktail as sensational scenery drifts by.
St. Lucia is sensual.
St. Lucia is one of the most popular honeymoon hideaways on the planet for good reason. Bathe in the pool of a rushing waterfall. Cruise to a deserted beach to sun and swim off the aft deck, lounge on the sundeck, or tender to shore. Picnic in a secluded cove. Indulge in a couples beachside massage at a world-class spa. Order champagne zip-lined down to your table at romantic Rock Maison.
Castries is the capital city located in the north of the island. The sweeping Reduit (pronounced red-wee) beach here is considered by many to be the island's finest. The long stretch of golden sand frames Rodney Bay. Rodney Bay Marina megayacht facility is a tourist mecca of restaurants, nightspots, a casino, duty-free shopping and a golf course. For history buffs, Pigeon Island is an interesting historical site at the island's northwestern tip.
Marigot Bay is considered one of the most beautiful, natural harbors in all of the Caribbean. It lies equidistant from bustling Castries and the spectacular scenery of the Soufrière region to the south. This popular port is the home to many luxury charter yachts.  There is no better option for guests who crave cultural immersion than chartering with a captain and crew who know the region intimately.
Soufrière is a dusty, color-splashed Creole town with gingerbread architecture that showcases its French colonial roots. The town lies in the shadow of the majestic Pitons, St. Lucia's iconic twin peaks, and is the sightseeing nexus. Visit the World Heritage Piton Mountains, the "drive-in" Volcano, hot springs, botanical gardens, working plantations, waterfalls, and countless other excursions into the natural beauty for which St. Lucia is deservedly famous.
A Few of Our Favorite Things
Jade Mountain Club, Soufrière: The resort's 14-table restaurant is open to non-guests by reservation only and features superb cuisine and dazzling Piton views.
Restaurant Dasheene at Ladera, Soufrière: The terrace restaurant at Ladera resort has breathtakingly close-up views of the Pitons with the sea framed between them, especially spectacular at sunset.
Diamond Falls Botannical Gardens and Mineral Baths, Soufrière:
The Soufrière Estate is a 2,000-acre land grant that was presented to three Devaux brothers by King Louis XIV in
1713. The estate is still owned by their descendants; Joan DuBouley Devaux maintains the gardens. Tropical foliage beneath towering trees line pathways that lead to a natural gorge. Water bubbling to the surface from underground sulfur springs streams downhill in rivulets to become Diamond Waterfall, deep within the botanical gardens. Near the falls, mineral baths are fed by the underground
springs. It's claimed that the future Joséphine Bonaparte bathed here as a young girl while visiting her father's plantation nearby. For a small fee, you can slip into your swimsuit and soak for 30 minutes in one of the outside pools; a private bath costs slightly more.
Fond Doux Plantation & Resort, Soufrière: This working plantation and eco-resort is a gentle excursions for visitors of all ages. Established by French colonials in 1745, the 130-acre estate is rich with tropical fruit, but its main crop is cocoa, for which St. Lucia has long been renowned. There are cocoa related activities and exhibits, and two restaurants that serve typical Creole dishes al fresco. England's Prince Charles and Camilla visited the estate in 2008.
Link to View Select Luxury Yachts for Charter in St. Lucia
VITESSE, 100' Hargrave motor yacht, 8 guests in 4 cabins
PERFECT HARMONY, 100' Hargrave motor yacht, 8 guests in 4 cabins
SAGITTARIUS, 65' Privilege sailing catamaran, 10 guests in 5 c
abins
TRILOGY, 51' Neel Trimaran, 8 guests in 4 cabins
NEMO, 50' Dufour sailing yacht, 6 guests in 4 cabins
ISOLABLUE, 49' Privilege sailing catamaran, 6 guests in 3 cabins
MOJEKA, 56' Moody sailing yacht, 6 guests in 3 cabins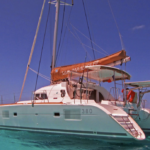 HARMONY, Lagoon 380 sailing catamaran, 6 guests in 3 cabins
Contact Select Yachts to book your luxury yacht charter with customized itinerary in St. Lucia and the Grenadines.