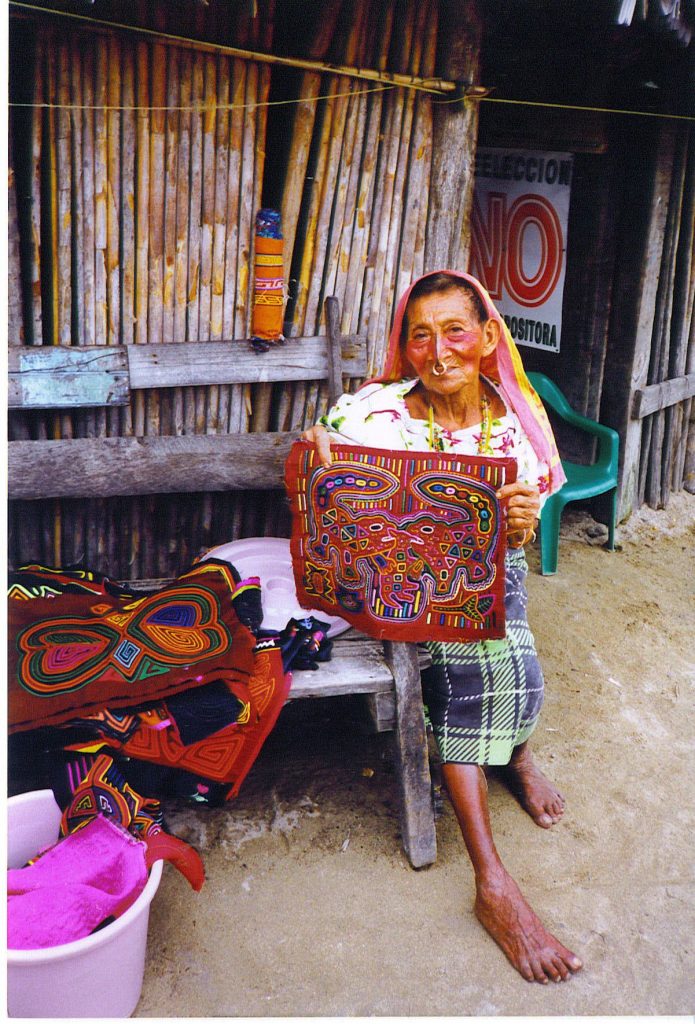 Panama and the surrounding islands represent a world of contrasts, from ancient history to Spanish colonialism to modern marvels, housed in a destination of extraordinary beauty. This small country is known as much for great sportfishing, diving, and snorkeling as for high-end shops, restaurants and the cosmpolitan lifestyle of Panama City, not to mention the Panama Canal.
In Panama, from the big city to the small town, the melting pot of cultures is the architectural, artistic, cultural and linguistic warp and weft of a kaleidoscopic tapestry. Spanish colonials, African slaves, Europeans and Asians who labored shoulder to shoulder to construct the canal now have grandchildren living side be side.While indigenous people strive to preserve a traditional lifestyle, waves of well-heeled ex-pat retirees demand and receive state-of-the-art goods and services. There is something for everyone within this colorful weave.
The San Blas Islands
Some 378 islands in the Caribbean, also known Kuna-Yala, are home to the indigenous Kuna people. These islands offer charter guests exquisite beaches, excellent diving, first rate fishing, lobster and giant crabs, and a portrait of indigenous village life.
Portobelo
Once the greatest Spanish port in Central America, Portobelo has a dramatic and colorful history that includes explorers, treasure fleets, famous captains, privateers and pirates. Portobelo and nearby Fort San Lorenzo are World Heritage sites, unfortunately on the endangered list. Points of interest include the Counting House museum and the Church of San Felipe de Portobello, housing the venerated Black Christ statue. Portobelo also attracts dedicated Scuba divers, offering 16 major dive sites in the adjacent waters. To be anchored in this bay, surrounded by Spanish forts of the 1600's, is truly magical.
Rio Chagres
The Rio Chagres is a quiet and secluded anchorage located just six miles southwest from Shelter Bay. This river is surrounded by tropical rainforest that is home to many animal and bird species. Upriver the damn built in 1910 created Gatun Lake, part of the Panama Canal operations. Visit the Gatun locks visitor center and observation deck to watch the huge ships enter the locks.
Colon Free Zone
This dedicated shoppers paradise is not appropriate for the impatient. Bargain seekers
can spend an entire day in the second largest duty free zone in the world after Hong Kong, boasting acres of wholesale stores. Get a directory and a map of the free zone at the entrance to help you locate the stores and get your facts on what you can carry out. You need your passport to enter.
Panama Canal
Admittedly, Panama is best known for the Panama Canal. A luxury yacht charter itinerary that includes a canal crossing allows guests to explore destinations on both coasts. The Panama Canal crossing takes your charter yacht through Gatun, Pedro Miguel and Miraflores Locks, at 85 feet above sea level.
Panama City
This major metropolis is located on the Bay of Panama in the Pacific Ocean. Here the historic buildings, monuments and museums of Casco Viejo are distinguished as a UNESCO World Heritage Site. Juxtaposed against the old, dazzling skyscrapers, high end sports cars, posh cafes, trendy boutiques and a vibrant night life are on a par with cosmopolitan centers worldwide. If you enjoy urban bustle, this big city is well worth a land segment.
Contact Select Yachts for a superb selection of luxury yachts available for charter in Panama and the San Blas Islands. Whether you anticipate a leisurely sail island hopping around the San Blas, a trip through the canal, or some high-energy watersports,  diving and sportfishing, we will match you with the perfect yacht and crew.