South Pacific: Polynesian Paradise
The South Pacific is an enchanting world of dazzling volcanic peaks that soar upwards from a gentle turquoise lagoons. These breathtaking islands are surrounded by pristine beaches and living reefs teaming with tropical sea life. Shore excursions to welcoming villages, lush forests, volcanic peaks and historic sites lead travelers into a biologically and culturally rich and exotic world.
French Polynesia comprises approximately 130 mostly volcanic islands scattered over nearly one million square miles of ocean. These storied island groupings include the most famous island, Tahiti, in the Society Islands group, the Marquesas Islands, and the Tuamotu Archipelago.
Explore the South Pacific on a luxury yacht charter and experience a magical destination that has been the source of passion and inspiration for renowned explorers, poets, painters, musicians, authors, cinematographers and sailors.
Society Islands
The Society Islands archipelago is divided geographically and administratively into the Windward and Leeward Islands. Tahiti is one of five Windward Islands, Moorea and Bora Bora, exceedingly popular yacht charter destinations, belong to the seven Leeward Islands.
Tahiti
In the South Pacific, Tahiti is renowned for spectacularly beautiful anchorages and dramatic black sand beaches. The largest and most densely populated of the windwards, Tahiti is the economic, cultural and political center of French Polynesia. The island is a colony of France and French is the only official language, however, eavesdrop on the locals to hear hear the lilting and widely spoken Reo Maohi language.
Yacht Charter guests will likely fly into Faa'a International Airport, located in Papeete, the island capital on the northwest coast. The city is a tourist hub with world-class restaurants and spas, exciting nightlife, great shopping and  tourist attractions in the downtown area. While in Papeete visit Le Marche, the public market, and be dazzled by the tropical fruits, flowers and Tahitian arts and crafts.
Moorea
Moorea is a triangular shaped island encircled by a lagoon of translucent green and the azure blue Polynesian sea. The sailing, fishing, surfing is glorious. Due to the lack of strong currents, this sailing destination has some of the best snorkeling and diving in the world.
On shore, play a round of golf, or take to the sky on a helicopter tour for a bird's eye view of the dramatic interior mountains that cascade down to magnificent expanses of both white and black sand beaches.
Sail through Moorea's two spectacular bays, Cook's Bay and the equally entrancing Opunohu Bay, and understand immediately why James Michener based his mythical Bali Hai on Moorea. For an exquisite meal ashore try the Moorea Beach Cafe, the taste of San Tropez a la tropical.
Bora Bora
Bora Bora is one of the most romantic places on earth. Novelist James A. Michener, describes Bora Bora as, "so stunning, that there are really no adequate words to describe it."
Palm-covered bungalows circle the lagoon, a delicate necklace at the base of an extinct volcano rising to two peaks, Mount Pahia and Mount Otemanu, reaching a height of 2,385 ft. Their slopes and valleys, blossoming with hibiscus, rise behind a lagoon that shimmers in hues of blue and green. White-sand beaches meet emerald waters where tiny parti-colored fish share coral gardens with giant manta rays in a protective barrier reef.
Bora Bora has many attractions, from private submarine to helicopter excursions. Hike, or rent a bike or car, to explore the island. Shopping for local and international original art, Tahitian pearls, perfumes and oils, and precious wood handcrafts, is a delightful adventure. Visit the St. Regis or Four Seasons for five-star dining and spa options.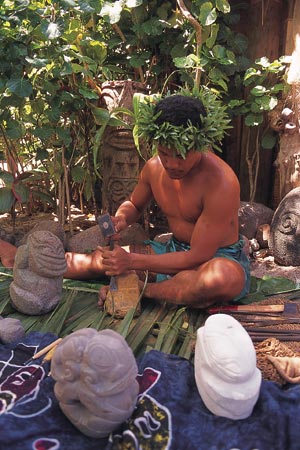 The Marquesas Islands
For more than 150 years the island group has been the muse of prominent painters, writers and musicians. Famous French painter Paul Gauguin and Belgian singer Jacques Brel spent the last years of their lives in the Marquesas, and are buried there. Herman Melville, Robert Louis Stevenson, Frederick O'Brien and Thor Heyerdahl are the most renowned authors to have penned remarkable works about these inspirational islands.
The sparsely populated Marquesas Islands group is one of the most remote in the world, lying about 850 miles northeast of Tahiti and about 3,000 miles away from the west coast of Mexico, the nearest continental land mass.
The scenery is jaw-dropping. 1000-foot waterfalls cascade down sheer volcanic cliffs, towering mountains disappear into the clouds. Discover wild horses, sacred ancient temples and giant stone carvings. On shore, experience a welcoming community and vibrant culture. Here the renowned art of Marquesan tattooing reached its most elaborate form and some of the best wood carvers create works of visually dazzling intricacy.
Nuku Hiva – Mystic Island
This sparsely populated island at first appears somewhat dessert-like but in fact offers an astonishing range of terrain. The largest island in the Marquesas, it is known for towering spire-like peaks; secluded, lush valleys; ancient religious sites; fjord-like bays; and waterfalls so high that most of the falling water evaporates as it descends. The main town of Taiohae is the administrative and economic capital of the Marquesas. Visitors will enjoy the enticing atmosphere of this colonial port with artisan shops, restaurants and smiling people everywhere.
Hiva Oa – Paul Gauguin's Island
This majestic and historic island has a wild, untamed landscape, giant stone tiki, breathtaking vistas, and is the buriel place of poet Jacques Brel and artist Paul Gauguin.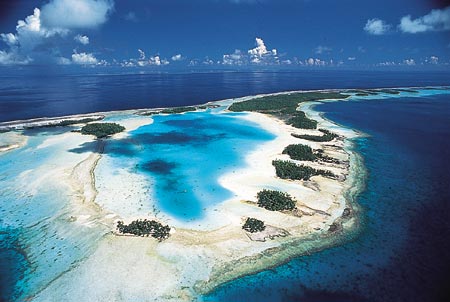 Tuamotu Archipelago
These very remote islands form the largest group of coral islands in the world. A private yacht charter here is a fascinating opportunity to appreciate the Pacific island lifestyle, which has changed little over time.
In particular, the atolls of Rangiroa, Manihi, Tikehau and Fakarava offer a host of exciting activities, including world-class scuba diving, horseback riding, and deep-sea fishing. Manihi is famous for Tahitian Black Pearls. Tikehau and Fakarava have both been declared UNESCO World Heritage Sites with extraordinary ecosystems, tropical sea birds, rare plants and crustaceans.
Select Yachts proposes the finest superyachts and sailing yachts available for charter in the South Pacific. Contact us to launch your charter vacation.