Ionian Islands: mythical, magical and inspirational.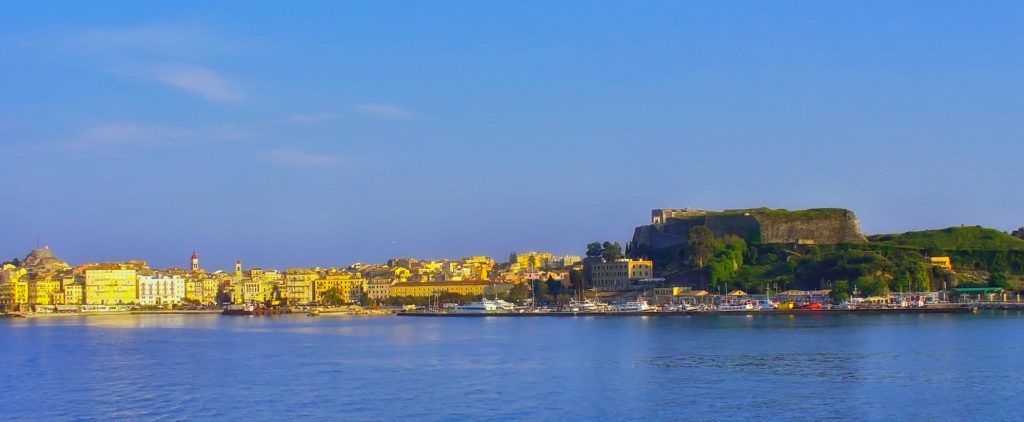 The islands that lie off the western coast of Greece offer gentle cruising to
villages steeped in tradition and culture. The fishing, diving and snorkeling is excellent. You can still find small islands with empty beaches to claim for an afternoon picnic. There are also sophisticated ports with alluring shops, seafood cafes encircling the harbor and raucous tavernas to dance the night away. A 7-day private charter yacht itinerary through the spectacular Ionian Islands captivates the senses.
Day 1: Lefkas Marina (Lefkada) – Meganissi (Vathi)
Begin your yacht charter on the island of Lefkas, the center of the main Ionian Islands and the only island connected to mainland Greece. Lefkas maintains its traditional charm because strict building laws have restricted development.
The island is dotted with villages where old stone houses are being renovated, donkeys are laden with wares, and women sit in the shade crocheting and embroidering.
Lefkada is an island of myth and history. Sappho's suicide at Cape Lefkada links the island to the ancient Greek goddess of love, Aphrodite, and to Odysseus, the hero of Homer's Odyssey.
Day 2: Meganisi (Vathi Harbor) – Papa Nicolao Cave – Kalamos
Meganisi is just four nautical miles southeast of Lefkada. The island has many coastal villages, beautiful beaches, caves to explore and surfing at Aghios Ioannis beach. Your yacht can dock at one of three ports with water and electric, Vathi, Spilia and Atherino, or find a secluded cove and anchor out.
Set sail on board your luxury charter yacht from Meganisi to Kalamos, one of the Ionian Islands known for a wild and remarkable natural landscape. This
tall mountain range has a northern face of towering pine trees that sprout from the rocks and reach down to the sea. Porto Leone is a quaint little bay named by 14th century Venetians. Here the verdant forest, home to many species of birds, is a unique, natural wonder. Another favorite sailing destination, the port of Kalamos, features excellent seaside tavernas and artisan shops. The village of tightly packed stone houses and narrow winding streets sits high above the port. Through a high mountain pass adventurous travelers reach Episkopi, a village frozen in time.
Day 3: Kalamos – Atoko (House Bay) – Ithaca (Sarakiniko Bay)
One House Bay Atoko, privately owned by the shipping magnet Panayiotis Tsakos, is uninhabited except for a few goats, but visitors are welcome to explore as long as they keep the island clean. After lunch and a swim or snorkel in the tranquil, crystal clear water, set sail for one of the most renowned Ionian Islands, Ithaca. Identified as the home of the Greek hero Odysseus, Ithaca has been inhabited since the second millennium B.C. and occupied by the Mycenaeans, Romans, Byzantines, Normans, Turkish, Venetians, French, and a protectorate of the British Empire.  In addition to amazing beaches, beautiful landscapes and charming villages, this is an island of fascination for history enthusiasts.
Day 4: Ithaca (Sarakiniko Bay) – Ithaca (Pera Pigadhi) – Ithaca (Kioni)
Ithaca is known for the preservation of tradition, preserving the old, limiting the color palette and prohibiting the use of modern designs. Sarakiniko beach is a tranquil setting of transparent, azure water lapping a pebbly beach dotted by cypress and olive shade trees.  By contrast, nearby, Filiatro Beach is full of tourist amenities. Pera Pighadi is also a breathtakingly beautiful beach. Kioni is a picturesque, unspoiled village in the northeast of Ithaca that is a popular anchorage for sailing yachts.
Day 5: Ithaca (Kioni) – Lefkas (Katsiki Cliff) – Kefalonia (Fiskardo)
Sail aboard your private luxury yacht from Kioni to Porto Katsiki  and the famous Katsiki Cliff, a must visit place of extraordinary beauty. The pale, white cliff face rises straight up out of the Ionian Sea as if deliberately carved and the sweeping arc of beach is consistently rated Top European Beach of the Year.
In the southwest of Lefkas, at a height of 600 meters you can visit Exanthia, a traditional village surrounded by forest and built amphitheatrically on the slope of the mountain. It is a destination of friendly residents and extraordinary views, sometimes above the clouds. It is a popular destination for experienced paragliders.
Day 6: Kefalonia – Atoko (Cliff Bay) – Kastos
Kefalonia (Cephalonia) is dotted with lovely seaside villages along the southwest coast. Argostoli the island capital, has several fine museums and a library that includes rare books and old manuscripts.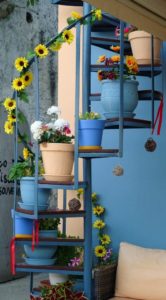 Assos, 36 km north of Argostoli, has just one hundred inhabitants. Their homes, arranged along a small peninsula, all have magnificent views. Stroll narrow alleys and pathways lined with colorful houses decked in pink and white blooms. Little tavernas perched on the quayside overlooking the bay attract most of the visitors. The ruins of a 16th century Venetian castle dominate the landscape. A long walk through the olive tree forests will bring you to the castle arch.
At the island's northern tip, Fiskardo is a destination
of authentic charm. Traditional architecture is protected by Greek preservation law. The wide bay is surrounded by lush, dense forests. Several stunning archeological finds include five undisturbed burial sites containing precious goods, a theatre, houses, a bath complex and a cemetery.
Day 7: Kastos – Scorpios  – Lefkas Marina
Kastos is an excellent island for hiking along the pathways and enjoying the verdant landscape and stunning views.  Set sail for Skorpios, the private island belonging to the Onassis family.  Here Aristotle Onassis planted some 200 species of trees to create spectacular vegetation on the once nearly barren island, and imported sand to create the beautiful East Beach. This little paradise was the site of his wedding to Jacqueline Kennedy. Onassis, his son Alexander and daughter Christina are buried here.
Return to Lefkas Marina. As you make your way over the sparkling Ionian Sea aboard your elegant crewed charter yacht ponder where your next charter adventure should begin. With spectacular yachts in destinations worldwide, the possibilities before you are endless.
Ionian Islands: Some of our favorite places…
Kefalonia: St George's Castle & Kastro Cafe, a five-mile walk from the coast brings you to this mountain castle with splendid views and a restaurant with very good regional dishes. Verify the castle is open before starting your hike.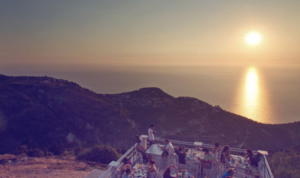 Lefkada, Exanthia: Rachi Restaurant, on a balcony as high as the clouds, fragranced by mountain pine air, dine on homemade delicacies from the traditional wood-fired oven, vegetables from the garden, local meat and wine.
Ithaca, Anogi: Kathara Monastery is about 8km outside of Vathi. Incredibly sculptured golden artifacts and ancient murals reward travelers to the mountain summit, with stunning panoramic views on the way. A must for cultured travelers.
Overview: Greece: Islands of Enchantment
Contact Select Yachts. We specialize in matching our clients with the perfect yacht and crew. We've toured the yachts, met the crews and been on the ground in destinations worldwide. Charter with us. We know the ropes.