Exumas, Bahamas = Fabulous Charter Vacation!
Exumas, Bahamas are unlike any place else on earth. The are low lying, pristine, white sand, often uninhabited gems, surfacing in waters of astonishing hues. Most experienced yachtsmen agree that for an out-island getaway, the Exumas, Bahamas is unmatched. Even repeat visitors discover amazing new reefs and are surprised by a tiny cove with a beach they have never explored.
Fly into Lynden Pindling International Airport (LPIA), serviced by numerous commercial and charter airlines. It is the main international gateway to the Bahamas. Embark on your luxury charter yacht in Nassau or Paradise Island. You are about to cruise through a breathtaking chain of more than three hundred islands, which are known here as cays (pronounced keys).
DAY 1: Nassau, Bahamas
Fifty minutes of flight time from Ft Lauderdale and you arrive in Nassau, Bahamas' brand new airport. A short ride from the airport and you will reach the marina where your luxury charter yacht is poised to launch you on your fabulous charter vacation. The crew will meet you and show you to your staterooms. If you arrive late in the day, spend your first evening exploring Nassau. There is a host of new art galleries, a new artisan village at the Graycliff Hotel, superb cocktails and casual bar dining at Bullion in the British Colonial Hilton, and top-level duty-free shopping.
DAY 2: Ships Channel Cay, Highbourne Cay
After a leisurely breakfast, head out across the Yellow Bank to the top of the Exumas, Bahamas. Arriving at Ships Channel Cay, jump in the water for your first swim or snorkel. When you're ready to shove off, cast a fishing line off the aft deck. From Ships Channel, sail south to your first anchorage, Highbourne Cay. With a little luck, by the time you arrive you'll have caught dinner. At Highbourne Cay the crew will launch the dinghy for you to explore and enjoy the pristine beaches. This is also a great place to scuba dive or snorkel.
DAY 3: Normans Cay
From Highbourne Cay, head south along the east edge of the cays where the water of the Exuma sound drops down to a depth in the thousands of feet. For divers, this is a great place for a wall dive. Along the drop off is also a superb place to find game fish.
Cruise on to Norman's Pond with fishing lines trolling the water. Spend the afternoon sunning, swimming and beach combing. Snorkel around an airplane wreck in shallow water teeming with reef fish. It's a great snorkeling spot and fairly easy to find conch, which your chef can clean and prepare in a conch chowder.
DAY 4: Shroud Cay
Heading south, your next stop is Shroud Cay, at the northern tip of The Exumas, Bahamas, Land and Sea Park. Fishing and development have been prohibited in this 172-mile sanctuary since 1958. It is the first of its kind and one of the country's most valuable treasures. Small and unoccupied, Shroud Cay is criss-crossed by a network of tidal creeks that are a safe nursery to a variety of fish, turtles and crustaceans. Motor through the windy mangrove river by tender and arrive at an amazing beach.
DAY 5: Warderick Wells
In the morning, sail south to a mooring at the Exuma Land and Sea Park headquarters, Warderick Wells. Drop anchor in a narrow cut just feet from coral reefs and white sand beaches, so close you can almost jump to shore without getting your feet wet. The cay has many trails to explore with vistas overlooking the Exuma sound and remote beaches. The Park headquarters has a gorgeous view, a nature center, and Bananaquits. Known as the Chickadee of the Caribbean, these little birds are tame enough to land on your hand.
Staniel Cay
In the afternoon, cruise to Staniel Cay, which is famous for Thunderball Grotto. The Grotto shares its name with the 1965 James Bond film it was featured in along with 007 Sean Connery. This popular, immense cavern is accessible only by swimming. Once inside the cave it's like an ocean pool in a natural cathedral. Light streams in from breaks in the surface. The cavern is home to an assortment of very tame fish that are used to being fed by snorkelers and will swim up to your mask.
Spend the evening at the Staniel Cay Yacht Club, a gathering place for yachtsmen and locals that often has entertainment. The walls are lined with yellowing photos of actors and crew filming Thunderball Grotto. Make new friends, enjoy cocktails and conversation. The club is a long time favorite with experienced yachtsmen and has kept its unique character through two generations.
DAY 6: Bell Cay, Hawksbill Cay

Head back north to spend the day at anchor at Bell Cay. There is great snorkeling right at the anchorage and also in the surrounding reefs a short dinghy ride away. In the afternoon explore Rocky Dundas or Cambridge Cay. In the evening, set sail to the anchorage at Hawksbill Cay, a private, uninhabited island. This is a very protected spot for the night and a great place to put the kayaks in the water and explore the beach.
Day 7: Allen Cay, Nassau

On the north end of Hawksbill Cay is a spectacular sand-scape and beach. It is one of the most natural and pretty beaches in the Bahamas. One of the best preserved loyalist ruins in the country is on Hawksbill Cay, which belonged to the Russel Family from 1785- 1830. There are scant remnants of the 10 houses and numerous outbuildings of this historic sight that has largely been consumed by nature. After a stroll along the beach head north to Allen Cay, home of the endangered Bahamian Rock Iguana. They are very friendly and seem prehistoric. Cruise past Rose Island and return to Nassau for the final leg back to the Marina.
One of the top reasons to charter a yacht is to have the pleasure of customizing your itinerary to suit your preferences. In the Exumas, Bahamas, the possibilities are endless. Snorkelers prefer to be underwater, kitesurfers on the water. You might prefer to float from beach to beach, make new friends at the club or beach bar, take photographs, learn to sail. Fun under the sun without ever holding your breath. Here we present some of the most popular yachts in the Exumas to suit all preferences.
EXUMAS, BAHAMAS: CHARTER YACHTS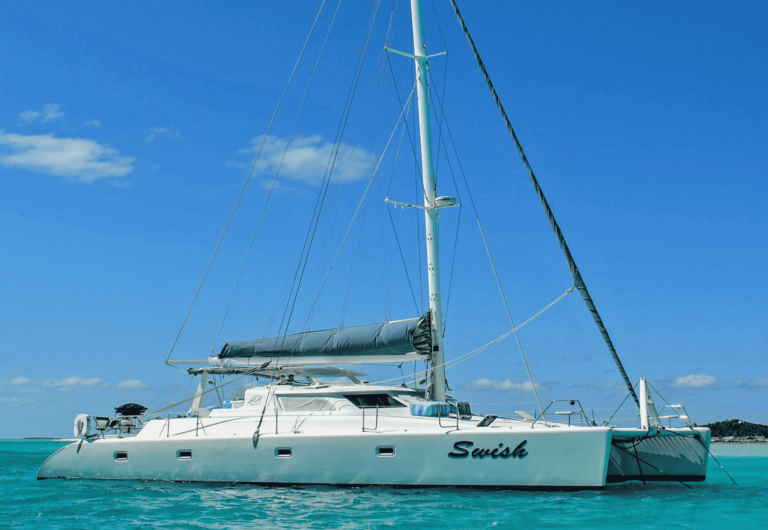 SWISH, Voyage 50. Enter the realm of peace and tranquility. The main objective of the professional crew is to ensure an idyllic vacation on a beautiful yacht. Custom-designed interiors, huge trampoline, fabulous fun! 7 guests in 4 cabins
RUBICON, St Francis 44, accommodates 6 guests in 3 cabins. Captain Adam was raised aboard his parent's yacht in the Bahamas. RUBICON is an especially great charter yacht for kiteboarding and surfing enthusiasts, because Adam is an expert.
NENNE Victoria 67, newly built and launched in 2017, is Fountaine Pajot's flagship, top-of-the-line luxury cruising cat. She's sleek, elegant, and extremely spacious with an overall length of 67 feet and beam of 31 feet; truly, the ultimate in cruising comfort. The award winning crew, Donald and Audrey, have a lengthy list of repeat clients. This is one of the most popular yachts in the Caribbean. Accommodates 10 guests in 5 cabins.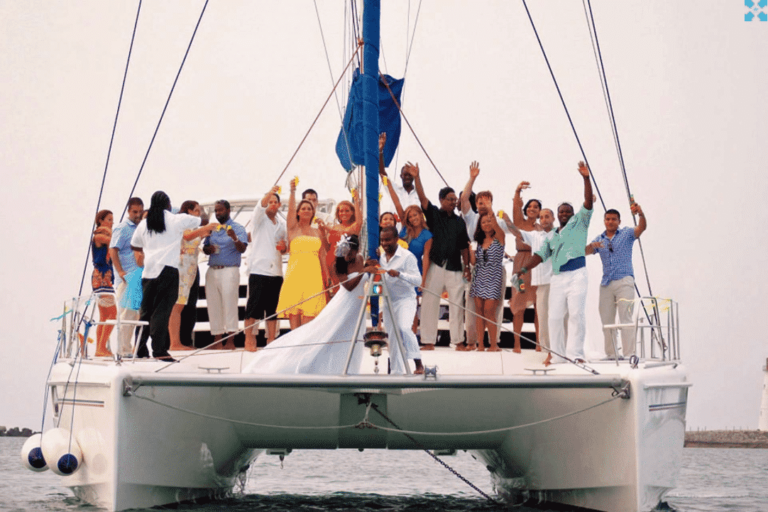 SEA SEÑOR Leopard 46 is based in Nassau and available for day, captain only and crewed, week-long charters. For a family charter, a romantic getaway, or a celebration, SEA SEÑOR is a perfect option. Capatain Bayan is a local who knows all the best places for everything in the Bahamas. Accommodates 6 guests in 3 cabins
Find: International Flights to the Bahamas
Contact Select Yachts for additional details and to book the yacht and crew that's perfect for your yacht charter vacation in the Exumas, Bahamas.