Abacos Islands: exciting, romantic, high-spirited.
In addition to world-class diving, sport fishing and kite boarding, the Abacos islands are historic, dotted with quaint villages founded by British Loyalists. Stroll down the road and locals on front porch rockers will wave. Cottages painted the colors of sherbet have gingerbread trim, white washed picket fences and pretty flower gardens. Museums, galleries, seafood restaurants, funky beach bars, and local crafts shops further energize Lilliputian towns.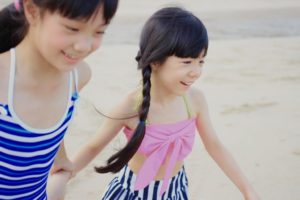 The Sea of Abaco is a paradise of islands, islets and reefs. Here the water is very calm and so shallow that many places can only be accessed at peak tide. Andros barrier reef is the third longest in the world with wrecks, blue holes, caves and astonishing sea life. Yacht charter through the Abacos islands is ideal for groups of varied ages and interests. In the Abacos, there really is something for everyone to enjoy at every port of call.
Marsh Harbour, Great Abaco
The airport at Marsh Harbour makes a convenient start for yacht charters and fishing
tournaments in the Abacos Islands. Meander down along "restaurant row", and poke about the shops. Pause at a beautiful spot to drink and dine with a view. Abaco Beach Resort and Boat Harbour Marina have nice resort facilities. Take a paddleboard tour, have a rejuvenating massage, or linger at the bar with a Goombay Smash.
You can spend a couple of hours or a whole day exploring blue holes, Hole in the Wall Lighthouse and Sandy Point. To see how the locals live, take a car or taxi to sleepy rural settlements; Fire Road, Mango Hill, Red Bays, Snake Cay, and Cherokee Sound.
Treasure Cay, Great Abaco

Treasure Cay Beach, Marina and Golf Resort lies along 3 ½ miles of white sand beach that is repeatedly voted one of the top ten beaches, not just in the Abacos islands, in the world. Treasure Cay is also world famous for fly fishing and big game fishing, with abundant Marlin, tuna, yellow fin, snapper, barracuda, grouper and Wahoo offshore. Mermaid Reef will dazzle snorkelers. Play tennis, or try a round of golf on the 6,985-yard Dick Wilson course, where you just might tee off behind a PGA superstar. Meet fellow yachtsmen at the Tipsy Seagull pool bar or the Coco Beach bar.
Little Harbor
Drop anchor at Little Harbour. The water is the playground of frolicking dolphins and bobbing sea turtles, the beach sparkles in the sun, and to the west, verdant cliffs house countless caves. Kayak to blue holes, some with long, cool tunnels, others that "boil" on an incoming tide. Take a flashlight to navigate underground caves.
This lovely harbor was totally uninhabited until 1952, when Professor Randolph Johnston, his wife Margot their daughter Marina, and three sons, Bill, Pete and Denny were shipwrecked. They sheltered in cliff caves with colonies of bats and land crabs the size of footballs. They built a thatched hut, and eventually a home and foundry. Gradually, Randolph's family homestead blossomed into a professional artist colony. You can tour the foundry, where sculptors still use the ancient lost-wax process to produce fine bronzes, from miniature to life-size. Randolph's
son Pete runs Pete's Pub and Gallery, a rustic watering hole featuring cold beer, good food, and great artwork for sale.
Hope Town, Elbow Cay
Hope Town, with its iconic red and white striped lighthouse, is beloved by captains, crew, and repeat guests for its excess of Bahamian Out-Island charm. Visit the quaint shops en route to the Wyannie Malone Museum. Exhibits recreate the island's volatile times during the American Revolution.
Continue down High Street to the above-ground cemetery. Read the epitaphs of early settlers, a poignant testimony to the past. Explore Elbow Reef Lighthouse, built in 1863 by the British Imperial Lighthouse Service. At the time, many of the island inhabitants did not welcome its construction, which illuminated their illegal salvage of wreckage from ships sunk on the nearby reefs. Huff your way up the 100 steps for the views. Time for refreshments. Try a Firefly Sweet Tea Vodka at Firefly, or a Dragon Berry at Lubber's Landing.
Surf's usually up at Garbanzo Beach on the Atlantic side of Elbow Cay. However, in the 1960s, a group of dedicated, young California surfers had to wait out a storm, surviving on garbanzo beans, to catch the best waves.
They discovered the best surfing in the Bahamas.
Man-O-War Cay
When Grandma Mary Albury was knee high, the islanders built their houses the same way ships are built, wooden rafters bolted together. They scrubbed their wood floors clean with the tough skins of Triggerfish. In 1952, the Albury family launched their brand of smacks, sloops and schooners, meticulously hand crafted from native Madeira mahogany and other Bahamian hardwoods. Visit the boatyard where these now famous classic runabouts of the Abacos islands, now constructed out of fiberglass, are still manufactured.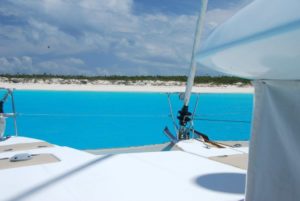 Man-O-War locals are descendent from 18th century Loyalists. They are conservative, religious and very pro-British. There are no bars. The Man-O-War Museum, a few waterfront shops and the canvas shop are reasons to tie up at the dock and investigate the town.
Great Guana Cay
Great Guana Cay sparkles with 5.5 miles of white sand beaches, perhaps the most beautiful in the archipelago. Snorkel or dive just offshore, the Abaco barrier reef lies 50 feet away. Birding enthusiasts and nature lovers can wander a forest of tropical foliage and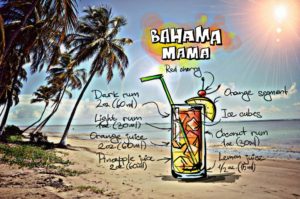 rare birds, including Abaco parrots, white-crowned pigeons and white-tailed tropic birds. The village of (Captain) Kidd's Cove has a couple of businesses, a church, a one-room schoolhouse, and tiny clapboard homes with filigree cornices, pastel shutters and picket fences enclosing tidy gardens.
Great Guana Cay is the party HQ of the Abacos islands. There are several resorts, marinas, restaurants and bars, even a golf course, all of which may or may not be open on your visit. However, trendy Nippers Beach Bar and Grill will definitely be open and likely packed with revelers, day and night. Anchor out, snorkel in,
or pull your Jet Skis up on Nipper's beach and join the mayhem.
Green Turtle Cay
On Green Turtle Cay romance seems to float on the breeze. The Abacos islands are very popular for wedding, honeymoon and anniversary yacht charters. Anchor out among playful dolphins and nonchalant sea turtles. Jump off the aft deck into 15-20ft of crystal clear water. Living reefs and coral gardens are ideal for snorkeling,
diving and bone fishing. Shelling on the powdery beaches and offshore sandbars is among the best in the Bahamas. Spend the day discovering lush forests, secluded inlets and often empty beaches, like Coco Bay, a crescent beach shaded by Casuarina pines.
New Plymouth
The architecture of New Plymouth, with steep-pitched roofs, is a charming replica of colonial New England. The Memorial Sculpture Garden, opposite the New Plymouth Inn, is patriotically landscaped in the pattern of a Union Jack flag. The Albert Lowe Museum occupies a beautifully restored Loyalist home and exhibits the island's tumultuous history. On display in the basement, Bahamian fine and folk art is for sale.
The inhabitants of the village of New Plymouth are the descendants of loyalist English, Welsh
and Scottish settlers of the 1770s. Generations of intermarriage have left a few common last names; Albury, Lowe, Russell, Roberts, Sands and Sawyer. Many faces are confusingly similar, with freckles, blue eyes, redheads and blonds. If you meet a friendly local while exploring the picturesque streets, don't be surprised if you think your seeing their twin at Miss Emily's, where everyone must stop for a Goombay Smash, the national drink.
Imagine
Water so clear that from your deck you can watch groupers, angelfish, barracudas, manta rays and sea turtles dodging your anchor line. Here the sun shines strong on miles of pristine beaches with sands that powder your feet in pearly dust. There are superb places to wine and dine, but dinner jackets and high heels are unheard of. Why charter a yacht in the Abacos islands? Because in this perfect paradise, your only job is choosing where to play next.
Some of our favorite places:
Little Harbour: Pete's Pub & Gallery
Hope Town: Wyannie Malone Historical Museum
Great Guana Cay: Nippers Beach Bar and Grill
Treasure Cay Beach: Treasure Sands Club
Green Turtle Cay: Green Turtle Club Resort & Marina, signature cocktail: the Tipsy Turtle
Green Turtle Cay: Bluff House Beach Resort & Marina, signature cocktail: the Tranquil Turtle.
And Favorite Things…
Abaco Guide by Sandy Estabrook
For our Bahamas destination overview & charter yachts available in the region please view: Bimini, Abacos, Exumas, Eleuthra
For additional information about luxury yacht charter in the Abacos, Bahamas, Contact Select Yachts.