Shipwreck Diving: A League of Your Own
Shipwreck diving adds a whole new dimension of history, drama and discovery to a yacht charter. Doing a little preliminary research can add lots of insight as well. Each shipwreck tells a story. Some sunken ships are skeletal epilogues to tales of woe, catastrophes at sea. Others have been intentionally sunk to create artificial reefs, now home to fascinating marine life. One sunken ship is even an underwater art gallery.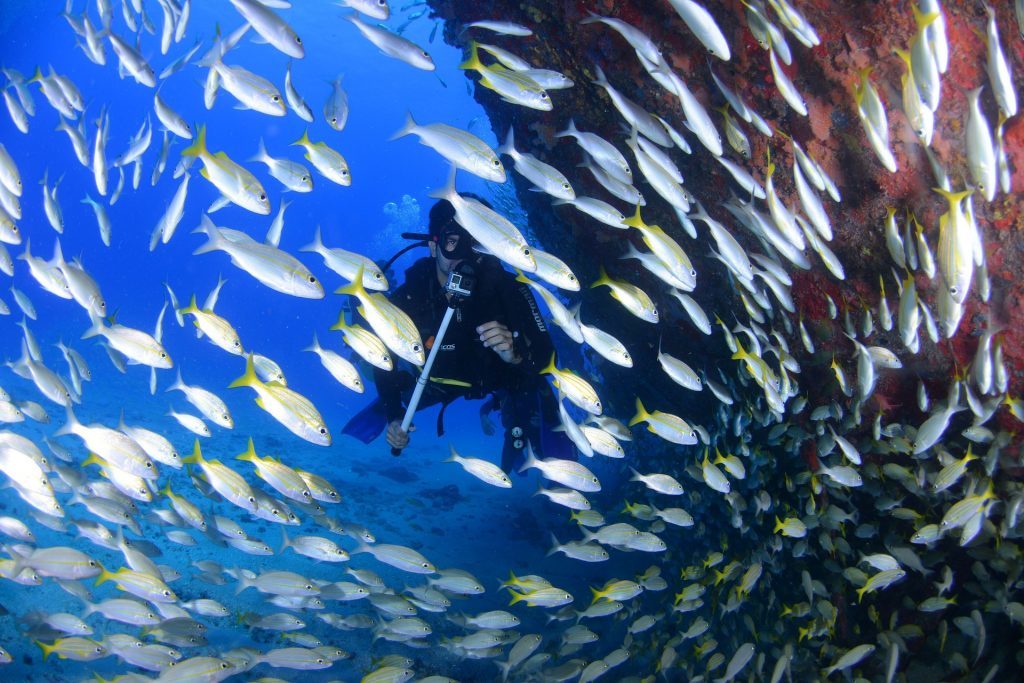 Here are some sketches of favorite shipwrecks. Use the links to dive a little deeper.
Virgin Islands
In the British Virgin Islands, the RMS Wreck of the Rhone is one of the best and most popular destinations for shipwreck diving. Wrecked off the coast of Salt Island in 1867, she was a sail-steamer, rigged as a two-masted brig. Her compound steam engine developed 500 NHP and gave her a speed of 14 knots (26 km/h) on her sea trials.
At least two dives are needed to explore both the bow and the stern sections. The iron hull is encrusted with coral. The entire bow section, including the sharp prow, mast, and lifeboat davits, can be seen from the surface. Some of the aquatic visitors include large schools of sennet, barracuda and grunts, lobster and eel. Scenes from the movie The Deep were filmed here.
Butler Bay in St. Croix is home to several shipwrecks like the Rosa Maria, North Wind, Suffolk Maid, and Coakley Bay, and even a few abandoned cars. However, at 300 feet long, the Virgin Islander is the largest of the wrecks. The large trawler ran aground and sank during a hurricane in 1991. Some of the colorful visitors you may encounter while diving here include seafans, schools of snapper, and tubeworms.
Just off Cooper island, Wreck Alley is an artificial reef made up of four sunken ships. The site is home to many types of fish; grunts, parrot fish, snapper, moray eels and grouper. A vast area of garden eels along the outer edge of the wrecks and a large number of stingrays make this shipwreck diving site especially exciting.
Shipwrecks of the Virgin Islands 1523-1825
Kodiak Queen = World History, Art, Ocean Conservation, Science, Education and Play!
Kodiak Queen is the Caribbean's newest shipwreck diving destination. Set off the coast of Richard Branson's Necker Island, Kodiak Queen is actually an underwater art exhibit that includes a giant kraken sculpture. In March of 2017, the former Navy fuel barge/Alaska King Crab vessel became an underwater art installation and new dive site in 57 feet of water.
"In 1967 her registry was still US documented. She was converted to an Alaska king crab vessel and salmon tender and worked out of Kodiak Alaska. There are those of us who remember the Kodiak Queen in her glory days of crab fishing in Alaska…
She was the Queen of the fleet, one of the largest crab vessels at that time. As a converted WWII vessel she was over 30 years old then, but she was well maintained and a safe vessel. She fished and tendered in Alaska till the early 2000s when she was taken out of the fishery in what was called the "crab buyback program. As a condition of the buyback program she could no longer fish anywhere in the world. It is very fitting for her to have an afterlife in the warm waters of the Caribbean and to become a habitat for the fish. Much better than being melted down and becoming a toaster. She was truly one of a kind." -Ken Tippett (Excerpted from Dive BVI)
The Kodiak Queen – Promo from Rob Sorrenti on Vimeo.
Amazing BVI Dive Site: BVI Art Reef
Antigua
The St. John Wreck, also known as Shipstern, was a 90-foot tug boat that sank in St. James harbor in the 1960's. The wreck is now resting in about 35 feet of water. Shipwreck diving here offers an array of marine life and excellent wide angle photography. Due to the amount of small crustaceans and colorful coral polyps, this site is also an impressive night dive. About sixty feet behind the St. John Wreck is a barge wreck. It is not known if both vessels were sunk together.
Grenada
Captain Dan Berg in his excellent Guide to Grenada Shipwrecks, describes nine thrilling shipwrecks. The most well-documented is the Bianca C, known as the "Titanic of the Caribbean." Only a mile off Grand Anse beach, the 600-foot cruise liner wreck is the largest in the region.
Built in 1944, Bianca C cruised from Naples, Italy to Guiara, Venezuela. She had triple screws and 31,500 BHP sulzer diesels for speeds up to 22 knots, two masts and one funnel. The ship carried 200 first class passengers and1,030 tourist class passengers. The first-class dining salon had a glass roofed hall two decks high. Facilities included a swimming pool, solarium, beauty parlor, library, gym, and a children's playground.
Just before dawn on October 22, 1961, the Bianca C was at anchor off St. Georges, Grenada. Suddenly, one of her massive boilers exploded, sending tremors through the sleepy town. Fueled by bunker oil in the storage tanks, flames rapidly spread to every deck. The people of St. George were awakened and rushed to the fiery scene. Amassing a flotilla of 30 small crafts they heroically ferried 750 passengers to safety.
The Bianca C lies about a mile offshore. The top of the wreck rests at about 75 feet, the main deck sits between 90-125 feet, the bottom is 160 feet. Due to depths and very strong currents this shipwreck is only for advanced divers. The partially intact wreck is encrusted with sponges and corals and visited by schools of jack, barracuda, and spotted eagle rays.
The Grenada Shipwreck Expo Directory Capt. Dan Berg's Guide to Shipwrecks Information
Bahamas
Several wrecks around Nassau you'll recognize from films. Located 45 feet below the water's surface, Tears of Allah was sunk for use in the James Bond movie Never Say Never Again. Prior to casting, the 92-foot tugboat was used as a supply boat.
Located just a two-minute swim away, you can see the wreckage of The Vulcan Bomber, the plane that was purposefully sunk for scenes in Thunderball, another James Bond film. The plane's exterior has disintegrated, and its metal framework is now overgrown with corals, making it a playground for lionfish, turtles, barracuda, and reef fish.
There are three deep wrecks located off the shores of Paradise Island at a site known as The Shipyard. Experienced divers can explore an oil tanker called the Bahama Shell, a 95-foot passenger ship named the Helena C., and a 150-foot supply vessel called the Ana Lise. These ships were all sunk between 1990 and 1991 and are well-preserved and intact, making for an interesting – yet slightly spooky – shipwreck diving excursion.
The Sugar Wreck, Grand Bahama, is aptly named for sinking with a cargo of sugar. This storied shipwreck diving spot lies off the West End in just 20 feet of water. It is an ideal excursion for both snorkelers and divers. There are snappers, grunts, wrasse, gobies, angelfish and parrotfish everywhere on the wreck.
These are just a small percentage of storied shipwrecks that add amazing depths to any charter adventure. Select Yachts Charter Professionals will work with you and your Captain to customize a shipwreck diving charter that suits your level of experience in your chosen section of Caribbean paradise.
Check out these Charter Yachts with Scuba Dive Specials!!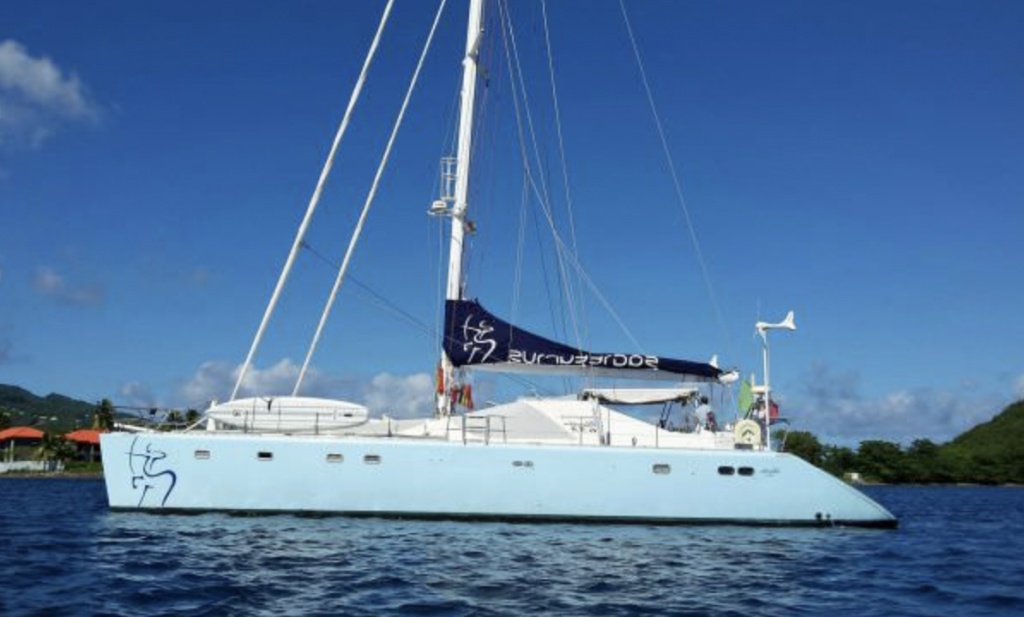 SAGITTARIUS, Privilege 65′ catamaran offers one FREE DIVE PER GUEST on week-long+ charters.
SAGITTARIUS features diving on board in the Grenadines and French West Indies. This luxury catamaran accommodates up to 10 passengers with two crew. Great deal on this magnificent yacht in some of the world's most beautiful diving regions!
SAGITTARIUS Scuba Dive Charter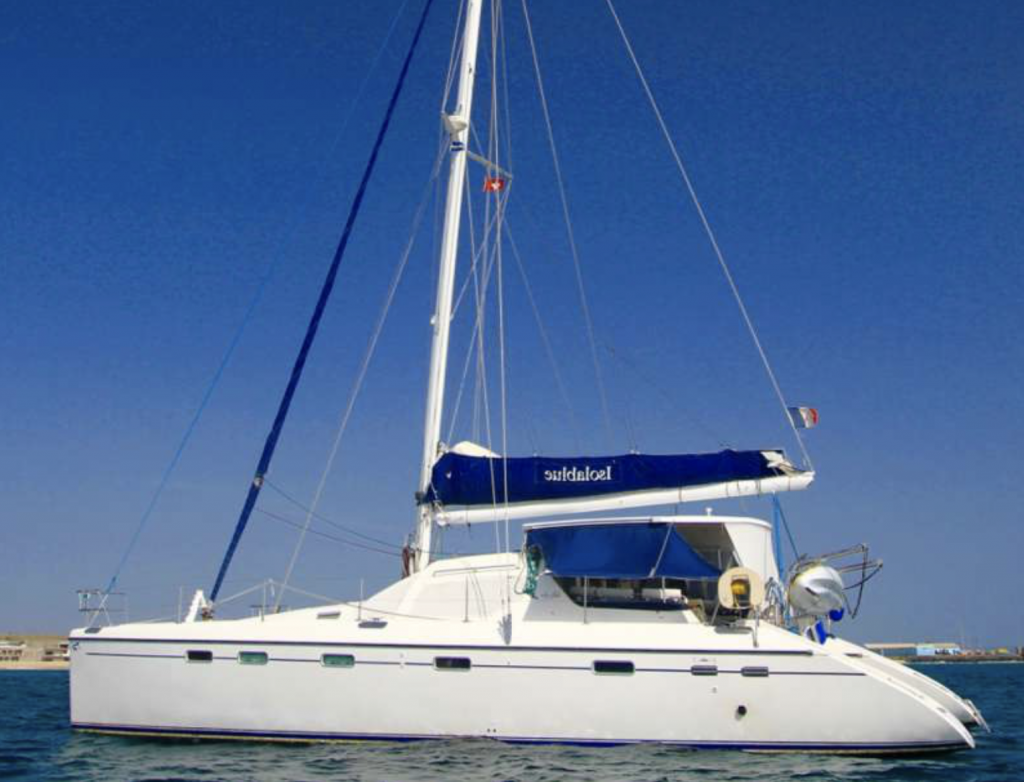 ISOLABLUE, Privilege 49′ offers one DISCOVER SCUBA DIVE or one FREE DIVE PER GUEST for a minimum stay of seven nights.
ISOLABLUE is aluxury sailing catamaran with beloved crew. Captain Laurent is a licensed PADI instructor and Chef Astrid is a licensed PADI Divemaster. Award-winning Chef Astrid took first place at the 2018 Grenada Charter Yacht Show Culinary Competition.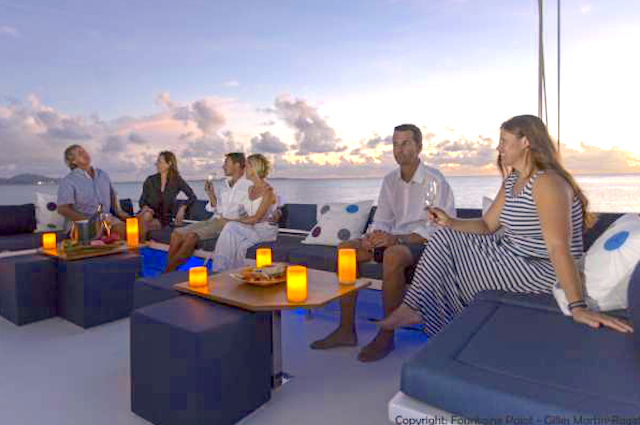 NENNE, 67′ Fountaine-Pajot offers onboard diving for certified divers. Beginners can take a Discover Scuba Diving course including one dive for only $135.
Enjoy a premium dive experience with top-of-the-line equipment and accessories. Captain Donald and Chef Audrey are one of the most in-demand crews, claiming 16 charter yacht show awards in categories including Best of Show, Culinary, Table-setting, and Eco-friendly, and rave reviews from their guests.
MOJEKA, Moody 54 DS monohull one free dive per person and the thrill of performance sailing!
MOJEKA is a new concept in monohull design with the salon and cockpit on the same level – referred to as one level living. With skylights that flood the main salon with light, panoramic views all-around, and a huge comfortable cockpit with convertible sunning bed. Charter MOJEKA for the best in shipwreck diving and high-performance sailing!
Contact Select Yachts today to book your shipwreck dive charter adventure!