New England, America's Heritage
New England reverberates with the echoes of a dramatic past: from whaling and witch trials to industrialist estates and politician's playgrounds. Here, America's history is intrinsically woven into the fabric of contemporary life. Imagine a yacht charter vacation in New England. Dock at tiny port towns of yesteryear, where loyalist tradition calls for tea and biscuits at 4:00pm. Older gentlemen don ascots and sport coats for happy hour. Lobster is cheap and ubiquitous. And "wicked" means almost anything, except a witch of the west.
On your luxury yacht charter, begin the day with water play. Spend the afternoon shopping in a picture postcard town. Experience a New England clam bake as the sun goes down. End with a night cap on the aft deck.
New England: Newport, Rhode Island
Classic sailing yachts are head turners in Newport's charismatic harbor. The colonial-era port is resplendent with wooden ships on the water and lavish mansions on the hills. Racing yachts, from J-class sailboats to tall ships, hold festive competitions throughout the summer. Stroll the cobbled streets to find keepsake treasures at antique shops and art galleries. Nearby, historic Block Island offers 32 miles of trails, perfect for a biking or hiking excursion.
Narragansett Bay
New England's largest estuary, this expansive natural harbor includes a small archipelago. Take a surfing lesson at Narragansett Town Beach. Visit the lighthouse. Dig for clams at Point Judith Salt Pond in Galilee and have a clambake.
New England: Cape Cod, Massachusetts
Pilgrim's landed the Mayflower at Plymouth, Massachusetts, followed by intrepid settlers. They founded shoreside towns around the hook-shaped peninsula and nearby islands including Martha's Vineyard and Nantucket.
Martha's Vineyard
The summer enclave of the rich and famous, this New England town is bedecked with flowers and brightly painted cottages. Dock at Vineyard Haven to browse an array of trendy shops. Oak Bluffs offers the leisurely seduction of a Victorian boardwalk. Edgartown's tiny streets are lined with chic boutiques, stately whaling captains' homes, and charming inns.
Nantucket
In the early 1800s, Nantucket was the whaling capital of the world. Well-heeled shipowners and sea captains built elegant mansions, beautifully preserved by strict building codes initiated in the 1950s. The entire town of Nantucket is a National Historic District, with over 800 pre-1850 structures at its core.
New England: Maine
Rustic and rocky, the coastline is dotted with picture book waterfront towns. The coast gets noticeably rugged as you cruise further north. Finally, you reach Bar Harbor and Acadia National Park on Mount Desert Island. Explore historic sites, museums, antique stores and handicraft shops. Make new friends at waterfront pubs and lobster shacks. Hike through fragrant pine forests. Swim beneath a lighthouse. Watch the lobstermen at work. In the summer months, local festivals are an added bonus.
Bar Harbor
First, you will see the breathtaking mountains of Mount Desert Island from the deck of your private yacht. Next, the charming waterfront town comes into view. It was aptly incorporated as "Eden" on February 23, 1796.
Stretch your sea legs on the picturesque Shore Path, originally created about 1880. West Street, a National Historic District, houses stately old mansions, and lovely shops. Stop in at the Abbe Museum to learn about Maine's indigenous tribes. During July, don't miss the Bar Harbor Music Festival.
If you bring your dog on charter, you'll love this dog-friendly town. Acadia National Park, a must for nature lovers, welcomes your pup. People and dogs scamper through wooded trails, meadows, and a nice big pond. Leashed dogs ride on park buses and carriages. Also, there are plenty of dog-loving establishments in town. Stewman's Lobster Pound has gorgeous ocean views and a doggie menu with a cheeseburger patty. Motor yachts and sailboats dock at the posh West Street Hotel to enjoy deluxe amenities, including their dog-friendly patio restaurant.
Penobscot Bay
The Bay is big; forty by twenty miles. It boasts hundreds of picturesque islands, secluded anchorages, quaint fishing villages and working harbors. Along these New England shores, the towns of Camden, Rockport and Rockland's opulent estates have manicured gardens and sweeping lawns. Wake at sunrise. The bay is "flat as a mirror". Morning coffee on the aft deck brings the sights and sounds of ducks and gulls, seals and fishermen.
Monhegan Island
For generations, artists have drawn inspiration from the untamed isolation here. This small, rocky island is accessible only by boat. The village has a few shops, restaurants, a museum and a brewery. There are no cars or paved roads, but 12 miles of terrific hiking trails to explore. Besides the seasonal artist colony, the year-round population totals 68 stalwart people.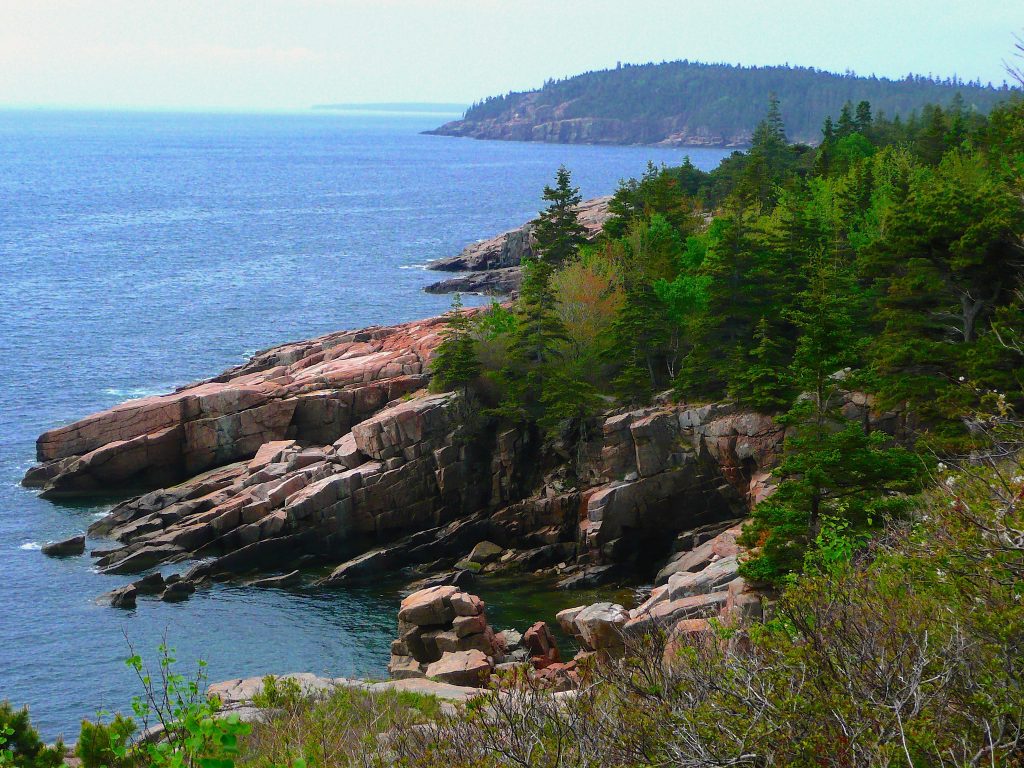 Worth the Excursion
Newport National Golf Club: Arthur Hills designed, 7,244-yard links-style course with Atlantic Ocean vistas.
Mytoi Gardens, Chappaquiddick Island: This Japanese garden has winding footpaths through a birch walk, camellia dell, stone garden and hillside garden.
Nantucket Whaling Museum: features an 1847 candle factory, fully rigged whaleboat, whale skeleton, and rooftop deck overlooking Nantucket harbor.
Contact Select Yachts to organize your New England yachting vacation. Let us customize a charter that's wicked fun!
Recommended Yachts: