Mallorca and Menorca: Universally Adored Islands in the Sun
"Everything that the poet and the painter can dream of has been created by nature in this place." – George Sand
Mallorca and Menorca, Majorca and Minorca – no matter the spelling, these islands are the stuff of dreams. It's as if everything desirable has converged at these coordinates. Sandy beaches lapped by a crystal clear sea in addition to a sun that shines almost every day. Also, fertile soil and award-winning wine. Maybe it's environmental perfection that inspires universal friendliness in the residents. Forever blue skies and peaceful, easy living.
Mallorca
300 miles of coastline in Mallorca offer endless exploration. 300 days of sunshine means it's always a good time to charter. Moreover, 360 degrees of breathtaking views from your deck are unforgettable.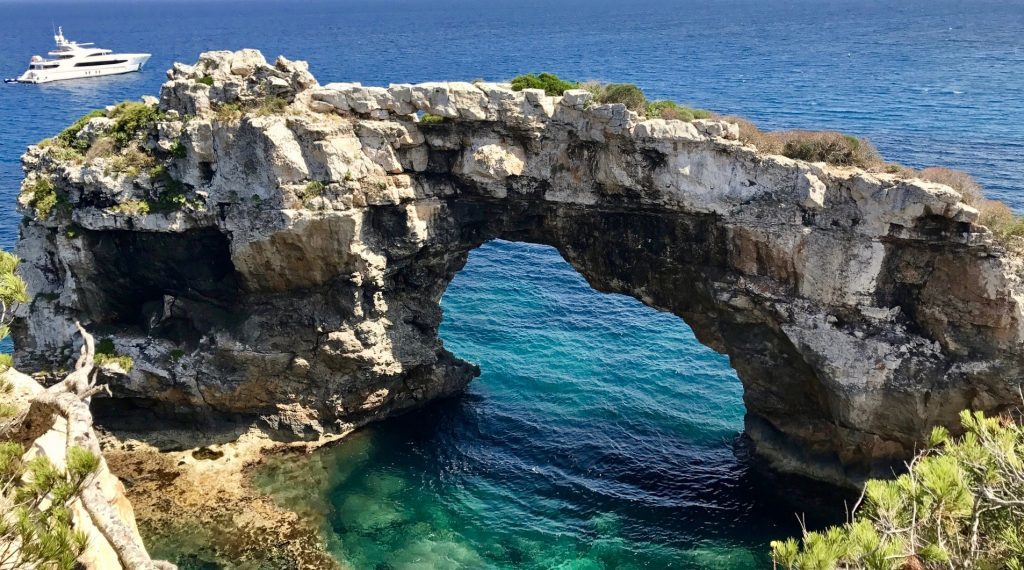 Then, take your camera on a shore excursion through the Mallorca countryside. Let the picturesque scenery be your muse. Join composer Frédéric Chopin, writer George Sand, painter Joan Miró and others who have been inspired here.
Ancient river flood waters consequently reduced cliff walls to deeply indented, crystal clear anchorages. Dive and snorkel coral walls with sea creatures such as exotic fish, octopi, and schools of barracuda. Mountainous terrain surrenders at the remarkable port and town that share the name Sóller.
Palma and Deia
Palma is a mecca for super yachts. It is one of Europe's most beguiling and trendiest small cities. Explore the maze of streets behind the cathedral. You'll find trinkets, treasures and tiny bars serving heady wines and delicious tapas. You can also sample locally cured meats, rich cheeses, pungent anchovies and sweet olives.
Undoubtedly, Deia is the most exclusive town in Mallorca. The King and Queen of Spain, Harrison Ford, Michael Palin, Pierce Brosnan, Stephen Fry, Kate Moss, Sting, The Corrs, Jamie Oliver, Gwyneth Paltrow, and Heston Blumenthal are a few familiar faces out on the quaint streets and pretty pebbled beach. You can also indulge at Belmond La Residencia Resort & Spa on the edge of the artists' village of Deià.
Menorca
Menorca's population includes celebrities as a result of being quietly sophisticated and serene. Expat writers, painters, poets, and politicians are lured by an exquisite landscape and discreet lifestyle.
In the capital, Maó-Mahón, stately neo-classical architecture surrounds a labyrinth of medieval passageways at the historic core. The many deep calas (coves) around the island conceal luxury yachts seeking privacy and peace.
Menorca is a family-friendly island with safe, sandy beaches. Narrow inlets with tiny beaches carve the entire south coast. Development is sparse. Drop anchor, sun and splash about on the yacht toys. In addition to this, refresh with cloudy lemon and Mahón Gin cocktails (a legacy of British rule). Also, snack on Sobrasada sausage and fresh Queso de Mahón-Menorca.
There are lots of beginner dive sites that are amazing, such as Swiss Cheese, Cathedral Cavern, the Spike, Tom's Belfry, Moon Pool, Pont D'en Gil, and S'Algar Reef. Additionally, these sites have swim-throughs, overhangs, caverns, caves, vertical drop offs and coral encrusted reefs with 100-foot visibility.
Cabrera Archipelago & Dragonera Natural Park
The Cabrera Archipelago Maritime-Terrestrial National Park and the Sa Dragonera Natural Park are a short cruise from Mallorca. Each is an intriguing yacht destination, especially for wildlife enthusiasts, history buffs and divers. Both islands protect abundant species of plants, birds and marine life, especially dolphins and sea snails.
Cabrera
The remote, isolated island of Cabrera has always been considered strategic. Thus evolved a dramatic history of prisoners and executions, sunken submarines and seaplanes. On Cabrera, diving is allowed by permit and only in the bays Cala Galiota and Es Dimoni. However, these sites are true paradises for scuba divers. In the nature preserves, diving is forbidden. Hiking trails on Cabrera lead to the lighthouse, the medieval castle and other historic ruins.
Dragonera
Lizards cover the island Dragonera. From a certain perspective, it is shaped like a dragon. Indeed, it is a place steeped in fantasy. There are the ancient ruins of a Roman necropolis. It was also a notorious hideout for 18th century pirates and 20th century smugglers. Mist often enshrouds the lower part of the island.  Furthermore, part of the 1982 film adaptation of Agatha Christie's mystery Evil Under the Sun was shot in Sa Dragonera. Spend the evening on deck anchored off the island. As the sun sets, colonies of seabirds return to roost. At night, the thickness of stars is truly amazing.
Some Favorite Places:
Mallorca:
Menorca:
Pan Y Vino Restaurant. Contemporary French/ Mediterranean fusion cuisine with an emphasis on perfect wine pairings that includes local producers.
Cova d'en Xoroi, Cavern Restaurant & Nightclub. A visually spectacular space on a beautiful cliff on the south coast of the island of Minorca. Children are welcome during the day. Open from June-October.
Some Favorite Charter Yachts:
NIRVANA, Fairline Squadron 74
Based in Palma, NIRVANA is an elegant yacht with a wonderful crew. She always gets excellent reviews from charter guests. Her awesome toy chest includes water toys such as a Jetski Seadoo, wakeboard, waterskis, paddle boards, kayaks, snorkeling and fishing gear. Charter NIRVANA for the perfect combination of luxury, service and fun. Accommodates 8 guests in 4 cabins.
LH2, CNB Bordeaux 69′
This is the perfect family yacht for charter in the Balearic Islands! She is based in the wonderful island of Menorca. Pick up in Mallorca as well, without any extra costs. LH2 has a bright salon and wonderful outdoor dining. Relax on the sunbed or ride the bow. Accommodates 6 guests in 3 cabins each with ensuite bathroom.
MAVI MAR, Prestige Yachts 62′
Zip around the Balearics on this brand new power yacht. MAVI MAR is equipped with all the latest technology. Satellite and streaming Internet TV in all cabins, a Williams 385 Jet Tender and great water toys. Accommodates 6 guests in 3 cabins. Moored in Palma.
KHIVA, Cutter 56
Starkel Design crafted this luxury sailing yacht in Italy. She's a rugged but light weight mix of Mahogany and Carbon fiber. The result is a solid hull offering superior sailing capabilities and excellent comfort. Accommodates 6 guests in 3 cabins. Pick-up in Minorca.
Contact Select Yachts today. You deserve a luxury yacht charter vacation. From the destination to the yacht to the crew, we make dreams come true.