Maldives Yachting lives up to all the hype.
This tropical island nation is located in the balmy Indian Ocean. Long ago, its 26, giant, ring-like atolls fragmented into over a thousand coral islands. It is a realm of stunning beauty. The people are welcoming, the culture is exotic. The snorkeling and diving are hypnotic. The beaches and blue lagoons are dreamscapes. It is one of the most romantic, places on earth.
Why is chartering a luxury yacht to explore the Maldives your best option? First and foremost, in this tropical paradise, the thrill is in the island hopping.
In addition, this is predominantly a Muslim nation. Alcohol, pork, drugs and public observance of non-Muslim religions are prohibited on the inhabited islands. Yet, your private yacht is exempt from restrictions.
Also, ocean mobility lets you experience and explore more. Hanifaru Bay and Blue Hole, Baa Atoll at Baa Atoll are world-famous dive sites. Twelve islands offer some of the best snorkeling on the planet. The Maldives have challenging surfing, with several spots catching the same swells as Indonesia, except smoother. Finally, it's your private charter yacht. You can design your daily itinerary according to your mood.
On board a luxury crewed yacht charter in the Maldives you vacation in style. Eat, play, drink and discover however and wherever you choose. The accommodations are luxurious, the ever-changing seascapes spectacular. The chef is at your service, and the service is always first-class. The toys, equipment and gear are top-notch and easily accessible 24-7.
Maldives Yachting – Malé
Malé, is a densely populated urban grid of colorful buildings.
Chances are pretty good that you'll fly into Malé to begin your Maldives vacation. If you want to experience the culture, plan to spend a few hours, or perhaps a day here. Visitors can explore island art, culture, history and cuisine. Maldivians are almost entirely Sunni Muslim. Local life is an intriguing mixture of South Indian, Sinhalese and Arab influences.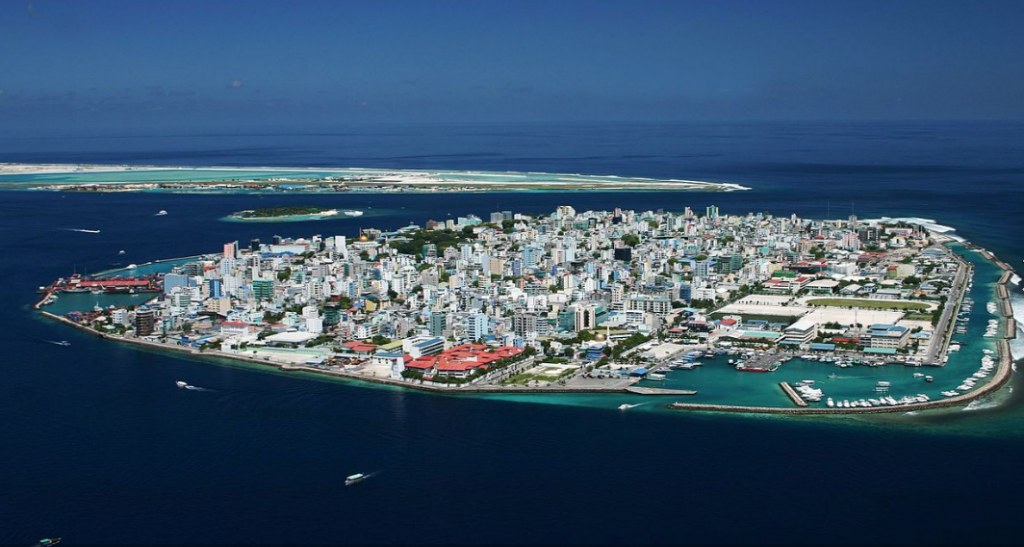 This is a religious nation and there are many mosques. The oldest, Hukuru Miskiiy, dates to 1656. It is built of coral stone, inscribed with intricately carved patterns and Arabic script. The interior is ornately embellished with elaborate lacquer work and wood carvings. The National Art Gallery and National Museum, are also places of local pride.
Go for a stroll. Many interesting shops sell local handicrafts and products. There is also a variety of imported goods from India and Asia. Chefs and foodies will enjoy browsing the fish and produce market stalls near the harbor. Many other inhabited islands with tiny coastal fishing villages, sweeping stretches of white sand beach, local eateries and a shop or two, are just a short cruise aboard your charter yacht.
Maldives Yachting – some of our favorite spots:
Banana Reef
Located on the south-eastern side of North Atoll, Banana Reef is a great place to catch a glimpse of exotic marine life. The living reef has many shapes and colors of coral and is a fantastic opportunity.
Rasdhoo Madivaru
Dive with the sharks at one of the most popular underwater sites in the Maldives. In addition to white tip reef sharks, scuba divers will meet jacks, tunas, barracudas, Napoleon wrasse, dog tooth tunas and dolphins. Snorkeling this spot is equally mind-blowing. If you want to learn to scuba dive, your crew will likely include a dive instructor who can provide a two-day certification course or arrange a resort course.
North Malé Atoll
One&Only Spa, One&Only Reethi Rah Resort
"Celebrating the essence of the Maldives, indigenous ingredients and local traditions are incorporated to deliver total relaxation and well-being." Book ahead.
Vommuli Island, Dhaalu Atoll
Whale Bar, St. Regis Resort, is one of the best on-shore destinations to enjoy a sunset cocktail. Perfect for charter guests who wish to stretch their sea legs without sacrifice to magnificent views.
Maldives Yachting: Visitor Information
Of the 20 administrative atoll groups, only (parts of) 10 are open to tourism.
From north to south these are:
Lhaviyani (Faadhihpolhu)
Raa (Maalhosmadulu Uthuruburi)
Baa (Maalhosmadulu Dhekunuburi)
Kaafu (North and South Male Atoll)
Site of the capital Male and the airport.
Alifu (Ari), to the west of Kaafu, the second most popular group.
Vaavu (Felidhu)
Meemu (Mulak)
Faafu (Nilandhe Atholhu Uthuruburi)
Dhaalu (Nilandhe Atholhu Dhekunuburi)
Friday to Saturday is the weekend in the Maldives. Therefore, banks, government offices and many shops are closed. However, resort facilities are open everyday, except lunch times may shift for Friday prayers.
Climate:
The Maldives are tropical, with plenty of sunshine and temperatures around 85°F throughout the year. April-October the southwest monsoon increases rainfall, particularly from June to August. The best time for scuba diving is from January to April. Calm seas, low rain chance and visibility that can reach 30m.
A Few of Our Favorite Luxury Charter Yachts Available in the Maldives:
DOUCE FRANCE, 138 ft / 42.2 m – Alumarine
This stunning sailing yacht accommodates 12 guests in six staterooms, attended by a captain and crew of six. Douce France charters in South East Asia, the Indian Ocean and the South Pacific. Priced from $113,517 per week plus expenses.
SEA JAGUAR, 10 ft/ 31 m – Maiora
This posh yacht carries the jaguar theme throughout, for a design brief that's elegant, playful and just a bit on the wild side. Cruise from atoll to atoll in your villa on the sea and discover the wonders of the Maldives in style and comfort. SEA JAGUAR accommodates 10 guests cared for by a captain and 4 crew. Priced from $83,644 per week plus expenses.
Contact Select Yachts to find out more about charter yachts available in the Maldives.