The U.S. Virgin Islands comprise St. Thomas, St. John, St. Croix, the small but distinctive Water Islands, and many other surrounding little islands. A 7-day itinerary allows you to experience all of the magnificent aspects of Caribbean life, extraordinarily beautiful landscapes, balmy ocean waters teeming with life, and delightful ports of call.
Shore excursions offer everything from exquisite shops, restaurants, spas and golf courses to local island culture, history, flora, fauna, and flavors. A charter in the U.S. Virgin Islands is the ideal itinerary for families and friends that seek the thrill of blue water interspersed with adventures on land.
Here we present a sample 7-day itinerary in the U.S. Virgin Islands. Your itinerary will be further customized according to your interests.
Day 1: Arrive in St. Thomas and take a five-minute cab ride to Crown Bay Marina. This state-of-the-art facility is located in the scenic port of Charlotte Amalie. Board your charter yacht and enjoy lunch alfresco and lovely water views while you cruise around the harbor. Drop anchor for a relaxing swim or launch the tender for some island exploration. St. Thomas is a bustling, cosmopolitan island with a rich, Caribbean flair.
Including a land, segment is popular with charter guests. Arrive a day early or delay your departure to indulge in some of the duty-free shopping. Play a round at the world-renowned golf course. Dine at one of the excellent restaurants and enjoy the nightlife. Take the Skyride to Paradise Point, 700 feet above the city, or climb the famous 99 Steps of Charlotte Amalie. The panoramic views are breathtaking.
If you are interested in culture and history, St. Thomas is home to the second-oldest synagogue in the Western Hemisphere; Fort Christian, built-in 1680; French Impressionist painter Camille Pissarro's childhood home.
Day 2: After breakfast set a course for Magens Bay Beach, St. Thomas. Located on the north shore of the island, the bay is well-protected by land on three sides. It is one of the most popular beaches on the island. Here conditions are perfect for water sports fun. Launch the yacht toys, or grab some gear and dive in. Snorkel, ski, windsurf, rent Sunfish sailboats, glass-bottom paddleboats, and sailboards, or head for the beach. Magens Bay Bar and Grill is a great place to meet locals and fellow boaters while you sip a refreshing beverage. Try a signature Caribbean cocktail, like the Painkiller.
Day 3: Today you depart for Cruz Bay, the heart of St. John, which is just a short cruise away. With 60% of its land area comprising the Virgin Islands National Park, St. John is as far away as you can get from civilization. The smallest and least populated of the three United States Virgin Islands, it is famous for dazzling white sand beaches, turquoise bays, virgin forests and velvet green hills. The sea is a treasure of colorful corals and tropical fish. Cruz Bay has pretty, sea-side cantinas for casual dining with a view. Take a walk to Mongoose Junction to poke around the local shops and galleries.
Day 4: Awake to a gorgeous beach view that beckons a morning swim. After breakfast, explore St. John. The island is crisscrossed by hiking and biking trails. Prefer something less energetic? Your crew can arrange for a rental jeep. Jump behind the wheel and set off on your own, or a crew member will be happy to guide you.
There are several guided tours available in the park including hikes, shore walks, bird walks, even snorkel tours. There is even a self-guided snorkel trail located in Trunk Bay. Enrich your experience with talks about the island's history, geology, flora, and fauna. In the late afternoon return to the yacht for sundowners and a sunset cruise to beautiful Francis Bay.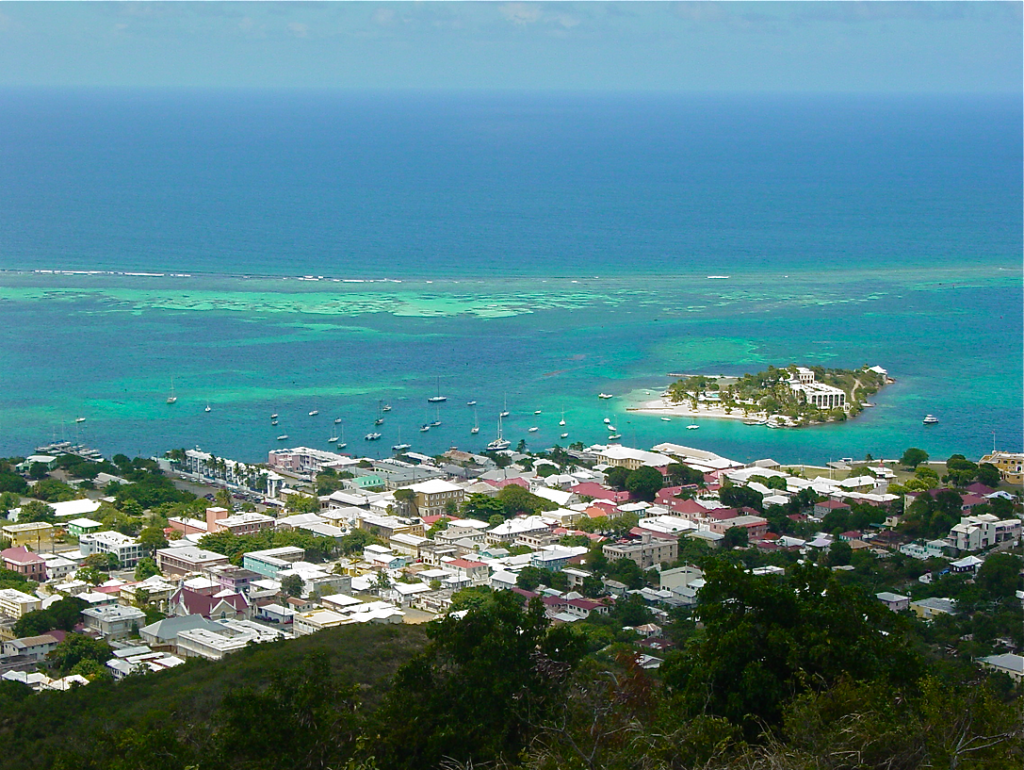 Day 5: Today you will thrill to the experience of a blue water cruise, out of sight of land on the open sea. You are bound for the largest of the Virgin Islands, St. Croix.
Four hours to the south brings you to the port of Christiansted. Here you will discover the unique culture of St. Croix through its arts, crafts, music, festivals, and cultural events. St. Croix has beautiful beaches, world-class recreational activities, fine dining, casino, and golf.
Arawak and Caribe inhabitants and shifting control by Spain, Great Britain, the Netherlands, France, the Knights of Malta, Denmark and the United States, have left a legacy of contrast and diversity. Visiting just the two main towns of Saint Croix will give you a glimpse of the island's incredible history, from regal 18th and 19th-century homes in Christiansted to a tropical rain forest in Frederiksted. After a day of exploration, return to the yacht for a lovely sunset cruise to Tamarind Reef's Green Cay Marina.
Christiansted, St. Croix Live WebCam
Day 6: Today you cruise to Buck Island National Park to play in shimmering blue water and explore spectacular coral reefs. The island boasts exceptional wildlife above and below the sea. In the evening, return to St. Croix and drop anchor at the St. Croix Yacht Club at Teague Bay.
The club, set on a white-sand beach, offers all the amenities you'd expect. Stretch your sea legs. Enjoy refreshments at the clubhouse and a chat with other yachtsmen. Return to your charter yacht for sundowners and dinner on the aft deck, an unparalleled setting to enjoy the moon and stars appear and blanket the night sky.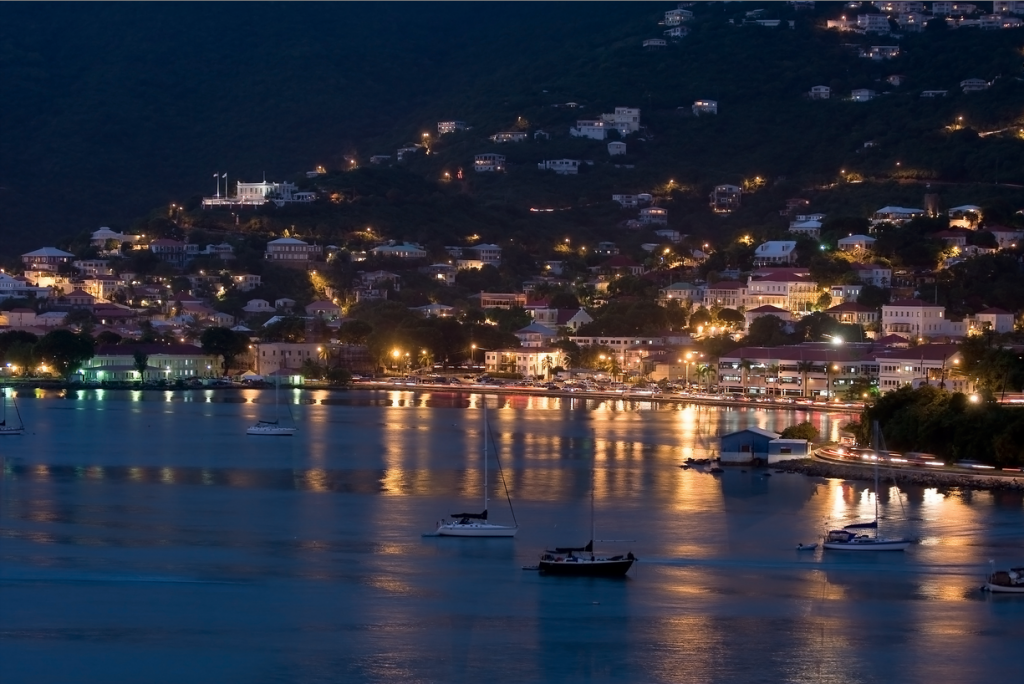 Day 7: Begin your day with a glorious morning on the beach, just thirty feet from your yacht. Relax and soak up the sun or explore the wonders of this beautiful island. In the afternoon depart for the cruise back to St. Thomas.
Your luxury charter yacht arrives under twinkling stars to the beauty of Charlotte Amalie aglow in the moonlight. Cruising into this harbor of lights is a fitting end to your sparkling week on charter. It is a perfect backdrop to reflect on your adventures and to envision your next charter to the magical and magnificent islands of the Caribbean. Because once is never enough.
Select Yachts specializes in matching our clients with the perfect yacht and crew. Contact us for detailed information on any of our superb selection of megayachts, power yachts, luxury sailing or racing yachts, and crewed catamarans in destinations worldwide.