Alaska via Holland America Cruise
I recently found myself in a new experience and was able to examine the differences between a Holland America cruise and a Private Yacht Charter. Having been on many private yachts, from small sailing yachts to mega-yachts around the world in my capacity as a Yacht Charter Broker, there I was on a massive cruise ship, with 1800 other guests…and 800 crew!
Mom is almost 93, a young 93 but none-the-less 93, and expressed wanting to go to Alaska, a fairly unexplored area for me. So Mom, Sis, and I decided to try our hand cruising out of Seattle, with stops in Juneau, Sitka, Ketchican, and Victoria BC, then back. Seemed a great way for me to do a little quick recon of the area, while having lots of space for Mom, and of course a super spa for my sister…
Advantages of chartering a private yacht: a very nice, stress-free welcome being met at the airport…your yacht crew can and will do that. Arriving at the cruise ship – eeeks! Here is where I am hooked on a yacht charter. Talk about a cattle call, lines like crazy, scans like at the airport, photo ID cards…. Fortunately, my sister had the wisdom to have gotten a bit of an upgrade so we could at least whisk Mom through.
Speaking of upgrades on Cruise Ships, there are a multitude of packages you can still buy. I have mixed emotions about that, nice that things are being offered but I don't want to be constantly sold to, there are shops and casinos on board…alcoholic beverages are pricey, $12 for a little margarita (pretty good one though)…3 bottles of wine at the restaurant to go with our dinners sold at $89 for the three, and they are normally $15 bottles at a Florida grocers. With yachts, the smaller sailing yachts will often include bar in the price, and the larger yachts will charge at cost (the funds are collected in advance – called an APA – and accounted for by the Captain).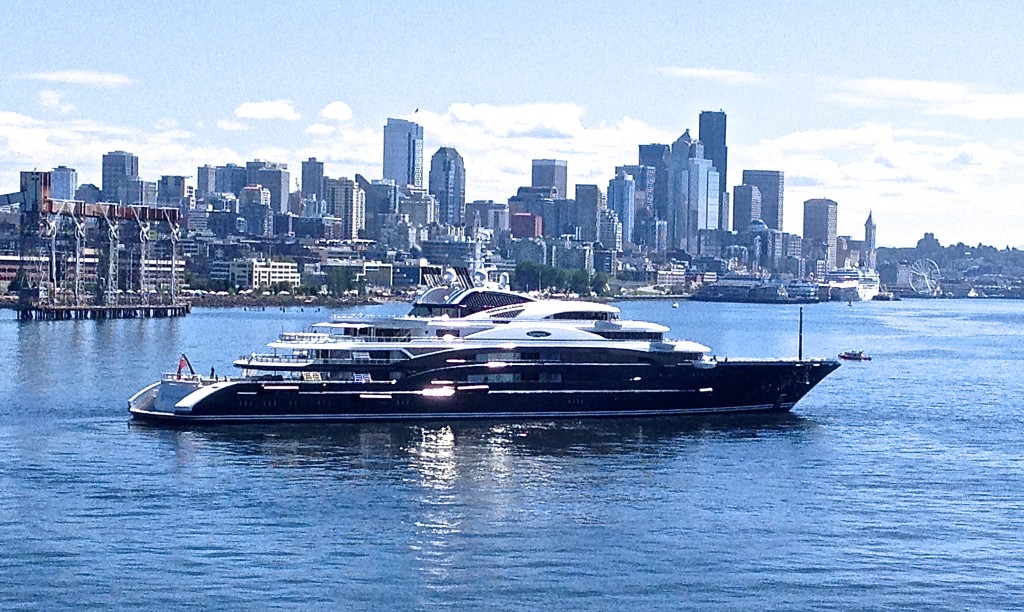 The spa was too hard to resist. They have a killer big whirlpool and some thermal rooms. You can buy a week's access for about $150. They limit it to the first 50 people, which gives better privacy and accessibility. There are relaxing body fitting tile chaises with a view out to sea that are heated. Once you are on there, your entire body relaxes; you melt…it's good, good, good. This is one thing you cannot have with a private yacht charter unless you go mega, but do keep in mind that your Captain or Stewardess can arrange visits from private massage therapists, which is a lovely option. I have had ocean-side massages, it gives the term "relaxing on the Beach" a whole new dimension.
Alaska – Sawyer Glacier at Tracy Arm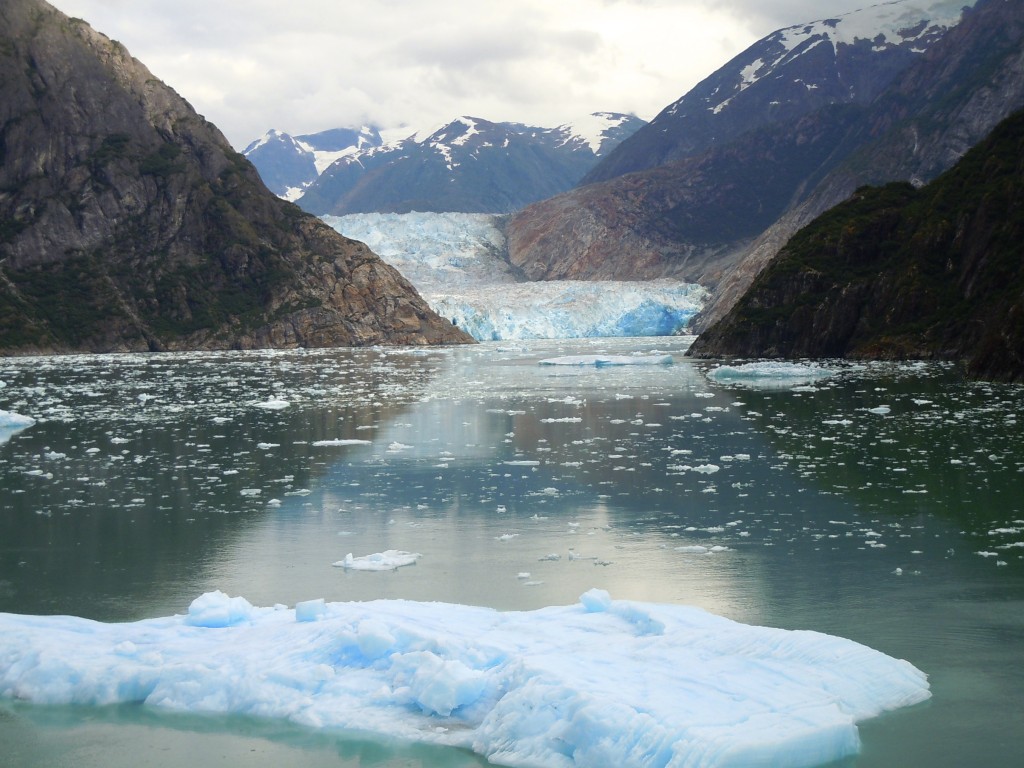 There was no possibility of disembarking at this magnificent protected area. Captain Van der Loo and the local pilot skillfully squeezed the cumbersome cruise ship into the impossibly narrow fiord for some magnificent of scenery, ducking icebergs along the way. There were lots of oooohs and aaaahs from folks crowding the decks of the ship, and everyone's cameras were snapping. I'm glad to report that a large pod of whales also made a spectacular appearance along the way.
Alaska – Juneau
It is hard to believe this is the capital of the largest US state, because it feels like a small town. Beside a few larger buildings, it is mostly cottage and bungalow style homes surrounded by stately pines, and overlooked by towering mountains. The channel, which was filled with spawning salmon, is hundreds of feet deep with a 20 foot tide. Our pre-booking for a pontoon plane flight was canceled due to low lying clouds, which did clear later in the day.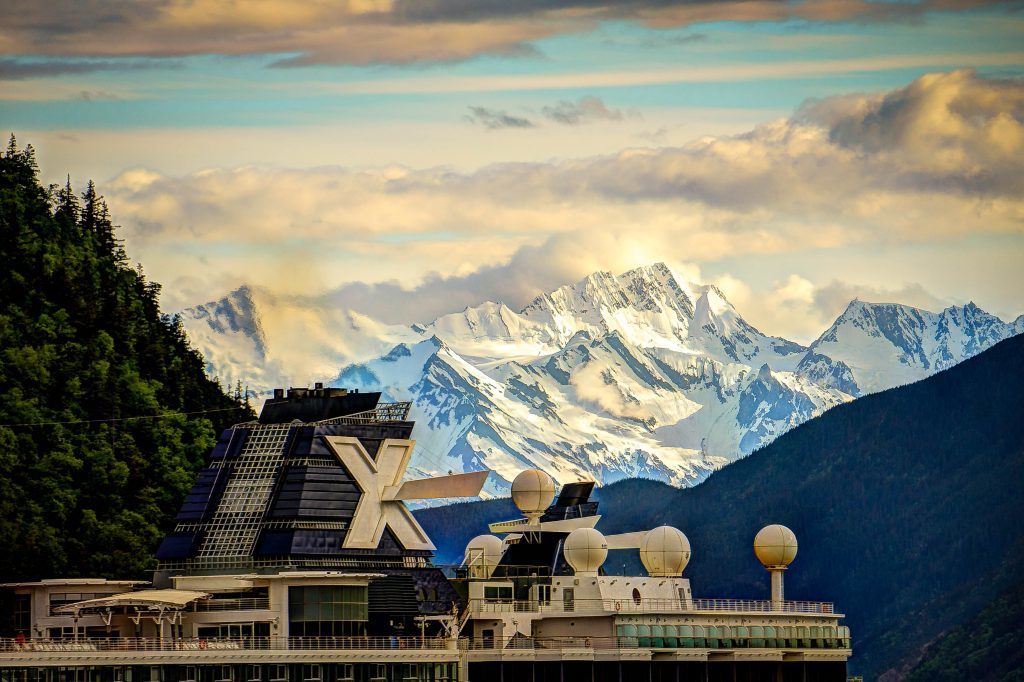 Meanwhile we opted for a tour of the Mendenhall Glacier, a park and wildlife refuge. There is so much Alaskan wilderness that I am not sure refuges are needed, however always good to know that land has been set aside for future generations. Of note is the receding of the glaciers, one really does need to worry, Alaska's winter temperatures have been much higher than in the past and they lose hundreds of feet a year from the glacial melting. Our guide, a full-blooded Tlingit Indian, thinks it is just Mother nature, not global warming, and I sure hope he is right.
Alaska – Sitka
Boarding the ship in the afternoon and being able to do passages overnight are great for getting around. The next day found us in Sitka and I think the consensus is that this is the favorite town. Sitka made the wise decision that they would not do the "cruise ship thing" by bringing in all of the commercial merchants. So we saw locally made art in galleries and shops, which was very refreshing! A tour of nature trails and salmon streams and Indian dancing showed us a bit of the history of the area.
Back on board the cruise ship there is continual entertainment. Events are scheduled every half hour. You can opt to meet with the photography expert to help perfect your photos. Play interactive games in the Crow's Nest Lounge. Take dance lessons, or sit in on lectures about the regions on the cruise itinerary. Of course, there's also always food laid out on some deck.
Every night there is a slightly hokey, vegas-style show in the theater/auditorium, which consumes much of the forward area of the ship. Probably something you would not make an effort to see if on land. I rate it just OK, a good way to pass a little time.
Alaska – Ketchican
The morning arrival to Ketchican found a refreshing chill in the air. It was a fairly short stop so we had no tour going on. My sister Louise and I decided to walk around for a bit and look into the shops. All I have to say is if you don't like cheap touristy junk or being solicited by East Indians on the street to come in and buy overpriced jewelry, don't bother. The contrast to the ambience of Strolling Sitka was pretty amazing. I swear you see the same East Indian families displaced from Saint Maarten, the stores are even the same ones. At least there were some whale's tails in the windows, about the only difference. If we took them all up on the offer of free gifts if we went inside, we could start our own junkyard!
So, quickly back to the ship for us… We indulged in one of our favorite onboard sports, eating. There was a "Salmon Bake" on the open upper deck, complete with local mussels and clams, really nice. And desserts…always desserts… It is a good thing the boat is over 1000 feet in length so that we can get a lot of walking in.
Seems the cruise was going by quickly, after a long but as always entertaining night at sea, we made way to Victoria BC. I was missing the ambience of a private yacht, where the ship is yours. The crew on board is super pleasant, but one misses the closeness you have with a smaller yacht crew. As well, cruise ship itineraries are so much more ambitious compared to what you have with the yachts, which go to more little harbors and hidden spots, anchor in nature, not so many touristy areas. Yacht crew can adjust and scale the charter to your input during the cruise. Then there are the other guests. As with anywhere you go in a crowd, there are so many personalities! Some are so friendly and genuine, and others, I don't know…maybe they just don't know how to act…a nice hello in return should not be painful…well, anyway, most are nice and can be lots of fun.
Back to Seattle. Departure. Well done, organized, they do great with getting us off the boat! Another flock of cruise ship passengers would be in that day. My advice – a cruise ship is much like a floating all-inclusive resort. If you're a people person, don't mind crowds and touristy venues, enjoy buffet dining and chatting it up with strangers, you'll have fun. Otherwise, charter a private, luxury yacht.
~ Charter Broker, Ann E.