Wreck Divers Salvage History!
For most of us, discovering and recovering shipwrecks under the sea is treasure-hunting; exciting, romantic, potentially lucrative, and a bit dangerous. But few of us consider the real importance of salvage divers in recovering maritime history, contributing to the archival record, and revealing seafaring truths for future generations.
Peter Leube and two of his colleagues, Brian Clarke and Tubby Gericke, are credited with pioneering South Africa's first maritime archeology project in the 1970s. The Arniston Project recovered artifacts from the tragic 1815 wreck of a British East Company ship carrying 378 men, women, and children. Arniston sunk during a storm near Cape Agulhas, South Africa. Only six men survived.
The most tragic element in the wreck of the Arniston and death of her passengers is that it could have been avoided with a chronometer. This relatively expensive, cutting-edge (in 1815) navigational device gave accurate longitudinal information.
Arniston's Captain George Simpson could not afford one. The ship's owners from the East India Company were unwilling to purchase one. They even threatened to fire Simpson if he refused to set sail without one. So, on April 4, 1815, Arniston set sail from Sri Lanka bound for England in a convoy of six East Indiamen, without a chronometer.
On May 26, while rounding the southern tip of Africa, Arniston separated from the convoy in bad weather after her sails were blown away. Without the chronometer, Arniston had to rely on dead reckoning with strong ocean currents in foul weather, which made celestial navigation impossible.
Three days later land was sighted a very long way off. By dead reckoning, Captain Simpson mistook it for the Cape of Good Hope, when in fact, Arniston was running up on Agulhas Reef, some hundred miles off course.
On May 30, with the storm still raging and the anchors unable to hold the ship, it struck the rocks with incredible force half a mile offshore and broke apart in the huge waves. The following morning only the sternpost was still visible.
An officer from the same convoy later wrote: "This valuable ship, and all the lives on board of her, were actually sacrificed to a piece of short-sighted economy. That they might have been saved, had she been supplied with the worst chronometer that was ever sent to sea, is also quite obvious."
Peter and his two colleagues at Seabed Enterprises, Brian and Tubby, sponsored the University of Cape Town, Department of Maritime Archeology's Arniston Project. Although the team ran a famously successful, commercial salvage company, the three divers were dedicated to promoting maritime archeology in South Africa.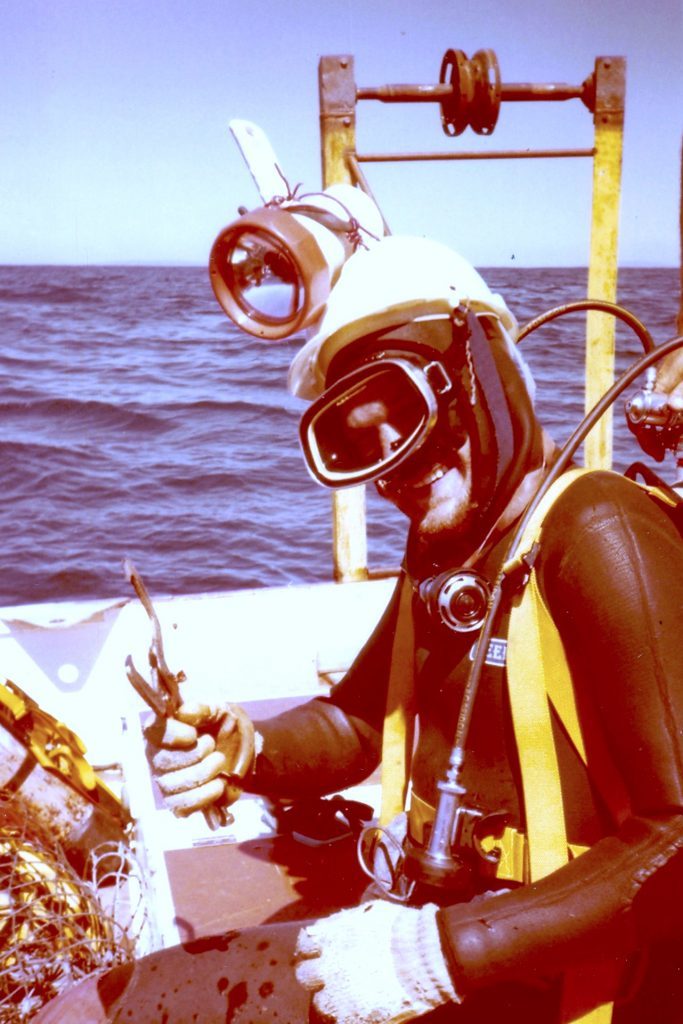 In addition to their personal diving services and expertise, they provided high-tech survey and salvage equipment, boats, and funding for the Arniston Project. As architects of the project, they established the framework for future archeological research and the critical need for maritime specialists in research, data recording, search, salvage, restoration, preservation, marketing and curating.
Donations to the Bredasdorp Shipwreck Museum, Cape Aghulas, are also the legacy of Peter and his colleagues. They recovered many artifacts from an impressive number of ships lost at sea between 1702 and 1895. The museum is a treasure house of figureheads and lifeboats, porcelain, cannons, anchors, old bottles and coins. A whole section is devoted to the Arniston. The collection includes many interesting artifacts and pieces of jewelry.
The moral of the Arniston tragedy is don't be a spendthrift when it comes to top notch equipment on board. If you are crew on a yacht that is suffering from similar owner miserliness, corner him or her one dark and stormy night. Thanks to Peter, you can recount the true history of the wreck of the Arniston. Then hand over your equipment list.
Peter Leube is the fascinating Captain of SKIMMER, an open ocean performance cruising catamaran built by the South African shipyard, Two Oceans Marine. For charter guests that enjoy a thrilling sail followed by a quiet anchorage, a sundowner, and a true tale or two, there is no better charter option. This brand new charter yacht accommodates 10 guests in five cabins.
Contact Select Yachts to book Skimmer. Launch your charter adventure.