Moonen Matica: she's elegant, sleek and streamlined.
The Caribbean custom series is the newest motor yacht concept from Moonen. The Dutch shipyard has updated their classic tri-deck profile with a more modern, minimal aesthetic.
The design and layout of the first hull in the Caribbean series, Matica, is the result of collaboration between the owners and the shipyard. Project Manager for the 100ft superyacht, Nicky van Zon, is moving forward at top speed. "The owners are very involved in the build process and enjoying it immensely. We are on track to meet the schedule, which is a testimony to the planning here at Moonen, and the close relationship between our designers, engineers, builders and subcontractors. Everyone is putting in maximum effort to have the first Matica finished to the highest degree of Moonen quality."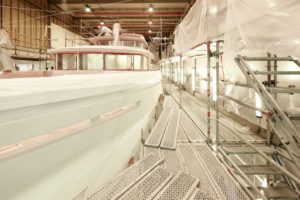 Hull construction, including the fairing and the primer, has now been completed. The fairing of the superstructure is also almost finished. This image reveals the curved windows on the main and bridge decks. From an interior perspective, owners enjoy panoramic views. From the exterior, a dramatic, sweeping slice between deck levels will turn heads.
The carpentry on the lower deck is finished. The next step is to add the fabric panels and install the blinds. The ceiling panels are being installed above the large window in the VIP suite, positioned forward on the main deck.
When you board the finished product the real evidence build quality is largely concealed. For example, an amazing amount of wiring has to be perfectly installed throughout the vessel. Its nexus and nerve center is the wheelhouse. Moonen electricians working in tandem with carpenters have meticulously wired literally kilometers of cables.
One of the most exciting design features on Matica is the entire transom that transforms into a giant hatch. When open it becomes a large beach and swimming platform. The fixed stairway on the starboard side connects this superb leisure area to the main deck.
One of the first yachts in the Caribbean series, the 37m/120'/350 GT Martinique, is also nearing completion. The hull is nearly finished and work on the superstructure is well underway. This new build offers prospective owners an excellent opportunity to have a superyacht delivered in time for cruising in the 2017 season.
Contact Select Yachts Sales Division for additional information on Moonen's Caribbean series. Our experienced sales agents are available to answer your questions and assist you in finding the perfect yacht.