Who can resist the Ionian Islands and the magic and mythology of Corfu? That ancient isle just off the coast of western Greece, renowned for tempting the hero Odysseus with its natural beauty. From Roman emperors to Venetian aristocrats to literary giants like Durrell, Lear, and Pinter, Corfu's verdant shores have beckoned and beguiled for centuries. Embark on an Ionian Islands yacht charter and succumb to enchantment.
Captain and Chef
We are your hosts, Dan and Lisa Robinson. We know from personal experience, the island of Corfu and the Greek Ionian Islands to the south are spectacular. They are somewhat less visited by tourists, so most villages remain unspoiled and authentically Greek. Pine clad bays and olive groves fragrance the air. Crystal clear, cobalt-blue water laps at sandy beaches. People dance in the squares.
Some of our favorite islands to visit on an Ionian Islands yacht charter include; Paxos, Levkas, Cephalonia, and Ithaca, the larger islands, and Meganisi, Kastos and Kalamos, three of the smaller ones. The waters are sparkling clean and the wind is gentle for relaxed sailing. If you're foodies, you will especially appreciate each island's unique, traditional recipes.
Whether you have one or two weeks to enjoy an Ionian Islands yacht charter, this region is perfect for a sailing holiday.
We start and finish our itinerary in Saranda, Albania. This is a must in order to satisfy Greek charter regulations. However, Saranda is just a short ferry ride from Corfu Town.
You may want to plan extra time to explore Corfu Town, a UNESCO World Heritage Site. Several museums, a market, historic churches, a fortress, a medieval quarter and a Jewish quarter, are a few of the top attractions.
The Ferry
There is a slow ferry and a high-speed ferry (35 minutes) and it is advisable to book and pay online. The slow ferry is pleasant and allows you to enjoy the scenery. The fast ferry is less comfortable with heavy vibration and salted windows obstructing views, but you arrive in just 35 minutes. Link here to Ionian Seaways, (https://ionianseaways.com) for comprehensive information.
Day 1: Saranda, Albania to Kalami, Corfu Island – 20 Miles
You will board BELLACHA at the port of Saranda, Albania. We will give you a warm welcome, help you get settled in and provide a short safety briefing. Take a seat on deck, your Ionian Islands yacht charter begins. We hoist the sails and headset south to Gouvia, Corfu, to complete Greek entry regulations. From Gouvia, we sail along the coast to anchor for the night in the charming hamlet of Kalami.
This scenic little bay, surrounded by lush, green hills, captures every visitor under its spell. The sandy beach has been awarded the blue flag. From 1936-1939, Lawrence Durrell lived with his wife at the White House, while writing Prospero's Cell. In those days, fishermen fed the locals, but the villagers' main income was from the sale of olive oil. Today, the past is present in family-run seaside eateries, like the Kalami Beach Taverna, where you can sample the freshest seafood and the richest, local olive oil.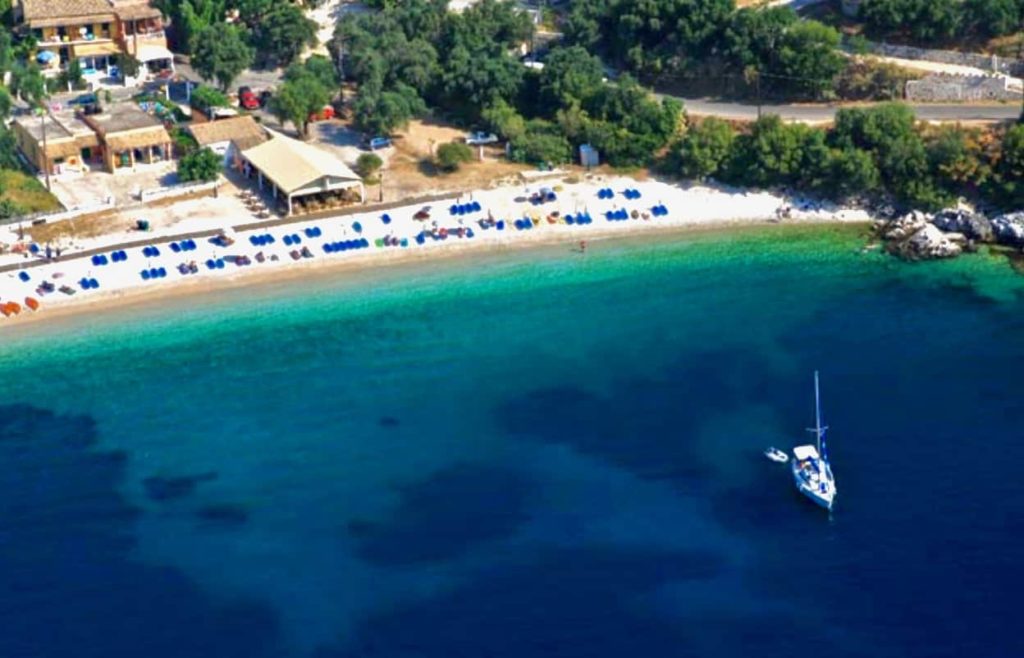 Day 2: Kalami to Palaokastritsa, Corfu Island – 30 Miles
We continue our Ionian Islands yacht charter sailing around the northern tip of Corfu, past the famous white cliffs, to the northwestern coast. We anchor off Palaokastritsa, a seaside village with stunning beaches, mysterious caves, and a medieval monastery and museum.
In some translations of Book Six of Homer's Odyssey, Corfu was the mythical island of the Phaeacians. The bay of Palaiokastritsa was the place where Odysseus was shipwrecked. He was rescued and received as a guest in the court of King Alcinous, to whom he recounted much of the Odyssey. The King generously provided the ships that finally carried Odysseus and his men home to Ithaca.
Day 3: Corfu to Lakka, Paxos Island – 28 Miles
Sailing South along the west coast of Corfu, we head to Lakka. It is the Northernmost fishing port on the island of Paxos. It is a fabulous, turquoise, horseshoe bay surrounded by olive and cypress trees. The bay is sheltered from the open sea and excellent for swimming, water sports and for mooring overnight.
Lakka has some fine, boutique shops. George Apergis is a local jeweler who gets rave reviews. Antigoni offers an assortment of wearables handmade by Greek designers. There are pleasant bars, like Roxi Bar along the quayside, perfect for refreshments with lovely views. Arriva Fish Taverna is highly recommended for authentic dishes. It is centrally located on the harbor at a perfect point to enjoy a magnificent sunset.
Day 4: Lakka to Gaios, Paxos – 10 Miles
A short sail south brings us to the lovely port town of Gaios, the capital of Paxos, Island. At the mouth of Gaios harbor are two small islands. Panayia Island (Virgin Mary), has a splendid white monastery. St Nicholas Island forms a natural breakwater that protects Gaios harbor. On St Nicholas Island are two small churches, St Nicholas and St Ioannis, and an old Venetian fort built in 1423 that protected the area for centuries.
Gaios is a popular port for Ionian Islands yacht charters and private superyachts. Its narrow lanes lead to many lovely shops and café bars. For those that enjoy the nightlife, Café Kalimera is a favorite spot for good music, good cocktails and great service in a casual setting. We like to anchor out to enjoy greater peace and tranquility and take the tender into shore.
Day 5: Paxos to Agios Nikolaos – 15 Miles
Today we cross over to the Greek mainland and head north. Mourtos is a small village and fishing harbor located opposite the southern part of Corfu. It is sheltered by the Sivota islands, which have several protected anchorages. We like to moor off the island of Agios Nikolaos and take the tender ashore.
Mourtos is very popular with Ionian Islands charter and cruising yachts and has an excellent tourist infrastructure. This chic, cosmopolitan, seaside town has lots of restaurants, bars and a party atmosphere that's always fun. Maria and Georgeo's Tavernaon the waterfront is a popular place with the locals.
Day 6: Mourtos to Kouloura, Corfu – 25 Miles
We continue to head North to Kouloura, a picture-perfect little fishing village with a small working harbor. We will drop anchor in the bay. It's a quintessentially Greek setting and probably the most painted view on the island of Corfu. The calm surf is excellent for swimming. The nearby rocky coves are great for snorkeling and ideal for secluded sunbathing.
Day 7: Corfu , Greece to Saranda, Albania – 20 Miles
On our last day in the Ionian Islands, we continue heading north to Gouvia to formally leave Greece. Setting sail to Saranda, Albania, we prepare to check in to our final destination. We have designed this itinerary to share some of our favorite cruising grounds and hope you are equally captivated by them. In addition to the Ionian Islands, BELLACHA offers fabulous charter vacations in Croatia and Montenegro. We hope you'll join us for a fantastic voyage soon. – Dan and Lisa Robinson
Saranda, Albania
There are many reasons to linger for an extra day in Saranda. It is the southernmost resort town on the Albanian Riviera. Modern, high-rise buildings that ring the harbor testify to the massive regeneration in progress since the collapse of the communist government in 1992.
Upscale hotels, cafés, bars, and restaurants intertwine with tourist shops and stalls along the palm-lined boardwalk that leads to several beaches. The picturesque Promenade Rruga Jonianet stretches along most of the curve of the port and juts out on a promontory over the water. Take a waterfront table, order a coffee, and enjoy breathtaking views of the Ionian Sea.
History buffs will have plenty to capture their imaginations. In town are the remains of a Christian Basillica and a Jewish synagogue dating to the 5thcentury AD. Up a steep winding road, Lekuresi Castle offers spectacular views in all directions. Just 45 minutes from Saranda is Butrint National Park, an important archeological site, UNESCO World Heritage Site, and Ramsar Wetland Site of National Importance.
ABOUT BELLACHA
BELLACHA is a 70-foot, custom-designed performance sailing yacht. She was built at RPD shipyard in Italy, "for the sporting gentleman who wants to entertain". The yacht is an ideal build for friends and family and an absolute joy to sail!
BELLACHA's three, ensuite cabins are outfitted for flexibility and can accommodate up to ten guests. So, whether you are two adults on a romantic charter getaway, or an extended family with three, or four kids in a cabin, everyone sleeps comfortably!
Captain Dan and Chef/Mate Lisa are skilled professionals with years of charter experience. Guests aboard BELLACHA can anticipate the thrill of performance sailing, fabulous meals according to their preferences, and memorable adventures at sea and ashore.
Click here for Bellacha Brochure
Inquire about our 14-Day Ionian Islands itinerary. This includes additional stops on Levkas, Meganisi and Kephalonia Islands. We look forward to welcoming you aboard!
Click to read more information about Greece: Islands of Enchantment
Contact Select Yachts today. Launch an amazing adventure.