This year, the Fort Lauderdale International Boat Show is truly spectacular. The Show celebrates its 60th anniversary by adding a seventh site. The new SuperYacht Village and Marina, which will expand the show's footprint to over three million feet.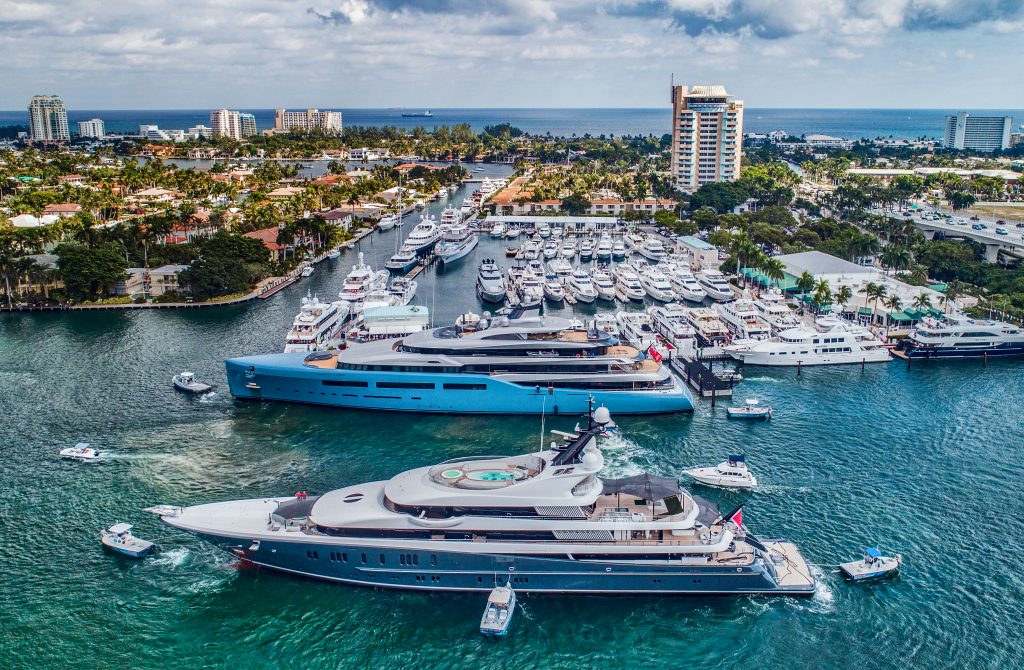 In the continuous effort to offer show-goers an unparalleled experience, the 2019 Fort Lauderdale International Boat Show will unveil SuperYacht Village. This new dedicated marina and on-land exhibition space will display the most spectacular yachts in the show.
Superyacht Village at Pier Sixty-Six
Informa Markets U.S. Boat Shows, Tavistock Development Company and the Marine Industries Association of South Florida, have announced the inauguration of this seventh site as part of the 60thanniversary enhancements.

Making its launch in time for the show October 30 – November 3, Superyacht Village will be hosted at Pier Sixty-Six Hotel & Marina at its new "Pier South" property, which is adjacent to the southeast corner of the 17th Street Causeway Bridge in Fort Lauderdale, FL.
"The growing number of large yachts exhibiting at the show continues to attract affluent buyers and superyacht charter clients," said Andrew Doole, president of Informa U.S. Boat Shows. "Thanks to a large investment by Informa and Tavistock, we are able to create a new, unique destination for the superyacht community within this extraordinary boat show…"
Fort Lauderdale International Boat Show: Helicopters, Submarines and Exotic Cars
The 3.5-acre Superyacht Village will be equipped to host vessels up to 400 feet. Visitors can anticipate a display of some of the world's most spectacular superyachts. The venue will also have exhibits by renowned shipyards. Luxury items related to the superyacht lifestyle, helicopters, personal submarines and exotic and collectible automotive will be on view. Plans include a destination restaurant, reserved parking, valet and private water tender services.
As part of the show's 60thanniversary celebration, the Superyacht Village will also feature exclusive offerings and seminars. Events are dedicated to superyacht ownership and lifestyle. These include; fine wine and champagne tastings, luxury lifestyle pop-ups, automotive and superyacht toy interactives. Award receptions are scheduled here, including the second annual Sunset Soiree FLIBS Best Yacht Chef Competition.
All Seven Locations with General Admission
The Superyacht Village will be open to all general admission ticket holders. There will be easy access via water tenders, water taxis and shuttle bus routes. The show's seven waterfront locations include:
Bahia Mar Yachting Center
Hall of Fame Marina
Las Olas Municipal Marina
Hilton Fort Lauderdale Marina
Pier Sixty-Six Marina
Pier Sixty-Six South
Greater Fort Lauderdale/Broward County Convention Center
Wednesday, Oct. 30: 12:00 PM – 7:00 PM
Thursday, Oct. 31 – Saturday, Nov. 2: 10:00 AM – 7:00 PM
Sunday, Nov. 3: 10:00 AM – 6:00 PM
Contact Select Yachts charter professionals today to arrange for an escorted tour of yachts available for charter. We know what to look for and the questions to ask to make your charter vacation nothing short of spectacular.