Select Yachts toured ONE MORE TOY at the Fort Lauderdale International Boat Show. Conclusion: impressive!!
This Christensen 155′ is a masterful build and a fine testimonial to an iconic shipyard. The Chief Stew greeted us at the main deck foyer. Her insightful commentary painted an excellent picture of gracious living aboard ONE MORE TOY.
The yacht is elegantly furnished yet comfortable and welcoming. Spaces are designed with families in mind. The toy chest is overstocked. The crew are highly professional, yet endearingly playful. They are happy to be on board and looking forward to a nearly full calendar in the Caribbean this season. By the end of our tour, we could easily grasp why everyone wants ONE MORE TOY.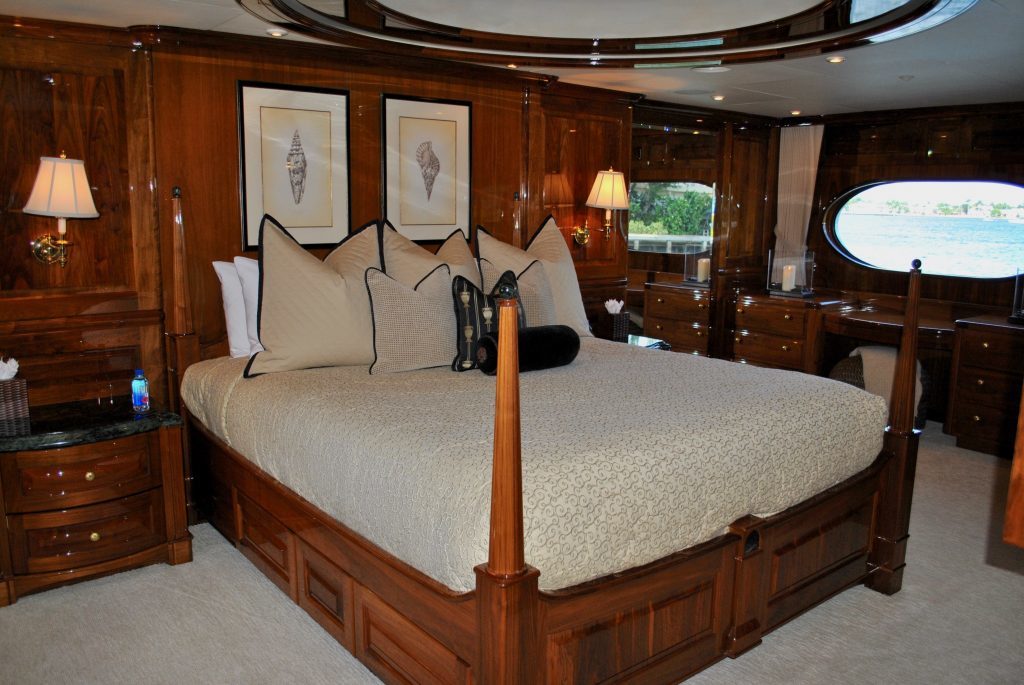 Unusual features include the handicapped-accessible elevator, which floats guests effortlessly to all deck levels, all the way up to the sundeck. Every deck level has a water station and guests are free to help themselves. The helm, with dual captain's chairs, has a very large table with L-shaped seating, perfect for guests to enjoy coffee and study the charts.
ONE MORE TOY Accommodations
The main deck master suite has a rich, nautical atmosphere enveloped in floor-to-ceiling high gloss black walnut. If you must stay connected while on holiday, do it in Old World style from your private office. Down the hall, the full-beam master bedroom feels opulent, with four poster king bed, plush armchair, vanity and double closets. His and hers bathroom with marble Jacuzzi tub has inter-meeting closets.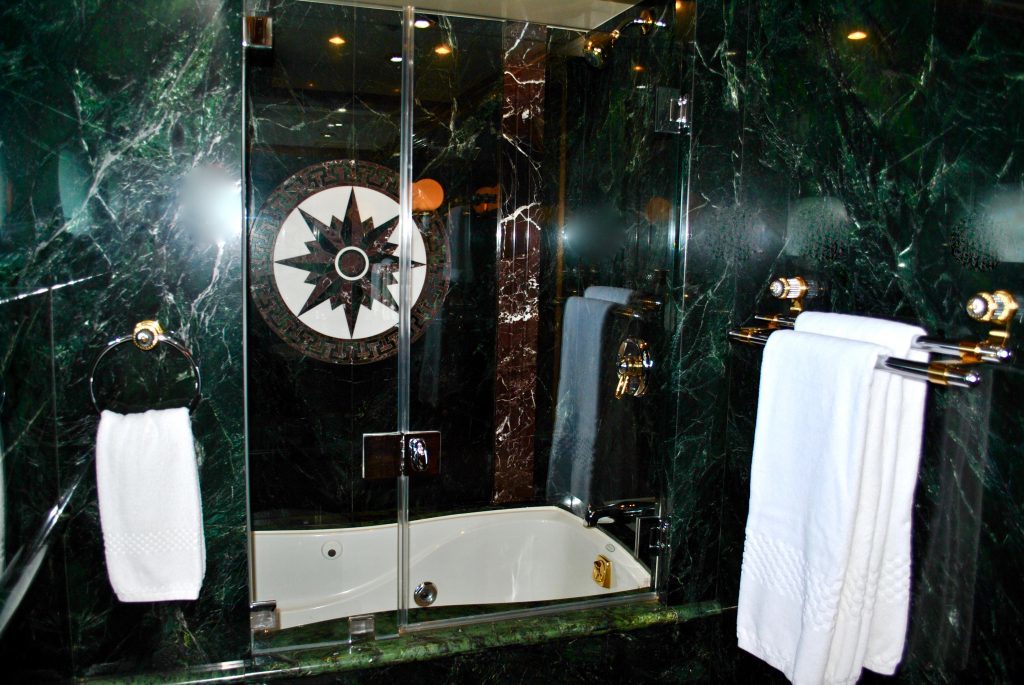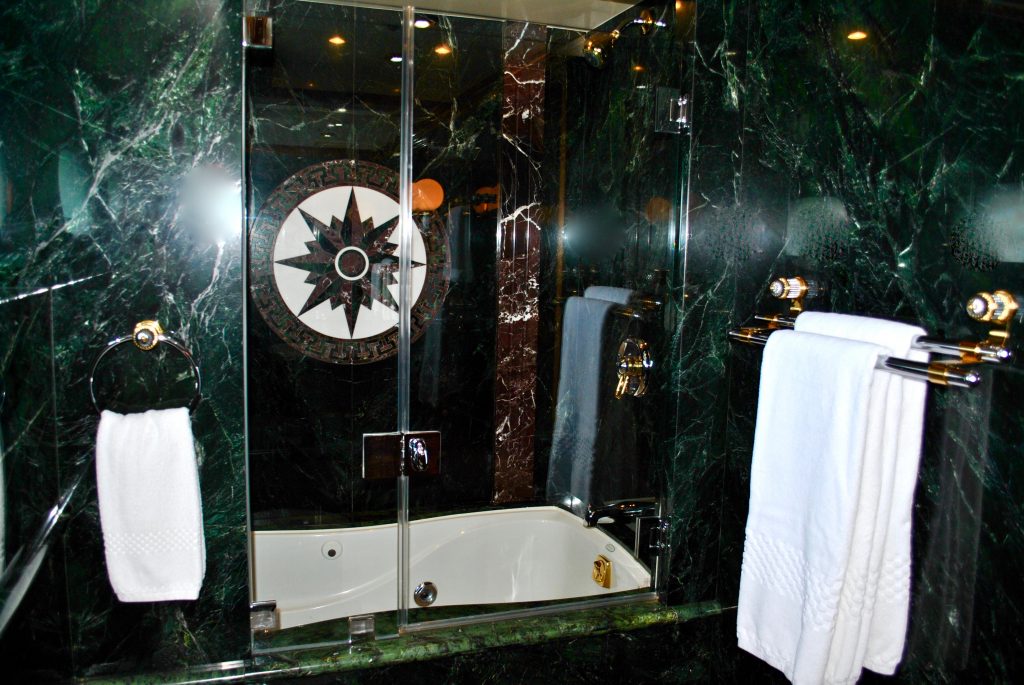 Guest staterooms are positioned on the lower level. They are configured with families in mind. Two, full size, queen bed staterooms are identical. The twins are furnished with a double bed, a single bed and a Pullman and are unusually large for a twin cabin. An adult couple would not feel at all cramped.
The VIP stateroom is generously proportioned. It is nearly equivalent in volume to the master bedroom. There is ample floor space to set up a cot to accommodate a couple with a baby. There is plenty of storage, with two full closets and loads of drawers. The sumptuous en suite bathroom, clad in Verde Giana marble and onyx, has a Jacuzzi bathtub.
The guest pantry, with microwave and fridge, is a convenient amenity. It is stocked with whatever guests put on their preference sheet. So, if you don't want to bother the crew, you can make your own midnight popcorn.
ONE MORE TOY Living Spaces
Aboard ONE MORE TOY, even furniture placement is ingeniously organized to accommodate families on vacation. Intelligent interior design in the Sky lounge is likely the reason it is the "most used area". The crew provides a popular cocktail hour here, cozy yet breathtaking. Split lounging areas allow kids to group together around the TV, with adults on sofa seating opposite the bar for adult conversation, cocktails and canapés. It's an inspired furniture arrangement for families with children; together yet separate.
On the Sky lounge aft deck, we are told that the "really, really, big table", which easily accommodates 12, is where almost all of the meals are served. The sea breeze is delightfully refreshing, but the crew can put up wind screens all the way around if needed.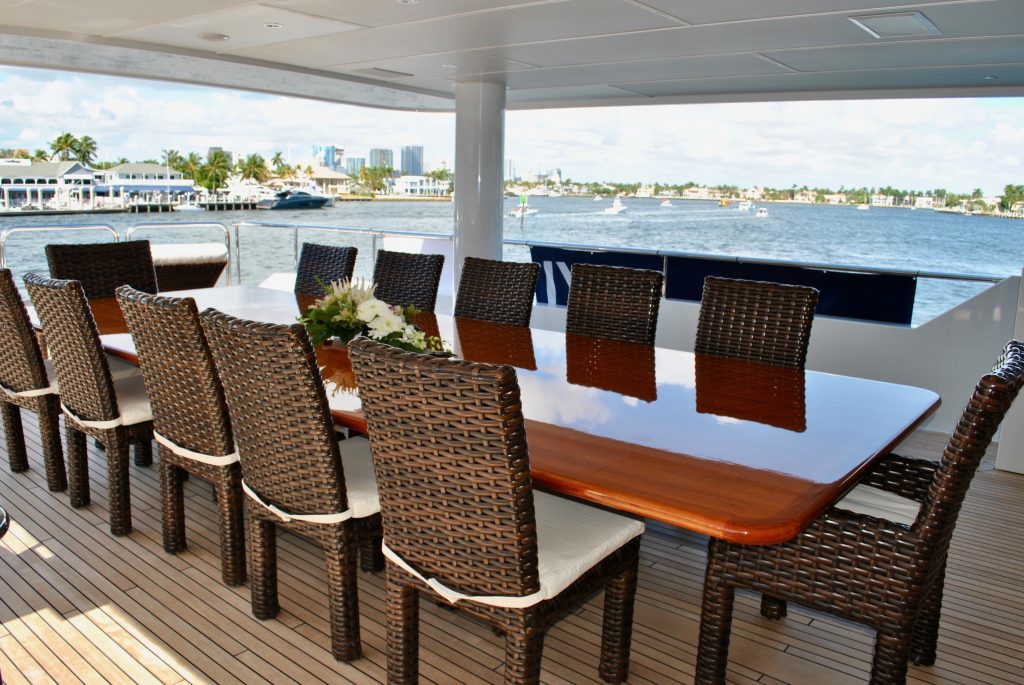 Up on the Sundeck there's plenty of lounge chairs and a Jacuzzi surrounded by sun pads. The entertainment system includes some 500 movies, and the Sundeck is a popular spot or viewing. There's also full gym equipment, which we are told is used on a daily basis. This suggests that guests are very dedicated to their health routine, and probably want to compensate for vacation drinking, and to counteract the effects of an awesome private chef.
While the galley is not usually frequented by guests, people seem to enjoy chatting with the chef in this uplifting space. It's homey and happy, like Mom's kitchen, and the uncommonly large window keeps it bright and airy. We are told the Chef is often asked and gives out recipes as he creates the next amazing bite. Hidden from view are "so many fridges and ice machines" that cold storage and cold drinks are never an issue.
ONE MORE TOY: Personality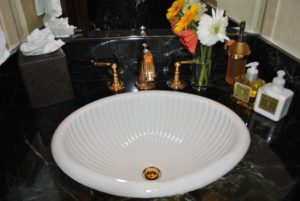 The Chief Stew, tells us that ONE MORE TOY is a very family-oriented boat, and that the crew are also very family-oriented. They love having kids on board and enjoy putting on some super fun theme nights. These include Hawaiian barbecue complete with grass skirts and leighs. Asian and Mexican parties. Pirates of the Caribbean for the kids, with eye patches and treasure hunts. Great Gatsby for the adults, with bejeweled headbands and feather boas. There's also barbecues on the sundeck, watersports days and beach parties. They even swing the crane around to hang the disco ball for disco nights. That's just a few of their themes.
Of course, the crew is trained in, and excels at silver service, wining, dining and all that, but they have a really special affinity for families with children.
After touring the yacht and getting a good sense of what an excellent charter option she is, it does not surprise us that ONE MORE TOY is very busy with back to back charters. After the show, she'll be heading via the Bahamas down to St. Maarten for a St. Barths Christmas charter. She will be in the Caribbean for the 2019 winter season, but with such a full calendar, book now! Waiting one more minute could mean waiting one more year to charter ONE MORE TOY.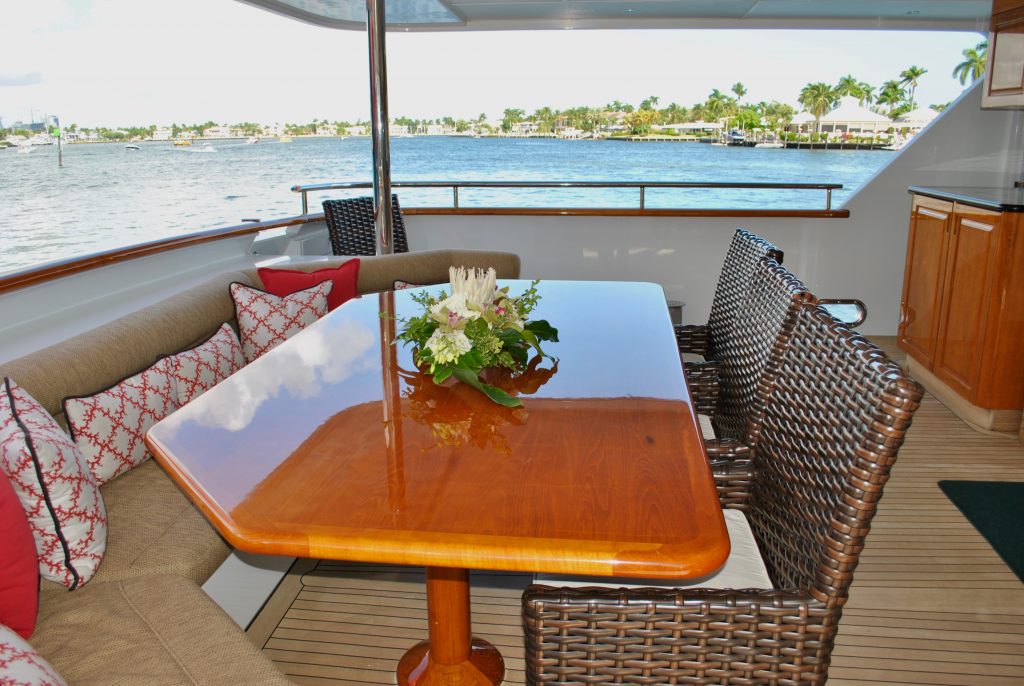 Contact Select Yachts to book luxury charter yacht ONE MORE TOY for your vacation adventure. Trust our brokers. We've been there. We know the ropes.