Couples charter itinerary lets you celebrate love.
Couple's charter itinerary through the islands of the Grenadines is designed for romance. Sail away on SAGITTARIUS for a honeymoon, anniversary, Valentines Day or a romantic getaway. This 8-day couples charter itinerary begins in St. Georges, the capital city of Grenada, and ends in St. Vincent.
Sail to uninhabited islands, beaches, and coves that you can call your own, for an hour, or for a day. The choice is yours. Every itinerary is customized to your preferences. And on a private yacht charter, your itinerary is always flexible.
Day 1: St. George's, Grenada to Sandy Island
We are your crew, Captain Cri (Cristian) and Chef/Stewardess Ilona. Welcome aboard catamaran SAGITTARIUS! We are delighted to launch your celebration of love, beginning with one of our signature cocktails. As you relax on deck, we get underway to our first stop, Sandy Island, in northwest Grenada.
Sandy Island is a beautiful spot. Most of the time nobody is there, so you really feel alone on your own, private island. It's full of palm trees, with a white sandy beach and crystal-clear water. We will take advantage of this perfect opportunity to organize a romantic BBQ for two under the coconut palms. Later, we sail to Ronda Island to drop anchor for the night.
Day 2: Sandy Island – Carriacou
Enjoy a morning swim before or after a lovely breakfast on the deck, whatever suits your mood. Today we sail from Sandy Island to Carriacou. This is a quiet, relaxed place. You can take an island tour to see historical and natural attractions, enjoy a local lunch, or relax on beautiful Paradise Beach.
In the afternoon we will sail to the private island of Petit St. Vincent. If you like to include a private tour of the resort on your couples charter itinerary we can arrange that. The manicured grounds are lovely and you may want to linger at the atmospheric, open-air beach restaurant and bar.
Day 3: Mopion Reef to Union Island
If you are divers, we invite you to go diving with us on Mopion Reef, an underwater wonderland of technicolor sea life. Snorkeling is equally fabulous. This island is also often deserted, so ideal for a private picnic with time to spend alone together.
Depending on your couple's charter itinerary time frame, we may stop briefly at Palm Island en route to Clifton, the main town on Union Island. We can tender in so that you can explore the local shops and market stalls, or take an island tour. If you prefer, we can tender to world-famous, hand-built, Happy Island for a rum punch.
In the evening, we will sail around to Chatham Bay to drop anchor for the night. It is located on the western side of Union Island. It is reef-protected, unspoiled and largely undeveloped, except for a couple of great beach bars.
Day 4: Union Island to Tobago Cays
At Chatham Bay, we know another great spot for you to dive, or you can snorkel the surrounding reef. There are also hiking trails through the steep, forest-covered hills. After lunch, we will sail to Tobago Cays.
The Tobago Cays Marine Park is a must-experience for anyone who loves the ocean. You can jump into the water right off the deck to snorkel with sea turtles and schools of fish. The marine park surrounds five uninhabited cays, the populated island of Mayreau, and three islets.
Spend the afternoon snorkeling. We can also arrange for a dive here. A beach barbeque in the evening, organized and hosted by local chefs, is a delicious taste of the Caribbean.
Day 5: Tobago Cays, Jamesby Island, Baradal island
Today, our couple's charter itinerary brings us to a favorite spot. We drop anchor in front of tiny Jamesby, an island with a palm tree that can be all yours.
Snorkel from the yacht to the island accompanied by turtles, stingrays and plenty of fish. You'll see incredible coral formations on the way. Or, take a paddleboard. Or we'll take you by dingy so you can bring your camera. Photograph the spectacular view from the island's hilltop, the flora and fauna, the resident iguanas, and the astonishing shades of blue water surrounding the Cays.
In the Tobago Cays Marine Park diving, which must be done with a local dive company, is spectacular. You will see the biggest lobsters ever, reef sharks, nurse sharks, eagle rays, snappers, barracuda and more. It feels like you belong there. They swim around you without fear.
After a relaxing lunch on board, we head to Baradal island. Here, the Turtle Watching Reserve lies off a sand spit with very shallow water. It's an easy swim off the aft deck, or the Captain will take you in the dingy. Our guests have described it as a sand bar in a shallow pool where you feel like you are sitting in the middle of the sea.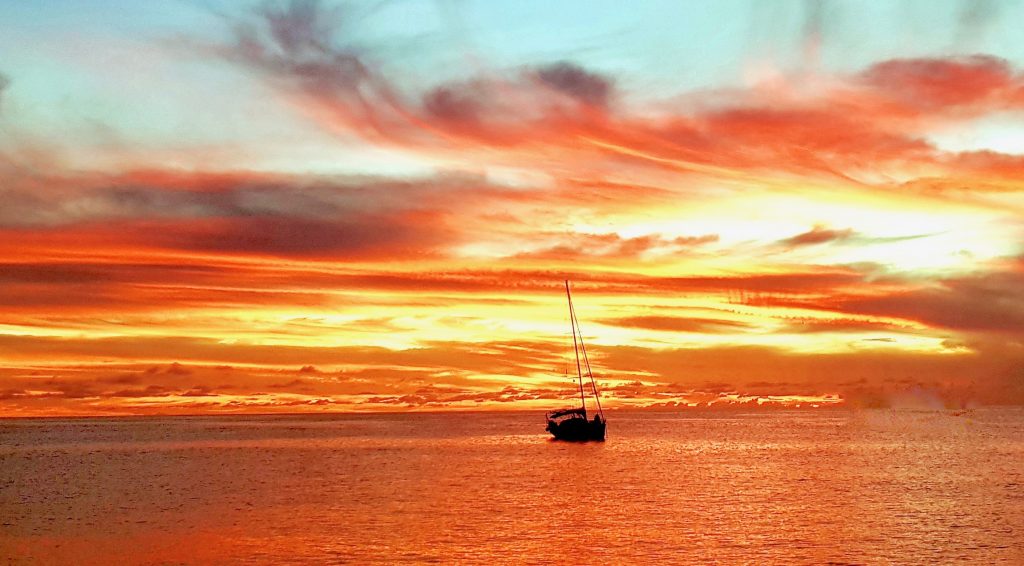 Back on SAGITTARIUS, relax with a refreshing cocktail and canapés as the sun flushes the sky with colors. At night, the heavens are so full of stars it will take your breath away.
Day 6: Tobago Cays, Petit Tabac, Canouan
Early in the morning, we sail to Petit Tabac, an island so enchanting it was chosen as a location in the movie Pirates of the Caribbean. Walk the beautiful, white sand perimeter and enjoy excellent snorkeling.
Continuing to Canouan island, we drop anchor in Glossy Bay. This is a very quiet, romantic spot with a long, white sand beach and a beautiful beach bar and swimming pool. Enjoy spending some time completely alone, except perhaps at the swimming pool. Later, we will sail just ten minutes away to the protection of Charlestown Bay to anchor for the night.
Day 7: Canouan to Bequia
After breakfast, we set sail for Bequia. It's a relatively short passage to reach the beautiful Princess Margaret Bay. Bequia island is dotted with villages, which make for an interesting island tour. You can visit Hamilton Fort, tour Firefly Plantation and Hotel, and visit the Old Hegg Turtle Sanctuary.
For a romantic, leisurely afternoon, you can paddleboard into the beach bar. Relax at a table, or on the sand. Float together in the gentle, Caribbean sea.
Day 8: Bequia to St. Vincent
This morning we set sail early to St. Vincent and moor off Young Island. Next to this privately-owned island is a tall, rocky pinnacle, which houses the ruins of Fort Duvernette. Usually, you'll have the fort to yourselves. Climb the 255 steps to reach the peak for outstanding views. Scramble around the canon battery on the top and touch a bit of history.
This is the last day of your charter so we must say goodbye. Argyle International Airport is just 5 miles from Kingstown. Click on this link for flight information. As you head home, keep in mind that we have lots more romantic places, secluded beaches and hidden coves that we'd love to share with you on your next romantic getaway aboard SAGITTARIUS.
About the Crew
Captain Cri (Cree) was sailing with his father as far back as he can remember. "I love sharing my passion for the sea with our guests; diving, snorkeling, swimming off secret beaches, exploring remote coves, pointing out turtles and birds' nests. I also love having fun water skiing, wakeboarding, and every kind of fishing."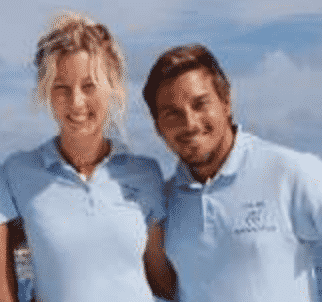 Ilona is always smiling and super high-energy. Whatever needs doing, she gets it done, and very well too. She says, "Everyone needs to relax. My goal is to help by providing guests the time and space to relax, to switch off and re-energize. That is the most important part of a good vacation."
About SAGITTARIUS
You'll enjoy plenty of room aboard our Privilege 65 catamaran, built by the prestigious French shipyard Jeantot/Lombard Marine.
The foredeck is the place for sun-lovers. Lounge on the two huge trampolines with a refreshing, tropical beverage. Watch the water rush beneath you.
SAGITTARIUS' wide beam of 33 ft. makes this yacht extremely spacious, accommodating up to 10 guests in style and luxury. Couples celebrating their love will stay in the extra-large master king cabin, with flat-screen TV & DVD, settee/writing desk, fan, AC controls, and private en-suite bath.
Click to view SAGITTARIUS Charter Brochure
Nothing is more precious than spending time with loved ones.
Contact Select Yachts today. We'll help you design a couples charter itinerary that you'll adore.