While solace, sun and surf are enviable ingredients of a typical day in the Exumas, it is the sweet stone crab claws that are the pièce de résistance.
by Peter Ziegelmeier, Yacht Chef
This tiny island chain that once cultivated watermelons now cultivates the well-heeled traveler, a plethora of yachts, owners and their guests, and of course the yachties of our great industry. These discriminating wayfarers know and expect the finest cuisine. Here they are never disappointed.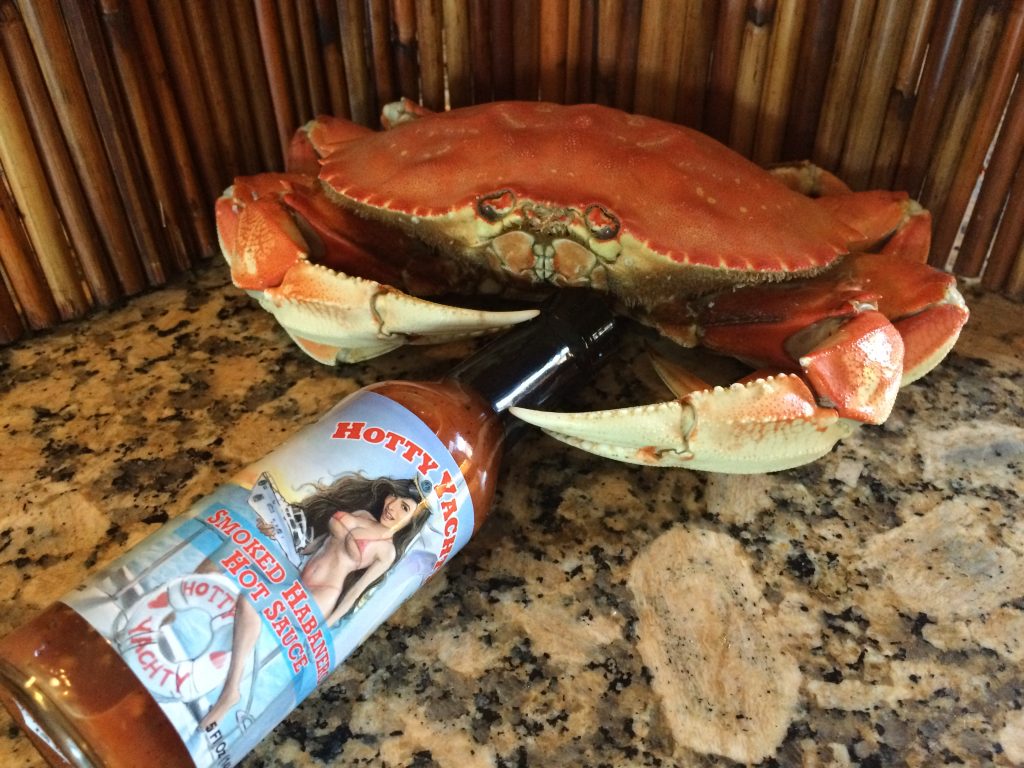 Just 319 miles from Miami stretch the dazzling Exuma islands of the Bahamas. Once a haven for the seafaring scallywags of the 15th century, they are now a favorite getaway of the rich, the famous and the not so famous. They are also home to some wonderfully sweet, stone crabs, with claws that are sought after throughout the country.
My recipes for this versatile crab vary according to time, place and mood. It can be cooked, chilled, cracked and picked and enjoyed as is, or dipped in a rich Dijon mustard sauce. I also use this sweet white crab meat in a seafood soup made with fresh caught snapper stock, hunks of grilled red snapper and Mahi Mahi (so nice they named it twice), which puts a warm smile on any face. One of my favorite dishes to prepare for owners and their guests, of course using only the freshest, finest crab meat, is a pesto Alfredo crème pasta and fresh tomato concasse with leaves of bright green basil and shavings of Parmigiano-Reggiano.
My take on a Latin-inspired Zarzuela with a Jamaican twist and a Bahamian bump is always a hit on the menu. Combine crabmeat, red snapper, Mahi Mahi, warm water petite lobster tail and snapper stock with hints of jerk seasonings and assorted veggies. Easy preparation makes this a great way to serve an amazing lunch and then grab a snooze in the hammock. Refresh with a late afternoon swim and get ready for yet another sweet meal later in the evening, but first, hors d'oeuvres and cocktails.
If you don't travel with your own traps, or are a diver with a passion for crab dinner, provisioning in the Bahamas can be a challenge. Fear not. The locals are experts at finding crabs and finding your vessel. Just listen for an unfamiliar banging on the hull. A Bahamian with a broad grin, a small wooden boat, and a fistful of crab claws will happily part with his catch. Experienced chefs know that prices are always negotiable and the smiles are free.
As a yacht chef, my recipes are based on the delicious ingredients harvested from on and around the islands, but the ingredients can be found stateside with minimal searching. If you don't happen to be floating about the hypnotic waters of the Exumas, you can buy fresh stone crabs in South Florida during the harvest season from October 15 through May 15.
To purchase international seasonings and condiments in the Fort Lauderdale area, including my soon-to-be-world-famous hot sauce, Hotty Yachty, head to the International Market and Fine Wines shop, South Harbor Plaza, 1428 SE 17th St. I created and manufacture this amazing smoked habanero hot sauce at a top-secret location in South Florida. Ahoy foreign yachties, it's on store shelves in the UK, Hong Kong, Spain, France, and of course in specialty shops across the USA!
This is Chef Peter Z from the Sea signing off for now…