Bahamas Yacht Charter: Island Art Hop
Bahamas yacht charter is a getaway to a tropical paradise. But did you know that there's a thriving fine art culture as well? For art collectors and enthusiasts, consider designing your charter itinerary as a gallery hop. Enjoy spectacular cruising conditions, sparkling beaches, fascinating reefs, world-class fishing and fine art.
Bahamas yacht charter can embark from Nassau. The city is just two hours from New York and half an hour from Miami by air. While most charterers seek sun and surf, a growing number of art connoisseurs are keen to enrich collections. What more pleasant way to add contemporary Caribbean fine art than on a luxury yacht charter with a gallery-focused itinerary?
Nassau, Bahamas Art Scene
Discover Nassau's thriving community of artists and creative souls on a walking tour of downtown art spaces and galleries. Nassau has one of the most sophisticated art scenes in the Caribbean. Proximity to United States galleries, museums and collectors helps to promote internationally recognized artists on the island. Famous artists in residence, including Ashley Powell and John Cox, are represented in the National Art Gallery of the Bahamas. Collectors who wish to gain a comprehensive view of this burgeoning art scene can begin here.
Nassau Galleries
Doongalik Studios was founded in the 1970s by the late Jackson Burnside III, architect, artist and cultural advocate, and his wife, Pam. They have been dedicated to promoting outstanding local artistic talent.
Their goal is establishing the Bahamas as an international center of creativity. Doongalik's mission: to ensure that by the year 2020, the majority of visitors will come to experience Bahamian Art, Culture and Heritage. There's so much more than sun, sand and sea.
The studio is located in an historic Bahamian building, nestled amongst lush gardens. It is home to a large Exhibition Gallery that showcases the work of over 70 local artists. Open Monday-Wednesday 10:00am – 4:00pm; Saturday 9:00am – 1:00pm or by appointment.
The D'Aguilar Art Foundation, launched in 2008, is Vincent D'Aguilar's vision for Bahamian Art. The foundation seeks to preserve and expand the D'Aguilar Art Collection.
This is one of the most comprehensive privately held art collections in the Bahamas. The Foundation is an educational resource for artists, scholars, collectors, students and the general public.
Visit this multi-functional exhibition, educational and archival space. Here, the public is actively involved in the ideas and discourse of Bahamian artists. Open Tuesdays and Thursdays 10:00am to 4:00pm or by appointment.
Antonius Roberts is considered the Bahamas' most noted artist and sculptor. He is motivated by a personal philosophy of conservation, transformation, and preservation. These words are well illustrated by his 'sacred space' concept in the Bahamas.
Antonius hopes to pursue international installations inspired by and suited to particular locations. Open Monday-Saturday 10:00am – 4:00pm. Lunch Hours: Tuesday-Friday 11:00am – 3:00pm. Free Coffee Hours: Wednesdays 10:00am – 12:00pm.
Sacred Space, a sculpture series, depicts seven dancing women. Each represent the intention of triumph, hope and determination. The vision is to conserve Bahamian heritage over that which is discarded or destroyed in the name of progress. Each figure was sculpted using local Madeira Trees, and born out of the artist's deep-seated respect for the environment, the sanctity and significance of the country's trees and forests.
Peruse a collection of fine Bahamian arts and crafts. This gallery also features stunning jewelry designs by TayLauren Jewelers, with a variety of Bahamian jewelry and handbags. Custom canvas mounting and photo framing and restoration services are offered.
Kennedy Gallery features artists who paint vibrant images of life in the Bahamas. Paintings include local people, vistas of the sea and land and closeups of the flora and fauna. Located on Parliament St., Nassau.
Heritage Village Artists' Studios at Graycliff Hotel
Guests meet and interact with some of the Bahamas' most talented local artisans at the Graycliff Heritage Village Artists Studios. Featured artists include Jessica Colebrooke, Holly Parotti, Judson Eneas, Ebony Peterson, TIFF Barrett, Lynette and Marvin Storr, Beatrice Gardener and Xan-Xi Bethel.
These independently operated studios highlight a variety of mediums from jewelry, paintings and photography to pottery, shell-carvings and even straw-made sneakers. In addition to the works in progress, one-of-a-kind and first editions of locally created art pieces are available for purchase. Everything is designed and produced in The Bahamas. Open Monday to Saturday from 9:00am – 5:00pm.
Abacos Gallery
Plan your Bahamas yacht charter yacht itinerary to visit historic Pete's Pub and Gallery. The site is tucked away in the secluded location of Little Harbour, Abacos.
Pete's is a beloved spot for locals and visitors alike. The Pub is known for burgers, seafood and the signature "Blaster" rum punch. Just steps away, your shopping experience features the work of Pete Johnston and other artisans.
Using a 5000-year-old wax process, Pete specializes in bronze sculptures. The technique was pioneered by his father, the late Randolph Johnston, in 1952. The bronze foundry is still the only one in The Bahamas today. Both Pete and his father's work is known worldwide. Works are displayed in the Vatican's Museum in Rome, Rawson Square in Nassau and many domestic and international art galleries.
If you enjoy history, read: The story of Randolph Johnston, It's Caves and "Old Lighthouse".
From Sandy Estabrook Guide to the Abacos
Exumas Galleries
Bahamian artist, Nicole, as a young Bahamian painter started soon after she left school when she won numerous awards for her art. Nicole works mainly in oils. In her paintings she tries to capture the beauty of the Bahamian people enjoying natural, everyday activities. Nicole's website features an art gallery of original paintings, giclee reproduction on canvas and paper lithographs.
Eddir Minnis & Family: Art and Music of the Bahamas
Mary Deveaux 
Ms. Deveaux is an Artist/Painter, creator of the Jumbey-Lou Collection, woodcarvings, oil and acrylic paintings, bags, and other craft items. Visit her gallery on Queen's Highway, George Town. Contact Information: (242) 336-2640.
Eleuthera & Harbour Island Gallery
Briland Art
Briland Brushstrokes carries hand painted souvenirs, driftwood paintings, canvas paintings, wood carvings, prints, fish mobiles, and lots more. King & Murray Streets, Harbour Island.
Select Bahamas Charter Yachts
Nassau, Bahamas
SEA SEÑOR, Leopard 46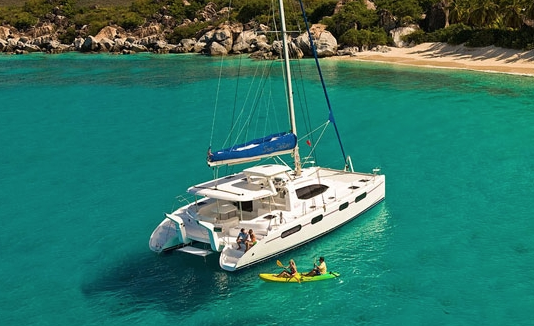 For a family charter, a romantic getaway, or a celebration, SEA SEÑOR is a perfect option. The yacht does expert day charters, wonderful captain-only charters and crewed week-long charters. Spend your days playing on the beach, splashing in the water and exploring ashore. Enjoy an interactive charter with a crew that knows every inch of these islands. 6 guests in 3 cabins.
Marsh Harbour, Abacos
LADY M, Lagoon 620
This is an excellent charter option with a crew that consistently receives great reviews. She'll only be in the Abacos March and April of 2019, so book now! Launched in 2016, the yacht is meticulously maintained and carries great toys and gear. Accommodates 6 guests in 3 cabins.
George Town, Great Exuma
NENNE, Fountaine Pajot, Victoria 67
The finest cruising experience yet imagined, NENNE elevates your Bahamas yacht charter holiday to new heights. Built and launched in 2017, she's Fountaine Pajot's top-of-the-line, luxury cruising catamaran. Donald and Audrey are amazing crew with many repeat charter clients. 10 guests in 5 cabins. Available in the Bahamas from March 2019.
RUBICON, St. Francis 44
Come explore the vacation paradise of the Bahamas Exumas and Out Islands! This catamaran has everything that makes a yacht charter vacation great. For guest who like an action-packed charter, the Captain is very accomplished at a variety of waterspots. Accommodations, are for 6 guests in 3 cabins.
SWISH,Voyage 50
Enjoy deluxe sailing, service and accommodations. Aboard SWISH, you will explore the Exumas and outlying islands. Swim, snorkel, relax. Canine first mate Bella cordially invites you to bring your dog aboard. Accommodates 7 guests in 4 cabins.
Contact Select Yachts to book your Bahamas yacht charter. We'll find the yacht and crew that's perfect for you. Paradise awaits!!